We are thrilled to partner once again with the Professional Beauty Association (PBA) to promote all of the talented artists who are finalists for the 2018 NAHAs (North American Hairstyling Awards), the most prestigious hair and beauty award in the country. In this feature, get to know more about this year's Student Finalist – Ali Haller.
Ali Haller's work is total #goals! As a Student Finalist, we see her vision is well beyond her years. Creating cuts with interest and color with purpose we can't wait to see what this artist does next! Keep reading to get to know more about this amazing artist and all of her inspirations!
---
How does it feel to be a finalist?!
I feel so blessed and honored to be a finalist. It still feels completely surreal. I am grateful to have had the opportunity with my school to create an editorial collection and then I was blown away when I was nominated for NAHA.
What was the inspiration behind the collection?
Previous to beginning my journey in the beauty industry, I was a Project Manager for a landscape company. I loved the design aspect of landscaping and did a lot of work with stone veneer, reclaimed wood, and tile. I wanted to create a look that mimicked the same randomized pattern of color and shapes.
How did you decide to compete?
I had the privilege to attend Beacon last year and part of the 3-day event included attending NAHA 2017. I was so moved by the ceremony and all the amazing collections that I knew immediately that this was what I wanted to do in this industry. When I returned to Aveda Institute of Denver, I immediately began working on setting myself up to create a collection to submit for NAHA.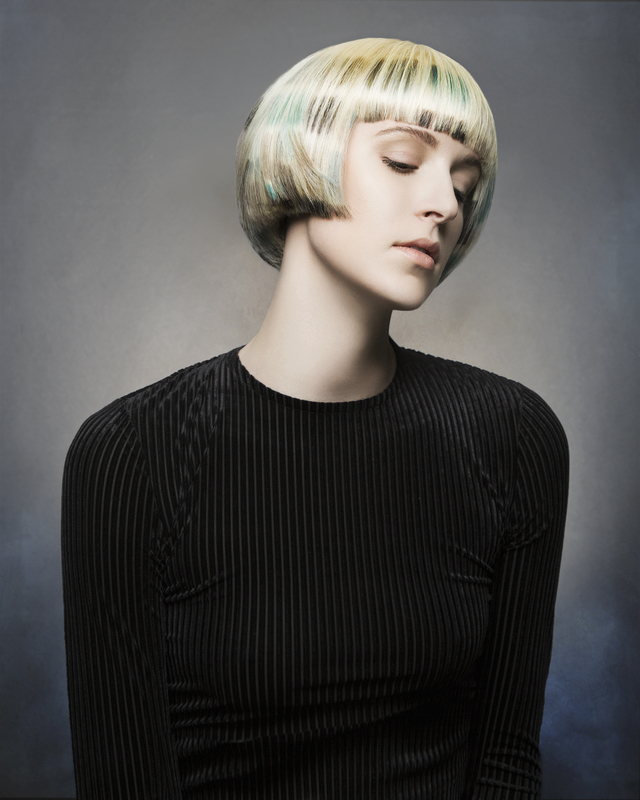 Who were your mentors along the way?
I had so many mentors along the way. I took every opportunity to ask anyone
I met questions and learn as much as I could. I could not have created this collection without the Aveda Inspire Greatness team– Heggy Gonzalez, Sam Downes, Danell Hildman, Ely Sands, Brad Van-Dyke, Anne Skubis, Keith Bryce, and Heidi Gress. Also, I was lucky to have amazing and supportive educators at the Aveda Institute of Denver with a special thanks to Robert Kelly, Haley Mireles, and Tro Trujillo.
What techniques did you use to create your collection?
Color blocking and freehand painting with an acrylic paint brush.
How did you come up with the concept?
Mostly through looking at photos of architecture, landscaping, and interior design.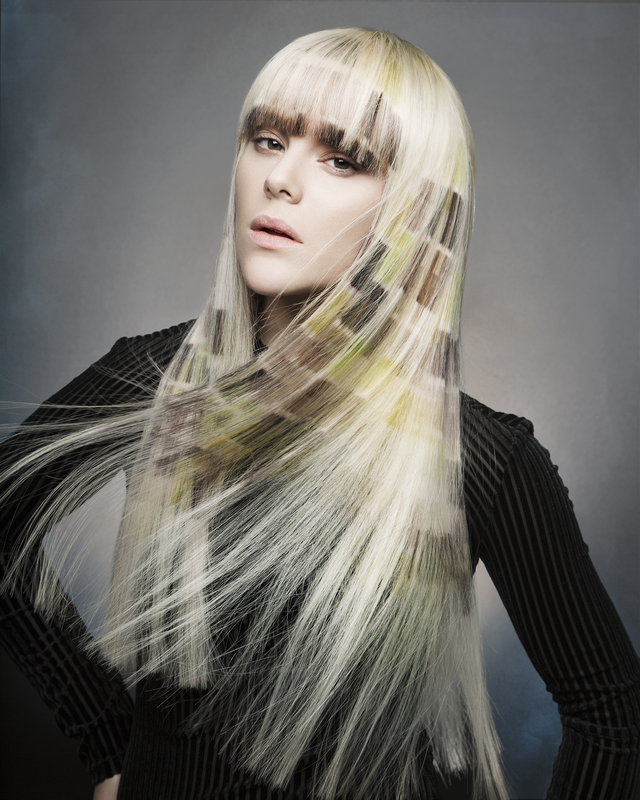 What was the most important aspect for you?
The most important aspect for me was to find a different way to color onto the hair. I wanted to see what truly "painting" the hair could create.
What was your biggest challenge in creating the collection?
My biggest challenge was coming up with a color formula that would allow me to paint onto the hair with an acrylic paintbrush. I learned that I had to use a gel-based color to more evenly saturate the hair while not influencing the shapes that I wanted to paint.
How did social media influence your art?
I followed Angelo Seminara and Vivienne Mackinder and was largely influenced by their work.
How did you pick your team?
My team picked me.
What would you tell other students about entering?
Step out of your comfort zone and trust the process, trust yourself, but most important – have fun!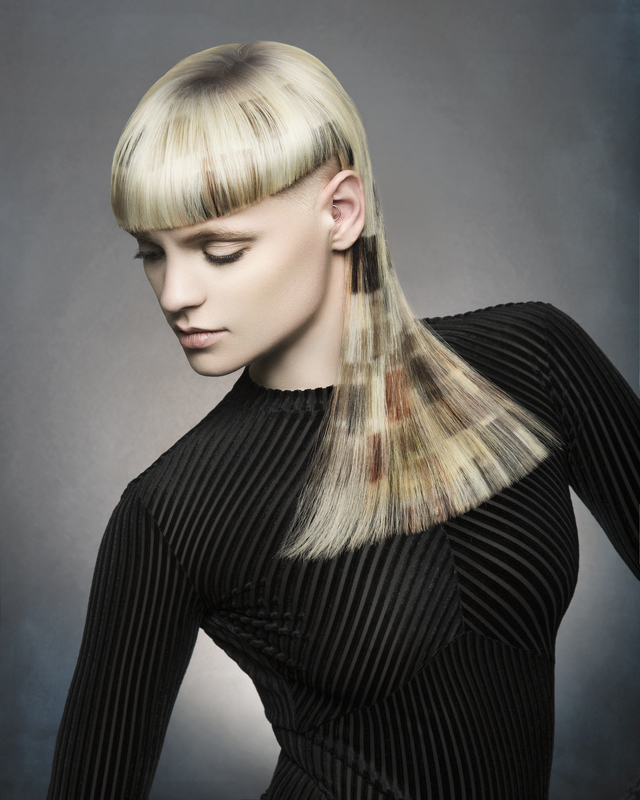 How do you Vegas?
I love going to all the shows! Last year, Blue Man Group was my favorite.
Salty or sweet?
Hmmm… both at the same time?
What did you learn about yourself through this process?
I learned how to lean into the uncomfortable. Naturally, we want to stay in what feels familiar, however, the biggest growth and sense of achievement comes from doing something you would not normally do and having the opportunity to learn from it.
If you won the lotto (or slot machine) tomorrow, what would you do?
Attend more workshops and classes, create more collections, and travel.
---
Looking for inspiration? Be sure check out all the NAHA finalists here.