Each October, National Diversity Week takes place and this year we are celebrating it 10/4-10/10. In an effort to highlight the cause and to celebrate the community, Wella brands are partnering with Keya Artistically Neal, an educator and industry activist, to challenge the stylist community to #AmplifyDiverseHair by sharing the work of diverse stylists on their Instagram feeds.
The Wella family of brands (Wella Professionals, Nioxin and Sebastian Professional) is committed to improving diversity, inclusion and equity within their organization and in the professional hair industry. Their goal is for all stylists to have equal opportunities and ensure all hair types are celebrated.
Therefore, Wella brands will host a variety of programming kicking off on Monday, October 5. We'd love if you could join us to help drive change and amplifying the effort by taking part in the #AmplifyDiverseHair challenge, as well as tune in to the Instagram Live events to learn more about creating a more inclusive industry with these amazing ambassadors:
All events will take place on IG Live with the #WellaFamily of Brand Ambassadors and Top Artists channels with diverse stylists: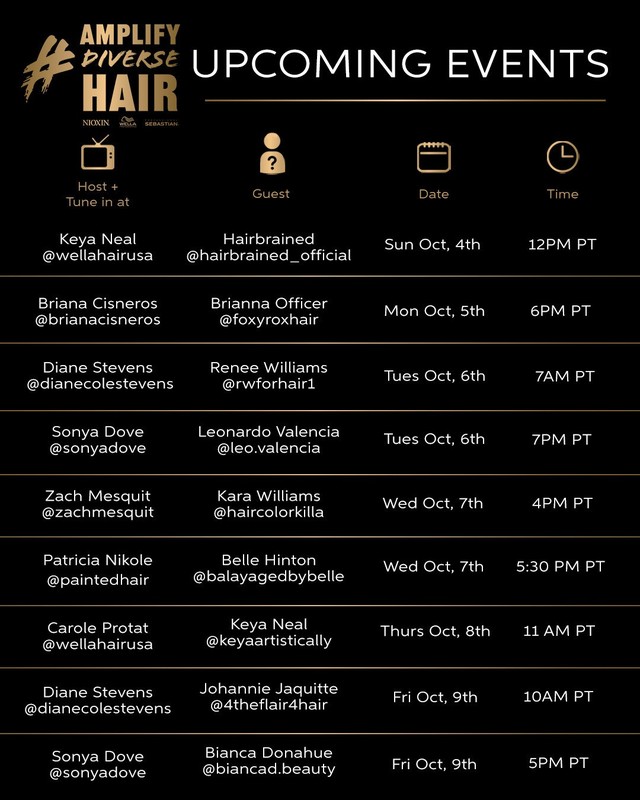 Additionally, tune into:
@wellahairusa, @wellaeducation, @Nioxin, @sebastianpro_northamerica, as they will be celebrating and amplifying the work of diverse stylists on their feeds throughout the week. With your partnership, they hope to raise more awareness for the issue and to break down walls that keep the industry segregated, so we can all benefit from diverse perspectives.