The weather is beautiful, a cool 76°. As I make my way to 62nd St. to the Lincoln Center, The sidewalks are buzzing with life. There's already a line forming in the front with the most stylish of people waiting to see the show. Fashion bloggers are stopping everyone left and right just to take their picture as I make my way past the main entrance, I begin to head towards back stage. [When I need to get to something this important I don't like to be late.] As I make my way through the doors, I run into one of the head hair stylists for the show; Jorge Luis. We quickly talk over some of the looks that we're going to work on for the next two shows, as we begin to set up our stations while waiting for everyone else to trickle in. One by one, the models seem to come. We all know that at any moment it's about to be a madhouse so we begin to pair up on each model to finish the looks quickly so we don't get behind.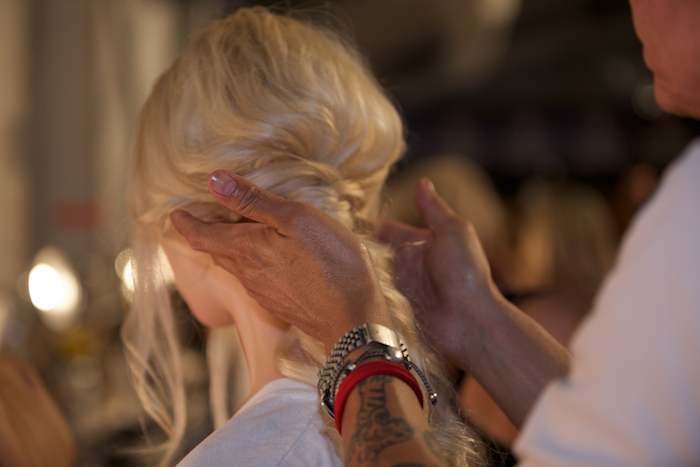 The first show was for Son Jung Wan and we incorporated sleek ponytails with a loop in the back at the nape of the neck with four long bobby pins as accents. We used very minimal products to support the styles, only texture spray and some hairspray with a little dry shampoo from Prive' products. Once we finished the first collection we had about 30 minutes before the next wave of models were going to come in for the Luis Antonio show. Laurent Dufourg and Jorge Luis were the lead Hairstylists on both collections and developed the looks for the runway.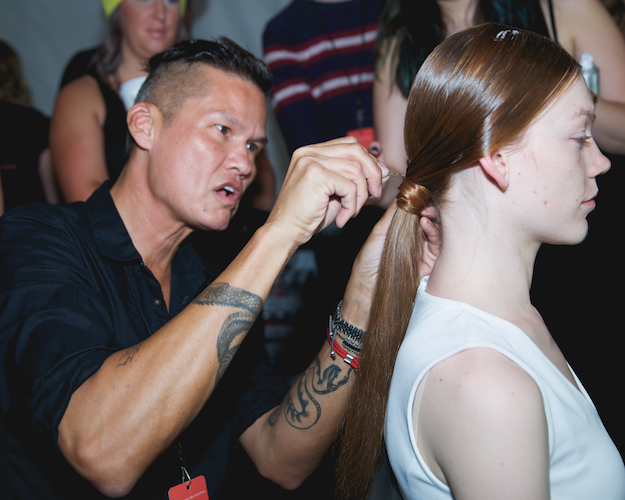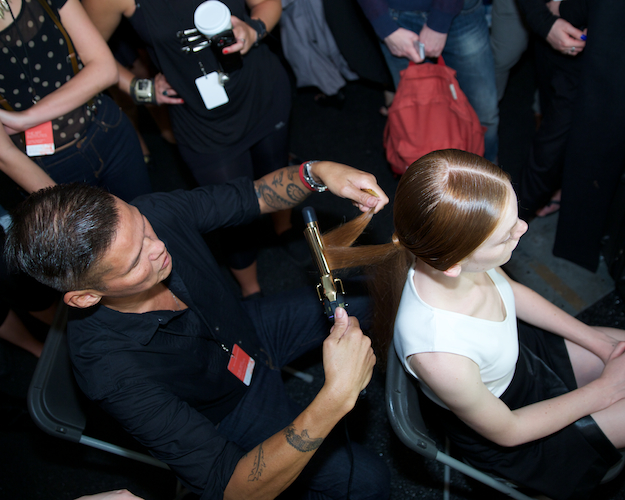 This next collection was a bit more romantic with a loose wave tied back into a low ponytail where the waves were pulled ever so slightly out of the braid [which wrapped around the hair to creat the pony] to give it somewhat of a Bob effect with Bohemian waves coming down the back. A few pieces were delicately pulled out to frame the face and you could tell that it fit extremely well with the collection. We finished up the models as quickly as we could then went backstage to do final touchups right before they walked out on the runway. Judging by the crowd both shows were a success and we all were filled with satisfaction as we begin to pack up and come down from our high.