A humble barber in Old Havana, Cuba is creating the first international monument to hairdressing... while caring for the people who live along Barbers Alley. Meet the man who is teaching the profession that what we do is much more than hair.
Gilberto "Papito" Valladares has been cutting hair and supporting Cuban community and culture in Havana since 1997, opening his salon Artecorte in 1999. His Barbers and Hairdressers monument project was launched in 2015. Papito can be found in Barbers' Alley in Old Havana, where his days include styling, teaching, and caring for his community, including children, seniors, and young adults.
Papito sat down for an interview recently, reflecting on his life, and his vision.
How did you get started in hairdressing?
In Cuba there is a honorable history of the Cuban barbering tradition and almost 30 years ago, after much contemplation, I found myself in barbering school. When I cut hair for the first time I fell in love with the profession.
Where did you learn your techniques?
I spent many years as a barber, and then became a hairdresser.
Who were your mentors along the way?
The person who influenced me the most was Francisco Burton, my teacher from the Barber's School. He made me fall in love with what I do, and choose it as a way of life.
As an artist, where do you find inspiration?
Well, I live in Cuba, a country with a rich culture, so it's easy to find inspiration. It's all around me! I let every experience I have contribute to my work.
What is it like to be a hairdresser in Cuba?
Many years ago it was a very challenging experience, as it was almost impossible to have access to quality products. Nowadays Cuba has been opening itself to the world, and the world to Cuba, so it's easier to learn from others and work with professional products.
How do you feel being a hairdresser in Cuba differs from other parts of the world?

Cuba has amazing people who love to look good, so a hairdresser is an essential part of life for many people. This is true elsewhere, but the rich mix of cultures makes a difference here. Some people follow European, Afro-Cuban or Asian traditions. Some combine all three, and more. It's all about personal expression. Keeping up with the trends coming from Europe or the US is a must do for a hairdresser here.
What is your favorite part of this artistic process?
I love working with the clients and being connected to their lifestyle. Listening to them, understanding their vision, helping them feel wonderful about themselves. Every person is unique, so for me it's creating a reflection of them, through art.
What is your favorite thing about being a hairdresser?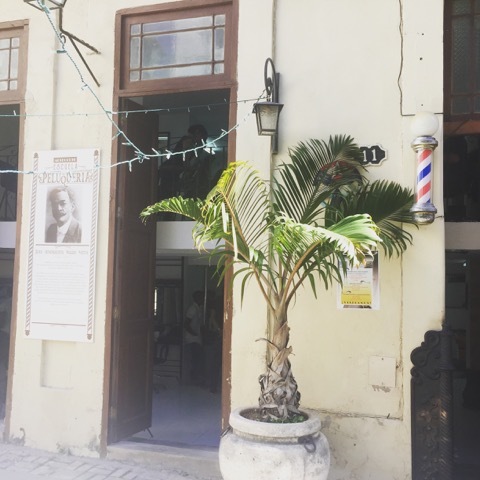 In the chair, I think what I love the most about being a hairdresser is to connect with people and help them to improve their self-esteem. Beauty comes from within, and I help bring it out. Beyond the chair, touching one life touches many, and ultimately creates community: a place to share art and culture, and help one another.
When did you decide that you wanted to start a nonprofit beauty school?
My dreams of a nonprofit school started after I had been in the trade for a while. But the "why" is more important: I wanted to give back the opportunity life in the industry gave to me. I was an erratic teenager who found a true path in our trade. I needed to provide the same opportunity for others.
What do you hope the Barbers and Hairdressers sculpture will do for the community?
I want the monument to encourage anyone to find their passion, whether it's cutting hair or something else, and follow it. That is how we improve our lives, our communities, our countries, and our world. Yes, this monument is an homage to all stylists who devote their lives to the trade -- that's why it's so important to gather as many scissors from as many countries as we can, so we can have a representation of the whole world there -- but really, I want everyone to be inspired.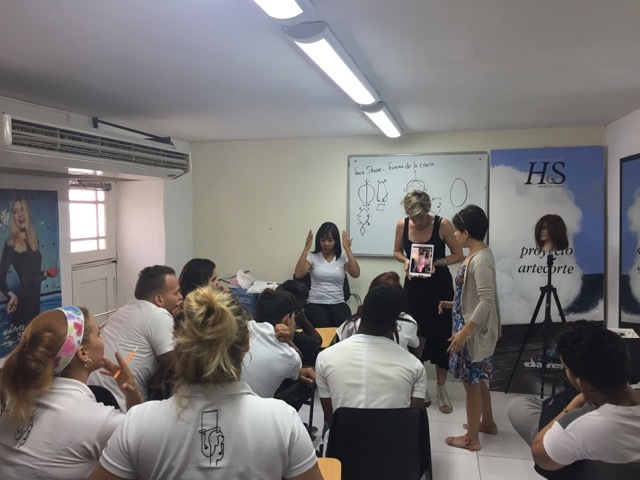 What has the experience been like getting shears from all over the world?
Oh, it's been an incredibly exciting experience. Many hairdressers have traveled to Cuba to personally deliver their scissors and meeting them has been amazing. The monument is connecting us worldwide. You know, we're still getting scissors from many different countries, and our goal is to have at least one from every country when we're done. That's why we partnered with Dayna Cakebread as our North American ambassador. It's impossible to ship anything to Cuba, especially sharp objects. Dayna started her Scissors for Cuba campaign in 2016 to raise awareness and hand-deliver donated pairs for the monument. The campaign really brought our story to the world.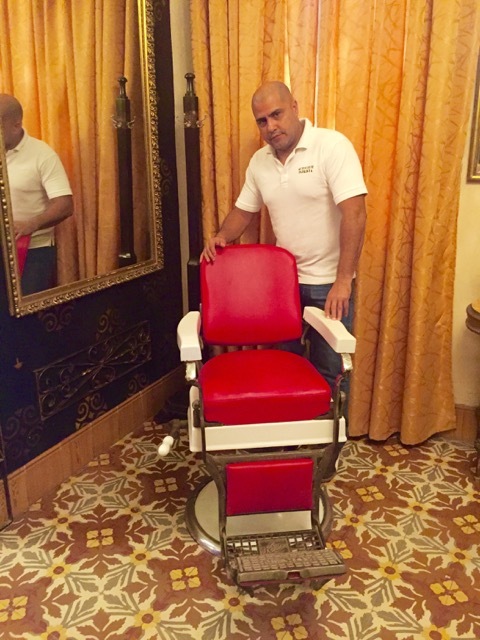 Dayna Cakebread is the North American Ambassador for Artecorte, leading the Scissors for Cuba campaign. She has been a hairstylist since 1991, opening her salon Belle Epoque in 2002 in Portland Oregon. She is the creator of the 3 To Be Me concept, used by stylists nationwide to build strong branding and client loyalty behind the chair.
As to why Dayna contributes her time to head up the Scissors campaign, she says "Papito created an entire community, Artecorte, combining art, history, the craft of hairdressing and person-to-person connection. I loved that along with building a successful salon, he took his passion to the street, and to the people."
Dayna is asking hairdressers to support the cause by contributing their unusable scissors to the Barbers and Hairdressers monument. The scissors will be welded to the monument, joining others in honoring the profession from all around the world. "The Scissors for Cuba project has gotten donations from Ted Gibson, George Alderete, Chrystofer Benson, Philip Wilson and many others," Cakebread says. "But just as important, stylists from all walks of life have contributed."
"Our scissors are a symbol of what we do for our community," Cakebread says. "As hairdressers, we impact our community, and now here's a monument that celebrates it and inspires us to do more of it. Join us!" Cakebread's next trip to Havana is in November 2017, and she plans to deliver another batch of scissors when she goes.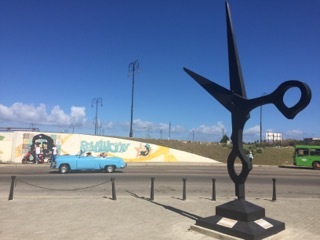 Go to the Scissors for Cuba website for more on the project. www.scissorsforcuba.com To donate, download the donation form and follow instructions. All donors' names will be included on the commemorative plaque at the base of the monument. Those with additional questions can email dayna@artecorte.org for more information.