This year, Meleesa Luna won the Bangstyle Artist To Reign Supreme 2018! Her beautiful work has long been a favorite of our editors and this year she captured the hearts of our audience as well. Keep reading to get to know more about her collection as well as her as an artist!
---
I am a pretty intuitive artist, I believe I just create based on where I am in life and what it is that I am needing to express. I feel my eye is the sharpest tool and then my hands are the translation of what my mind is trying to express. I am one of those artists that work with what you have and just make something out of it. I could say that intuition is my superpower and I am a pretty flexible artist - meaning that you just have to go with the flow of what's going on. Listen to what is being told to you by the hair or the situation and pretty much work with that and not against that.
How does it feel to be the Artist to Reign Supreme?
I still feel like myself, but behind this title there is was a lot of great things that come. With winning, there was a great realization of the community that I had built, that I wasn't even aware of before this. It is exciting and brings me so much joy to really see others get excited and root for something that I had created and see them take a part of something I never really thought had so much meaning to other people, including clients and friends, especially in Costa Rica - people were super excited! My parents were super engaged, friends from all over the world, and my loved ones – I was getting emails from clients in the salon that I don't always serve, but they see other stylists. To see them ALL get involved and the energy that was created, it was what really fueled my excitement for it. It is hard as an artist to have people judge your art, so with that being said this was a pretty different experience, because it brought a lot of joy to the competition and it was nice to just see that people care about what you create and to see them all participated and discover the site as well. I never really entered this contest with the intention to win. I had uploaded these pictures and I honestly can't recall what happened last year because I was moving my business in July. I was actually taking a hiatus from the internet during the beginning of this year so I was a little late to the party when I got the news. But, I thought "oh well, it's a little late," but then I shared it with some people and everyone got so excited, so I guess sometimes the turtle wins the race.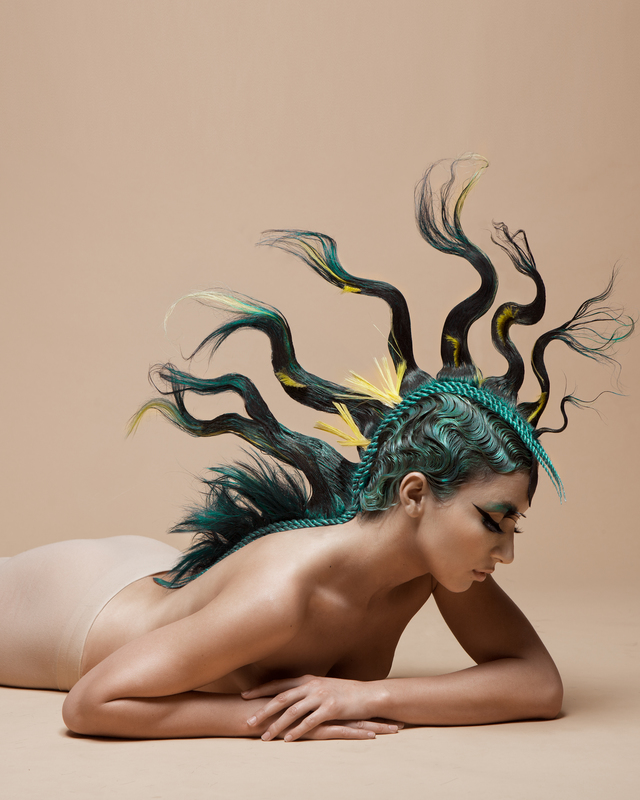 ​
What do you think the key to your success was?
Well, I think the key to my success is just to keep trying new things and really inspiring myself to feel myself and get out of my comfort zone for how painful that may be during many aspects of my life and my artistic and personal and business life. Getting uncomfortable and just taking a risk knowing that I may fail, or that I may not, it's what keeps me moving.
What was the inspiration behind the image:
The inspiration behind the image was the concept of metamorphosis - this image was part of a three-piece collection, which had the caterpillar, the cocoon and the butterfly, and on its own, it can be interpreted a lot of different ways. A lot of people were talking about the flower of life, that it is part of a mandala, and it is very transformational, which applies to the metamorphosis concept. But this was just a period of my life that I was experiencing and I just wanted to translate it into a visual. I had actually created this project to enter NAHA, which the project wasn't chosen for the category. But in reality, ultimately, it was for personal satisfaction, and the representation of a butterfly as a caterpillar and the cocoon, where you are in there and most of the time as a human you feel that you are at this point where really its like a slow death, but you don't understand that at that moment in time, its not only when you surrender that you can transform (whether its breaking habits or experiencing a different way or form of thinking) then you just spread your wings and fly like a butterfly. But, I thought it was appropriate for the time of year, which was the New Year and so many people have all those New Year's resolutions and are trying to transform and change so many things, so that was pretty cool.
I created the piece with a lot of patience, and a lot of hair, and extension locks (metal lock pieces) macramé techniques and forms to create the shape and a lot of supplies from the craft store, the hardware store and the hair store. It took a lot of trial and error and a lot of Modge Podge.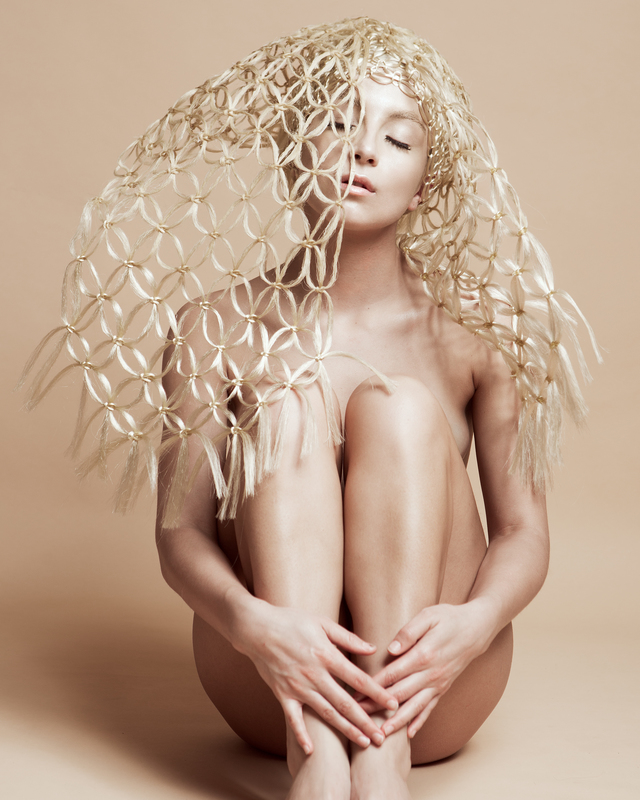 What did you learn about yourself through this process?
That I really love doing this. That truly I could just do hair behind the chair to have social and interact with people and then I could really retreat into doing these big projects that require a lot of craftsmanship. I did have a team with me working diligently in mass production of the work. Everything was made out of hair so everything had to be colored appropriately and in all the right hues. So there were a lot of steps to getting this collection together. But, I really loved seeing something in my head come to life and form itself organically. I love the part where I just felt so defeated and I would start losing my mind and just crying and then I would just keep going. I would sometimes think it was a lot more than I could chew but, I did push myself to follow through and that was pretty awesome. I kept reminding myself that everything is possible if you can step away from it and just get back to it and even if you have something in your mind of what you want to create, it might not go that way and you have to try different things and sometimes you have to just completely lose yourself in it or step away completely from it and actually take breaks from it.
Products or tools?
There weren't really any specific products or tools that helped create this image. The image had very, very minimal Photoshopping, almost none. Maybe it was just lighting. Everything that you see was as it was created. Really the macramé was the stiff Modge Podge and lots of hair and those little metal extension clips to lock the pieces in place.
If you could style one celeb, who would it be and what would you do?
I mean, I am not very celeb crazed but I really do love Lady Gaga - I can say that. And I think she would wear something outrageous and big and avant-garde - so she would probably be it. Not sure what it would be, but I am sure, with her, the sky is the limit - so something fantastic.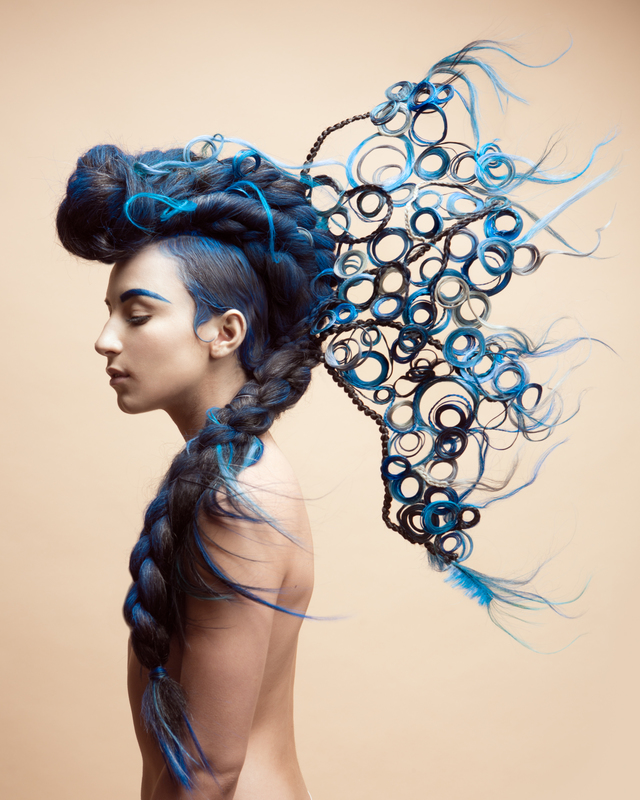 Upcoming trends?
I think, of course, we're going back to a lot of those retro shags and really soft texture with volume and hopefully shying away from the curling wand that would be lovely. I know baby bangs are going to be big and hopefully a little more "real, unfiltered, beauty" would be my ideal future forecast for the season.
Thank you so much for this opportunity, for allowing me to showcase my art on your platform. I am looking forward to collaborating a lot more this year. I am truly focusing on branding myself as a clean beauty lover and advisor and showing people that you can create amazing things with clean beauty and educating people more about what "clean beauty" really means in our industry!
---
For more fashion-forward styles and product picks and be sure to stock up on all goodies the Bangstyle store has to offer!