Chystofer Benson didn't always know he wanted to get into the art of hairdressing. He had family in the business and they had suggested that he go check it out. Once he got into it, he fell in love and the rest is history! You may recognize Chrystofer for his absolutely amazing color or fantastical hair structures; however, Chrystofer Benson is also a fabulous educator for Matrix. Teaching others has become part of his passion for the industry and is where he draws a great deal of his inspiration today. This year, Chrystofer Benson won the Artist to Reign Supreme so we wanted to learn a little more about how he creates his work and how he got to where he is today. Keep reading to find out!
Why color?
I like everything that encompasses hair, but hair color seems to be what I get crazy recognized for. In beauty school, I had a few incidents that made me passionate about figuring out how to formulate and place color so I did dove into education to find out how people were doing things and it just developed my style.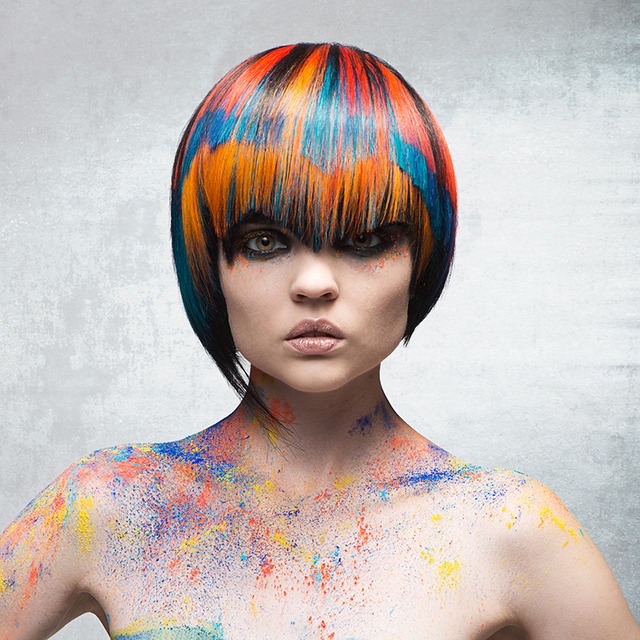 How does it feel to Reign Supreme?
Crazy! Humbling! Grateful! Honored! And shocked! Anytime you get into a social campaign where people have to vote and pick you just never know how it's going to turn out! I thought there was some really great work that I was up against, especially toward the end, and you never know but clearly, there's a lot of support for my work. I'm sure I drove my family and friends crazy every day telling them to vote, but I'm shocked and very grateful, it's a huge thing!
How did you create your winning image?
It's definitely a color melt, but many times people usually think of that as dark to light transition and I wanted to flip it with light on top. I wanted it to be different – sunset colors with coppers and reds. We shot it with and without the veil, and I thought it was so much stronger with it.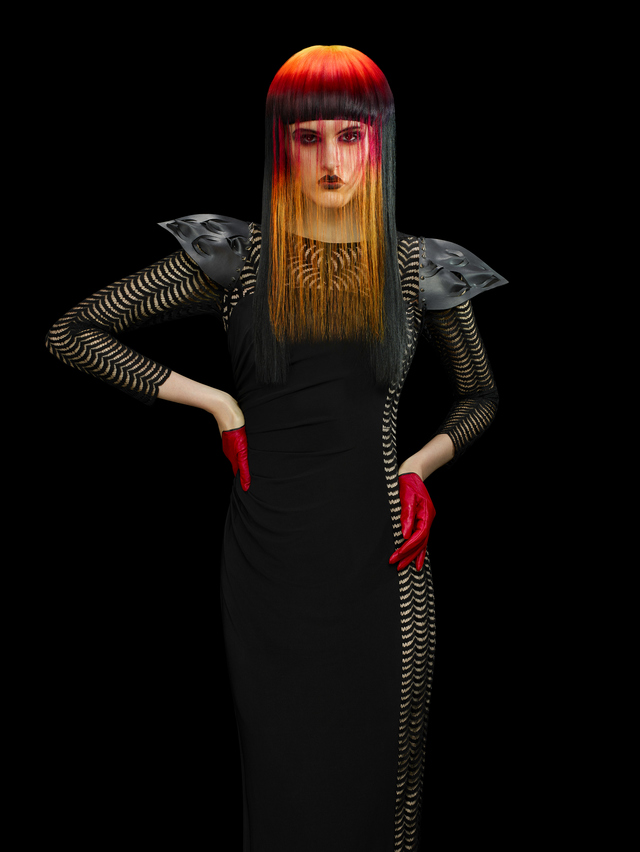 What was the most important detail for you?
The overall image, for sure. The package is what nailed it – the hair, wardrobe, model, and photographer.
Is there one tool you can't live without?
My CBC hair color brushes – for sure!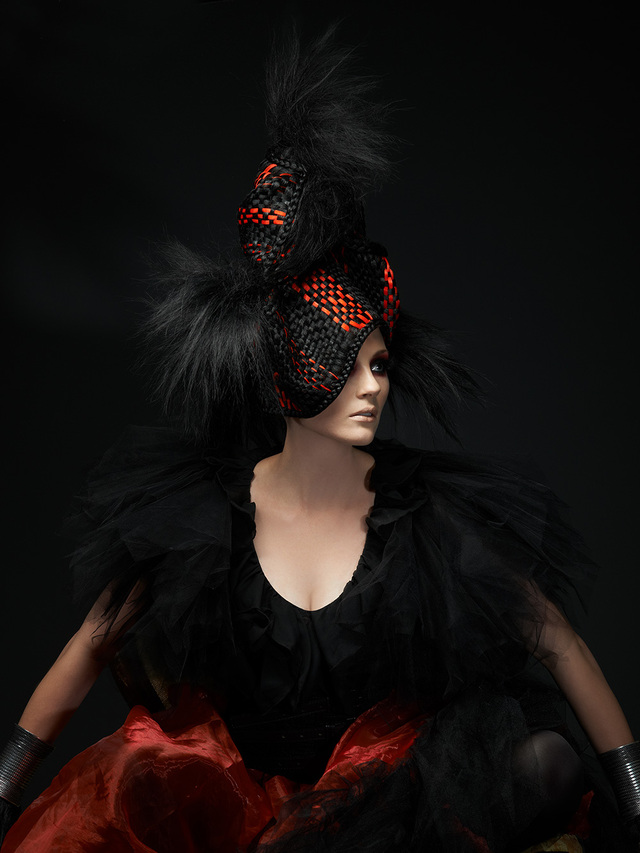 Which came first, the color or the style?
They were simultaneous! We definitely did the color first, but it was planned based on what the cut was going to do – but the color was executed first.
Where do you usually draw inspiration? What was your biggest inspiration for this image?
Mother nature – it teaches us to put tones, textures and colors together we aren't normally taught in art or coloring. Then it comes down to concentrating on something you really love. I travel so much and sunsets are one of the biggest things I observe. They look so different based on where you are geographical – so the different hues I've seen were a big inspiration.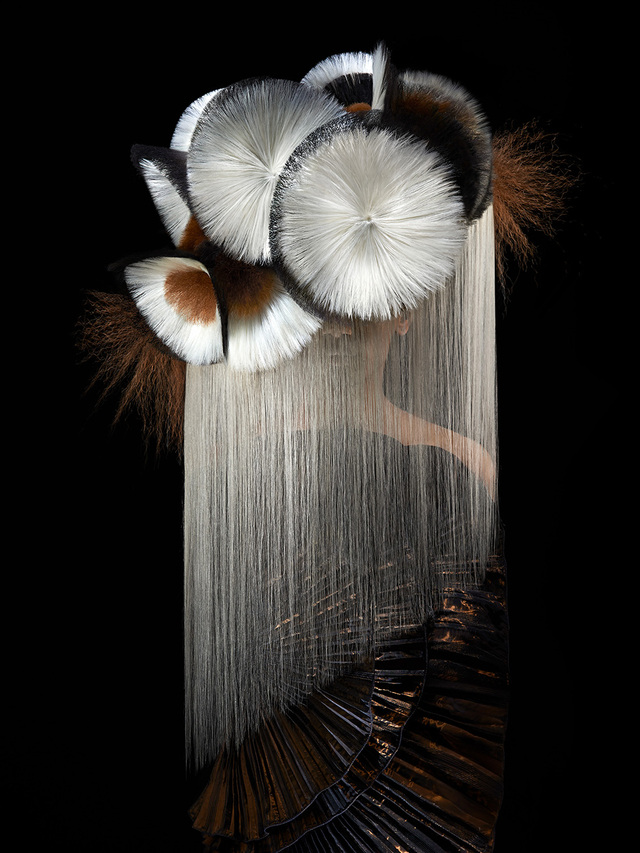 When creating a collection, what's your first step? What's the last?
First was the concept. Last was making sure I was good with it before it went out. Was it retouched enough but not too much? Does the concept come through? These are things you have to check off your list before you put your work out there because once it's out, it's out!
What has your biggest accomplishment been in your career so far?
The awards are absolutely amazing – but for me, its watching people you work with grow into their own potential. How you pass your skills on to other people and watch them thrive is truly an accomplishment.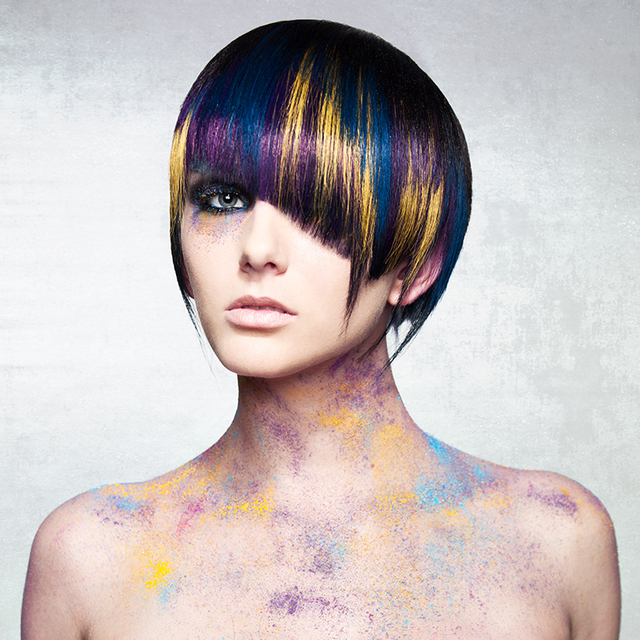 Who were your mentors along the way?
From the beginning, it's been Trevor Sorbie, Vidal Sassoon, Damien Carney, Sue Pemberton and Nicholas French. They are the biggest game changers for me as far as what they put in front of me. They challenged me the most. Obviously Trevor with his cuts, his color, and his whole package, Sassoon for his principles and the way he changed the industry, Sue for her transformative color and Nicholas when it came to styling and avant-garde. I've had some insanely talented mentors and I am so grateful. Now I feel so inspired by the youth. I look at the raw, unfiltered stuff they do and it's so cool. When you get to this level you try different things to get results but sometimes you get into a box and when you look at the young ones you remember just going for it, they are super inspiring too!
How did you develop your unique style?
I just think you just have to be clear about what you want to be known for. Essentially your style is your brand. Of course, I can do a beautiful blonde and you have to take those steps to build your career, but hair color became my art. One of the biggest game changers was when I came to Matrix, it was clear what was and wasn't there – vivids, high energy color, strong lines and pushing the envelope wasn't a thing then so I was against the grain. I helped push the envelope while developing my own identity. Vivid colors, strong lines, diverse textures – simple, that's me, that's what my brand is and my work have to reflect that. If you're going to define yourself, you have to stick to it. This is the medium I found to be an artist and while you won't see my styles on the everyday client, some of this stuff trickles down to the commercial, but hey you don't wear Alexander McQueen every day either. So, I hope others take my work as inspiration and run with it. Either people love it or they don't and you have to be ok with that. You have to be rock solid on what you put it because people are going to judge it. Get really comfortable with what you're putting out there, and stay true to yourself.

---
To see even more of Chrystofer's work be sure to stalk him on Bangstyle and pick up his color tools in the Bangstyle Store!