Blonde hair has gotten a bad rap for being super high-maintenance. With the constant touch-ups and weekly toning sessions, it can be intimidating to commit to lighter strands—but it doesn't have to be! Enter: The privé Blonde Rush Sample Box. Perfect for women on the hunt for a quick and easy hair care routine, this set comes with all of the essentials to achieve bombshell-worthy strands. Read on to find out why this box is a must for blondes everywhere.
What It is: Whether you're a (nearly) natural blonde or just started experimenting with highlights, the privé Blonde Rush Sample Box takes the guesswork out of product shopping. It comes with the privé Blonde Rush Shampoo and Conditioner to counteract unwanted brassy or yellow tones, leaving you with rich, high-shine color.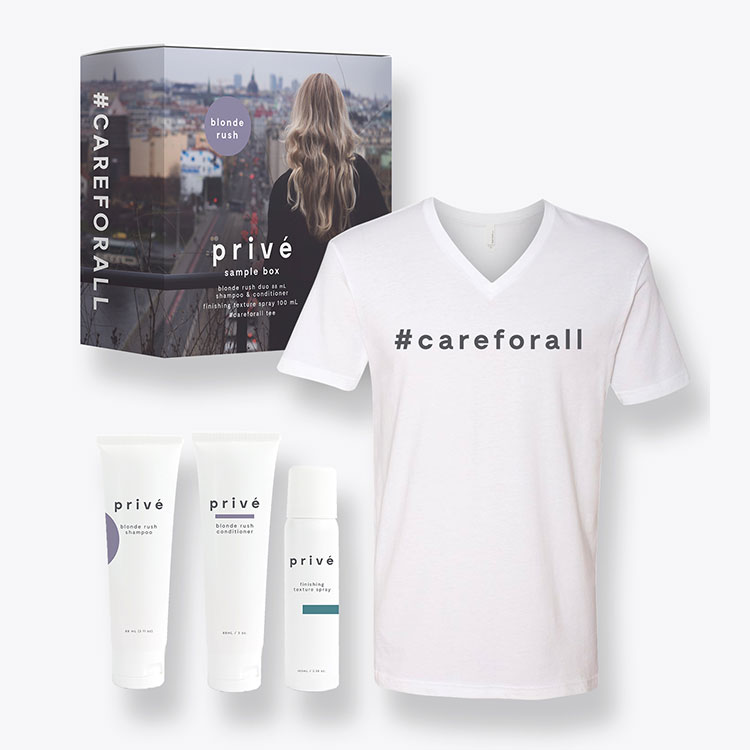 Why You'll Love It: If you think all toning shampoos are created equal, think again. Unlike other formulas, which can be extremely drying and can result in discoloration, the privé Blonde Rush Shampoo is formulated with antioxidants, oils and strengthening proteins that nourish your strands and protect your color, while the privé Blonde Rush Conditioner provides a much-needed surge of moisture to revitalize colored hair. Bonus: The set also comes with the privé Finishing Texture Spray for easy styling and a white #careforall T-shirt to add to your wardrobe.
---
privé aims to inspire the everyday gal by highlighting real styles on real women. Be sure to follow their adventures on Bangstyle and through social media. Looking to carry this line in your salon? – Get it here!