Whether you're a DIY bride looking to save a few $$$'s by styling her own strands or a stylist anticipating a mass of clients throughout wedding season, you must get prepared. From the right tools to the latest techniques, check out five tips for creating styles that will last from the "I do's" to the last dance.
Start with the right foundation
If you have any hope of creating an updo that lasts all night, it's important to start with the right base. For the strongest hold, opt for a single braid across the head. "[A braid] can act as the anchor to any soft, twisted, romantic upstyle," explains Sam Villa team member Anna Peters. The style should follow the braid, which will allow you to pin the hair into it as you go. Other options? Cascading ponytails, ideal for twisted chignons; a low bun, perfect for loose, low upstyles with tons of volume; or a twist, ideal for romantic half-updos.
Pump up the volume and texture
Lasting volume is essential to nearly every bridal style. In addition to using a strong-hold hairspray, keep the Sam Villa Professional Signature Series Textur Iron on hand to add instant volume and texture. The iron, which features titanium-covered plates with small grooves, can be used to amp up your updos, add lift or texturize your braids. To use, simply take a section of hair at the crown and place it in between the plates, apply pressure for a few seconds, then slowly release the hair and allow it to cool.
Keep an arsenal of pins and grips within reach at all times
Bridal styles require long-lasting hold, which means that you need to load up on pins and grips. "Long hair grips have a toe that kicks up. That toe should go on the bottom," explains Sam Villa. "When there's a toe, there's no need to open the pin-up. The toe is what catches the hair." The more you open the grip, the more likely it is to slip out of the hair. Short grips should be used in the same way. "The wavy pattern [on a short grip] should go on the bottom and the smooth part should be on top," stresses Villa. To achieve maximum hold with hairpins, simply bend the ends to create a "hook"-like shape to prevent slipping.
Opt for a multi-use tool
Curl variance is key to achieving that soft, effortless look. Rather than keeping multiple curling irons on standby, invest in a tool that can create a variety of curl patterns. The Sam Villa Signature Series 2-in-1 Marcel Iron & Wand features a removable Marcel handle, allowing you to create anything from tight ringlets to soft waves. The extended ceramic barrel allows for easy workability on even the longest of hair and provides an even distribution of heat for minimal damage. Use the Marcel iron to create elegant waves, then twist a few tendrils around the wand for a tousled, romantic finish.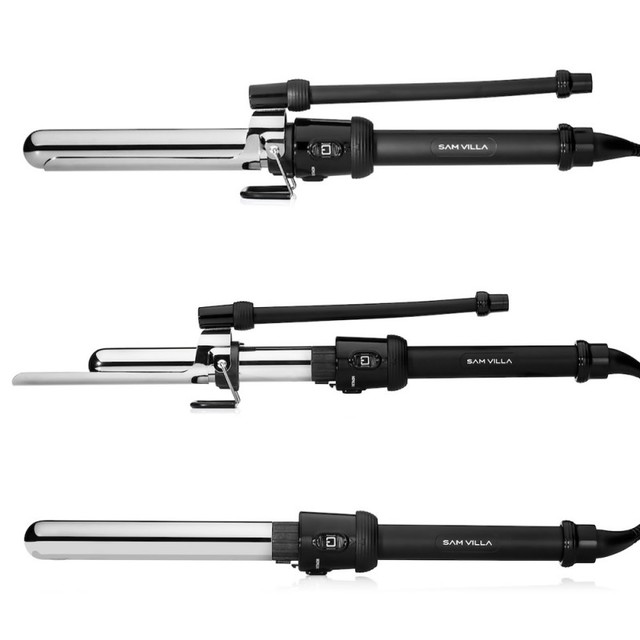 Load up on hair accessories
No matter how much you prepare in advance or how well a hair trial goes, sometimes hair just doesn't want to cooperate on the big day. Save yourself major stress by keeping a few nuptial-ready accessories on hand as a back-up. Think: embellished pins, sparkly headbands or a floral crown. A simple touch can give even the most simple style that special bridal touch—and can also serve as a bride's "something new" in a pinch!
Learn more valuable information for a long-lasting career every week on Facebook and simulcasted on YouTube.
Mannequin Monday with Sammy every Monday at 11:00 AM EDT
Transformation Tuesday with Sammy every Tuesday at 11:00 AM EDT
Wellness Wednesdays every Wednesday at 7:00 PM EDT