Hair gloss treatments are one of the best ways to boost shine, color-correct, and tone. Have a client who's curious about trying a new color but isn't ready to fully commit? Want to address damage while also preventing future breakage? Need to tone down warmth to get that exact shade your client is looking for? Redken's Shades EQ Hair Gloss is the answer!
Whether you're a Shades EQ devotee or a hair gloss newbie, we've compiled everything you need to know about hair gloss treatments and how Shades EQ can help you achieve your client's dream hair. Keep reading for tips and tricks on everything from color families to formulation to finding the right service for your client.
What Makes Shades EQ Different?
Shades EQ is an acidic demi-permanent hair color that acts like a deep conditioner. The acidic component is what really sets Shades EQ apart, as it's extremely gentle on strands. This means hair is softer, shiner, and more hydrated. And, because Shades EQ is ammonia-free, there are no unpleasant odors or discomfort during processing.
Shades EQ comes in an array of hair color options, so you're able to create completely custom looks for your clients, something Mizani and Redken Brand Ambassador Leysa Carrillo, abolutely adores about the line. "I use Shades EQ Gloss for everything – toning, glossing, and refreshing, correcting and adding dimension. The range of Shades EQ color it's so huge, there is nothing that is left out. Anything you want to do, there is a Shades EQ color you can use," says Carrillo.
How to Incorporate Shades EQ into Your Salon Services
Redken's Shades EQ has many applications beyond a simple hair gloss treatment. While it can certainly be used to improve hair health and shine, it can also do so much more than that.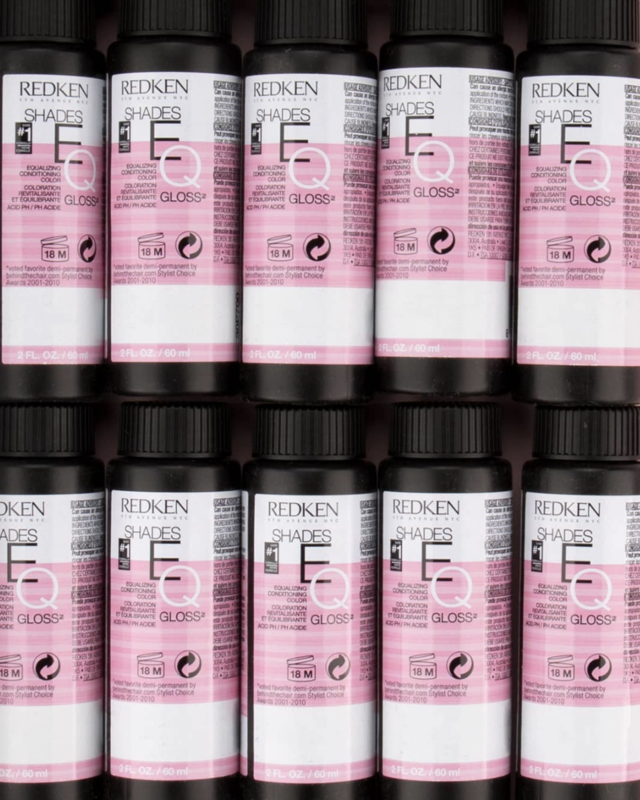 Shades EQ is a demi-permanent hair color; this makes it a great choice for clients who want to play around with color or switch up their look often. Use the new Shades EQ Matte to create cool mushroom browns or beige-blondes with soft shadow roots. You can also use Shades EQ to help clients flirt with bolder looks, like silver, ash, metallic, or pearl—currently, Shades EQ offers 10 silver/gray colors, including new Silver and Steel, as well as four pastel shades. The best part? Because Shades EQ colors are not permanent, they'll slowly wash out over time, eliminating any harsh color lines caused by grow-out. Once a shade is completely gone, it's time to try another!
If you ask Redken Brand Ambassador Matty Rez, he is all about the Ash Browns this season! "At the moment, my favorite Shades EQ shade family is the Ash Browns. It's perfect for brunettes – solid or highlighted – who want to have a cool result.  Since the Ash Browns are super pigmented, I can cut out red and orange tones without having to lift a client too high with lightener. Shades EQ 06ABn can be diluted with clear for even level 7's who want to have the coolest results as well!" His pro tip for keeping things on the cool side? "Remember that cool tones don't reflect as much light as warm tones do, so formulate a little lighter when cooling off," says Rez.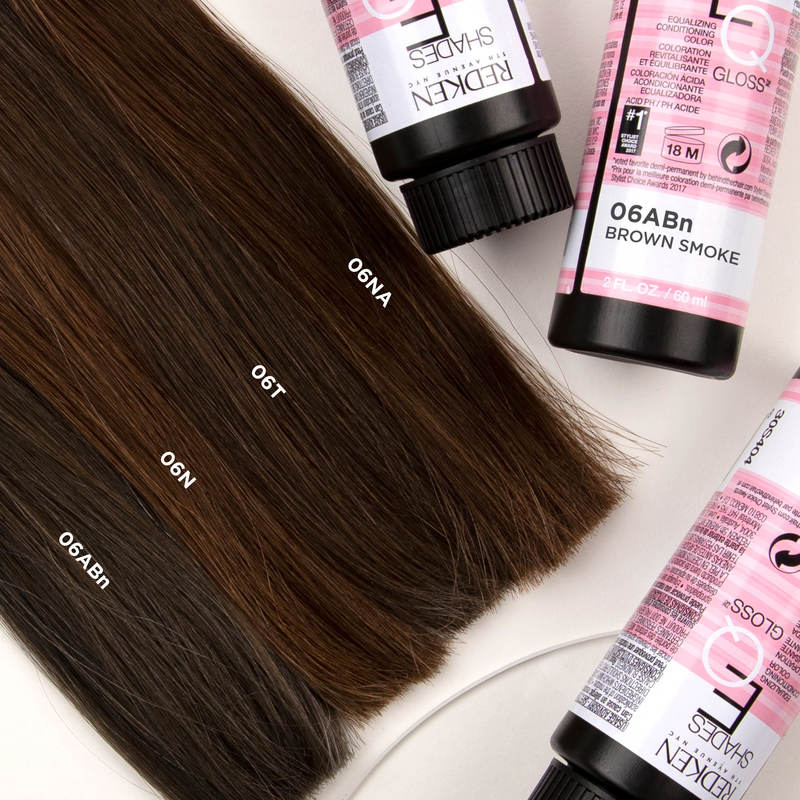 In addition to allowing your clients to get more creative with their looks, Shades EQ can be used when a previous hair color doesn't go to plan. If a client comes in with uneven color, or if her blonde is pulling pinks or reds, you can use Shades EQ to even out tone and get rid of any unwanted warmth.
Shades EQ is also a great option for hair color maintenance between full-color services. To help extend the life of your client's color, plus add gorgeous dimension and shine, recommend that she come in for a glossing treatment between color appointments. Because it's infused with wheat amino acids, Shades EQ also adds enviable softness, leaving strands feeling healthier and more lustrous than ever.
How to Use Shades EQ to Create the Perfect Shade
Now that you know Shades EQ can be used for everything from creating custom hues to color-correcting unwanted tones, it never hurts to have a color wheel refresher. Redken's Shades EQ demi-permanent hair color comes in just about every shade, so you can always get the look your client really wants.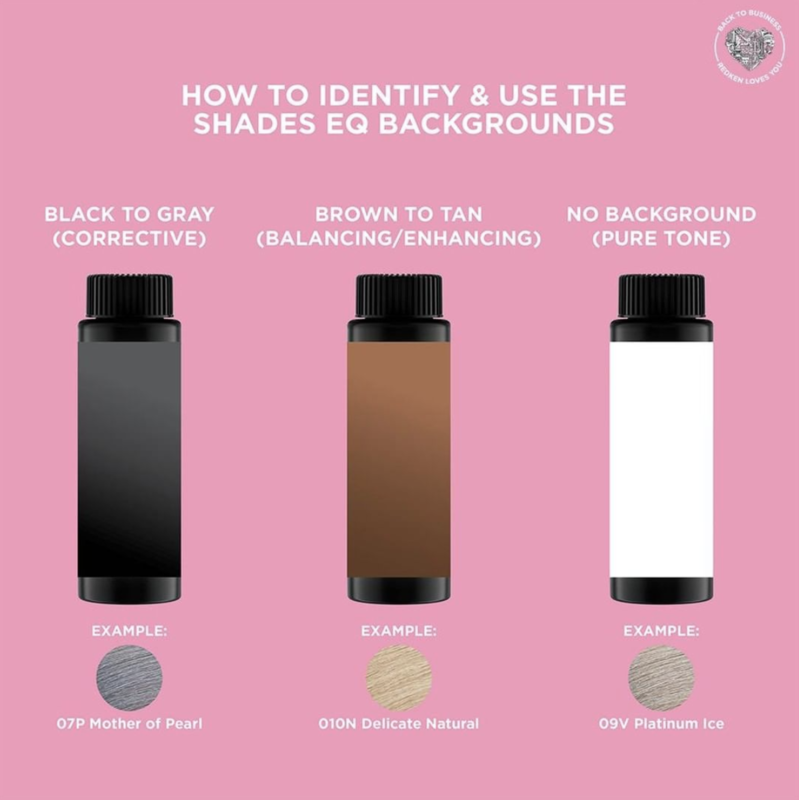 For example, if your client is looking for an icy blonde but her hair is pulling strawberry hues from a previous color service, just use Shades EQ Pastel Green to help neutralize red tones. The Shades EQ Violet Blue family is perfect for nixing yellow and orange tones; use it on its own for maximum strength or mix with Shades EQ Crystal Clear for reduced intensity.
To create the trendy ashy colors we're seeing everywhere, try Shades EQ Natural Ash, which comes in six color options. Tip: try toning your client's base with a Natural Ash shade prior to highlighting to create a perfect starting point for color.
Level 10's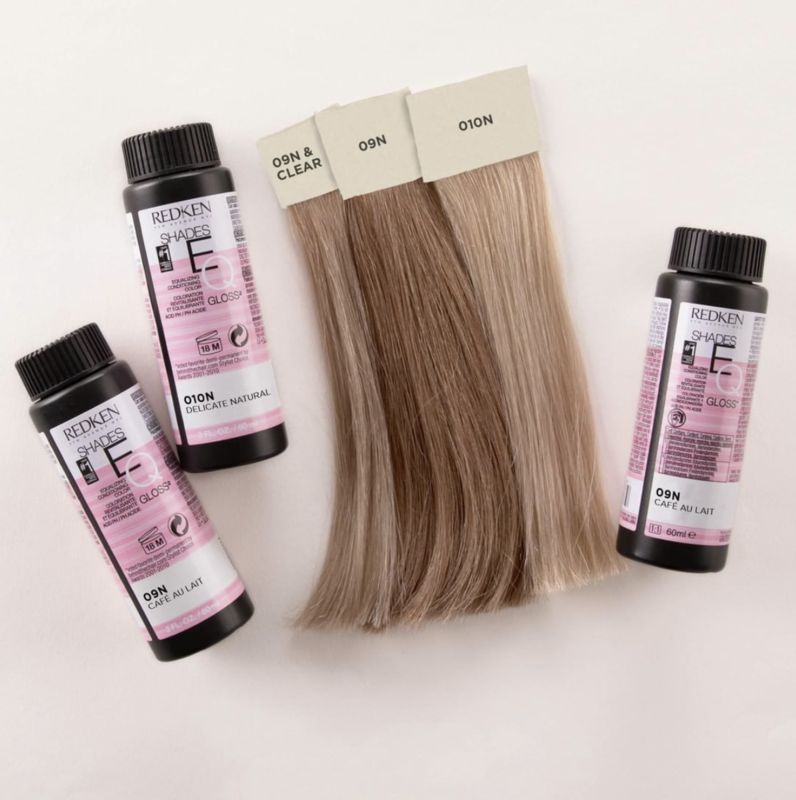 Another trending look? Icy, level 10 blondes. To help you create the look in the salon, Redken introduced Shades EQ 010VV Lavendar Ice and 010N Delicate Natural. These shades gently combat yellow hues so you can help your client achieve a gorgeous, high-level blonde without a trace of warmth.
And, for clients interested in dipping their toes in the pastel hair trend, Redken offers a range of Shades EQ pastels, plus the new Violet Rose to help combat too much warmth in rose gold looks.
Meet Matte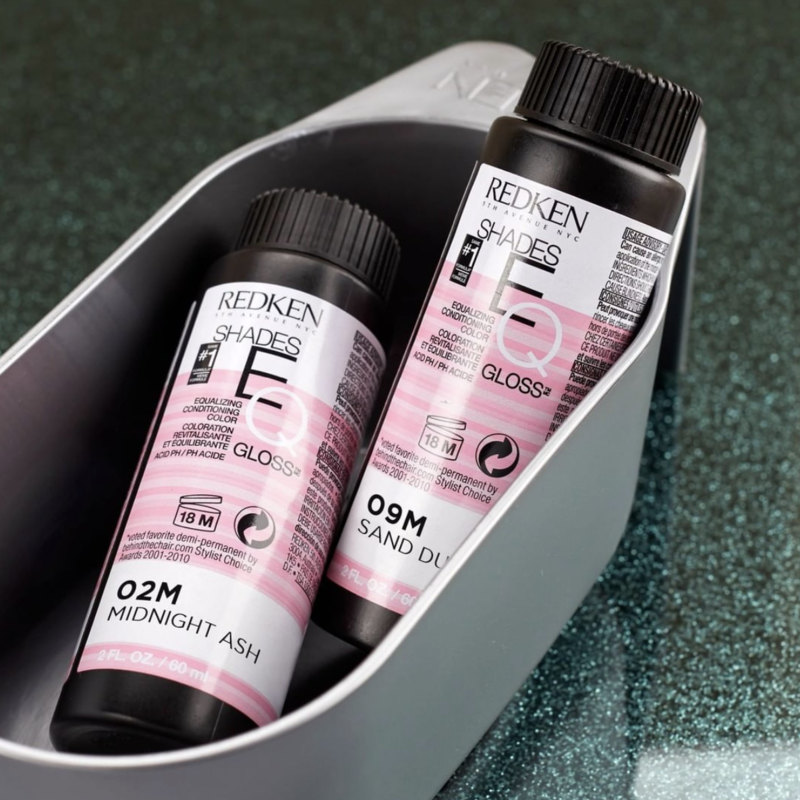 Redken's new Shades EQ family, Matte, offers an innovative way to create this season's trendy mushroom browns and beige blondes. The look is cool, earthy, and natural and, with four color options, the new Matte family allows you to create custom looks for your client, complete with Shades EQ's iconic shine. Why is Mizani + Redken Brand Ambassador Leysa Carrillo so excited about the new Matte shades? "I am obsessed with the entire Matte series. I love the Shades EQ Mattes because it is the perfect amount of cool. Shades EQ Mattes is amazing for clients who don't lift to that perfect pale yellow and might have more underlying pigments because it'll provide a beautiful, neutral balance," says Carrillo. From toning down unwanted brassiness or creating gorgeous, cool-toned looks, Redken's new Shades EQ Matte series has you covered. Best of all? All Shades EQ treatments only take 20 minutes to process, making it the perfect solution for clients looking for a quick and easy, low-commitment hair color change.