Hair Artist Chelsea James of Fōrma + Collective Salon in Denver, Colorado aims to help every stylist grow their confidence and enhance their ability to earn and achieve any financial goal. Chelsea is a recognized international educator in the industry. She is part of 'Le Collectif', the global artistic team for L'Oréal Pro, reaching an international audience of over 60 countries at the L'Oréal Professionnel Business Forum in 2017 and she is currently touring the globe for Hair Fashion Tour. Her latest collection WHOLE was inspired by the essence of Ubuntu. Keep reading to see her fabulous collection and hear the inspiration behind it.
---
What was the inspiration behind your collection?
I named the collection WHOLE. It was inspired by something I read and researched that hit me deeply.
"Ubuntu – I am because we are.
We think of ourselves far too frequently as just individuals, separated from one another, whereas you are connected. What you do affects the whole world. When you do it well, it spreads. A person with ubuntu is open and available to others, affirming of others, does not feel threatened that others are able and good, for he or she has a proper self-assurance that comes from knowing that he or she belongs in a greater whole. A person is a person through other people." – Desmond Tutu
The word 'Ubuntu' originates from one of the Bantu dialects of Africa, and is pronounced as uh-boon-too. It is a traditional African philosophy that offers us an understanding of ourselves in relation with the world. According to Ubuntu, there exists a common bond between us all and it is through this bond, through our interaction with our fellow human beings, that we discover our own human qualities.
"It is the essence of being human. It speaks of the fact that my humanity is caught up and is inextricably bound up in yours. I am human because I belong; it speaks about wholeness, it speaks about compassion. A person with Ubuntu is welcoming, hospitable, warm, generous, and willing to share. Such people are open and available to others, willing to be vulnerable, affirming of others, do not feel threatened that others are able and good, for they have a proper self-assurance that comes from knowing that they belong in a greater whole. They know that they are diminished when others are humiliated, diminished when others are oppressed, diminished when others are treated as if they were less than who they are. The quality of Ubuntu gives people resilience, enabling them to survive and emerge still human despite all efforts to dehumanize them." – Desmond Tutu
Ubuntu does not mean that people should not address themselves. The question therefore is, are you going to do so in order to enable the community around you, and enable it to improve? These are important things in life. And if you can do that, you have done something very important." – Nelson Mandela
This has been a mirror on my journey with trust, belonging and connection. I couldn't express it better and I challenged myself in life and in this shoot to live this with my heart.
I translated this into the universal symbol for whole or hole as being a circle and chose that as a literal inspiration while including diversity in the models and gender. Kept the clothing cohesive and brought the makeup to show the color spectrum.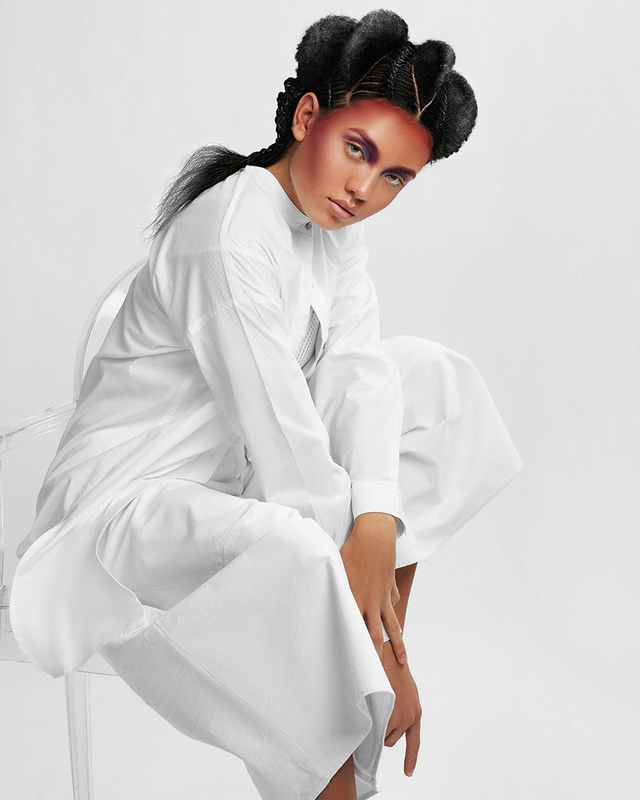 Tell us more about you as an artist and how your work has changed over the years.
For me, when I am creating something I need to be grounded in a "why". The process of finding that usually consists of a brain audit of what I'm complaining about, bothered by or learning about because those are the areas of opportunity for growth. Depending on what I'm creating it for has a big impact on how I adjust my why. Over the years I have learned that the more I produce the more ideas I have. There is a fear, as a creative, of becoming stagnant or producing similar work. Playing with the lines of having a signature and innovation versus resting on what has worked in the past. The years and practice and participation really allow me to have originality. I think my esthetic changes slightly and my taste level morphs but the challenge never dies.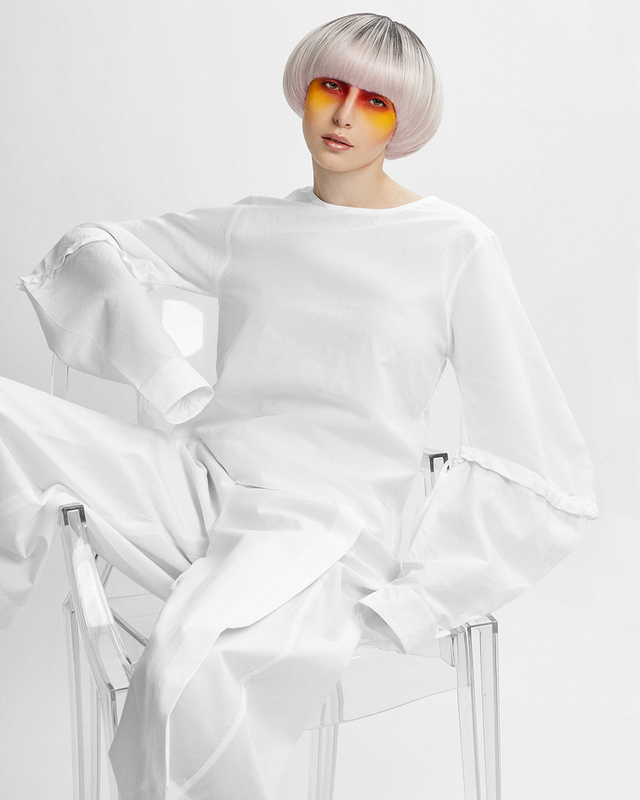 What did you learn about yourself through creating the collection?
I learned so much. I think the biggest learn is my perception of failure. This time I just danced with it. Failed a lot and tried again. It's part of creating and is only real if I stop trying. It didn't have the weight it has had in the past. I also felt like I learned to be present. Not getting nominated so many times helped me really enjoy the process and get the results. It has helped me think about everyone on the team, the models and myself in terms of what creating felt like. Owning my responsibility in that and what the people I got to work with we're experiencing. We laughed deeply and celebrated and got dirty and connected with the inspiration of the collection. It was the most fun and inspired shoot I've had yet. I was vulnerable and able to connect to all of it.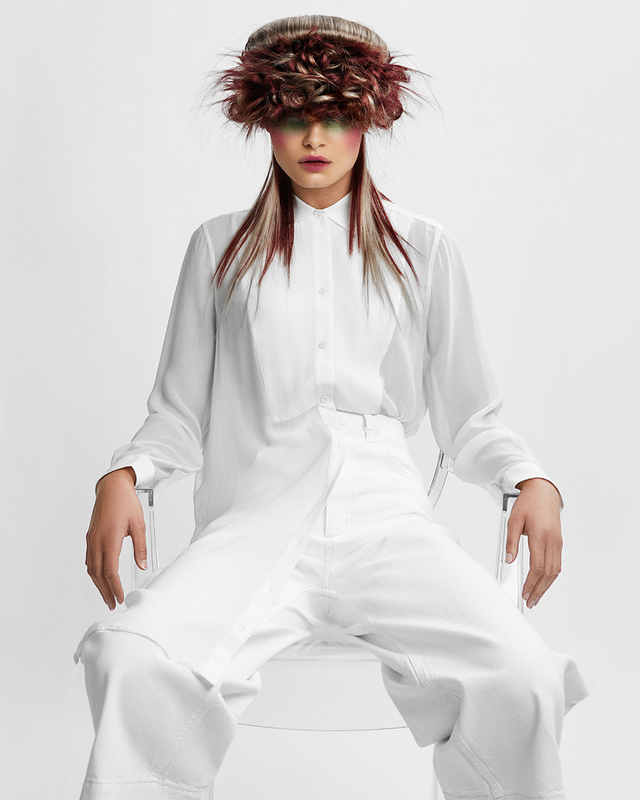 What was your biggest focus with each style?
The focus was cohesion throughout the 5 looks using a round shape to translate the message of WHOLE. It was really fun to create a clear separation in techniques using color, textures and cuts.
What products/tools did you utilize?
I used L'Oreal Professionnel products.
What other forms of art inspire you?
I'm a total museum nerd. I'm inspired by all art.
How much prep time went into each piece?
Some were more than others. It took half day of prep on sight with my incredible teammates, Jessica James, Ashley Engle and Leigh Batenberg but the longest look took probably 24 hours of it not working and 7 hours once I figured it out.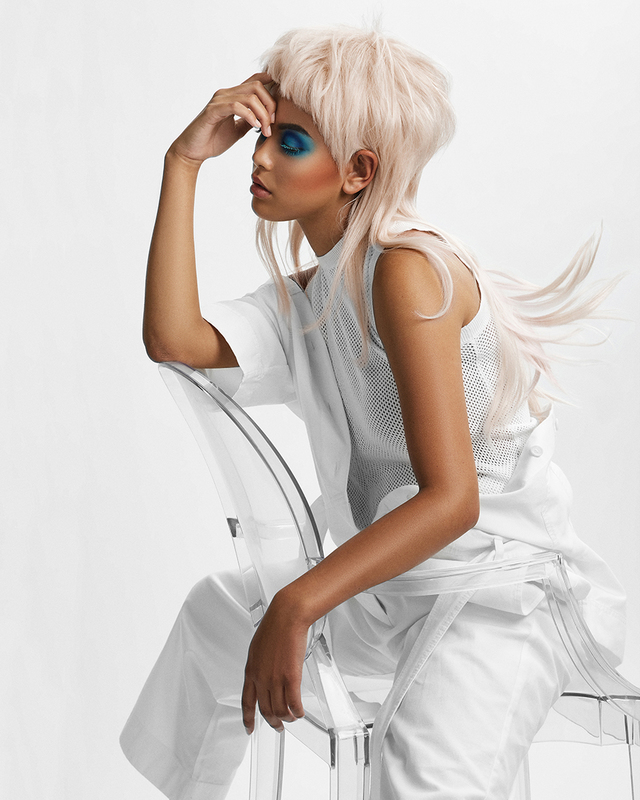 What was your favorite part about the shoot?
The energy we created! This was hands-down the most inspiring, fulfilling and fun shoot of my career. Everyone was on fire and our music was on point. Hearts were pounding and love was everywhere. I have never felt that supported and grateful.
How did you select your team? Have you worked with them before?
I have worked with everyone before. It was the first time for NAHA that I had Katelyn Simkins on the team for makeup. She is incredibly talented. The rest of the team I have had the honor of creating with many times. They are my heart.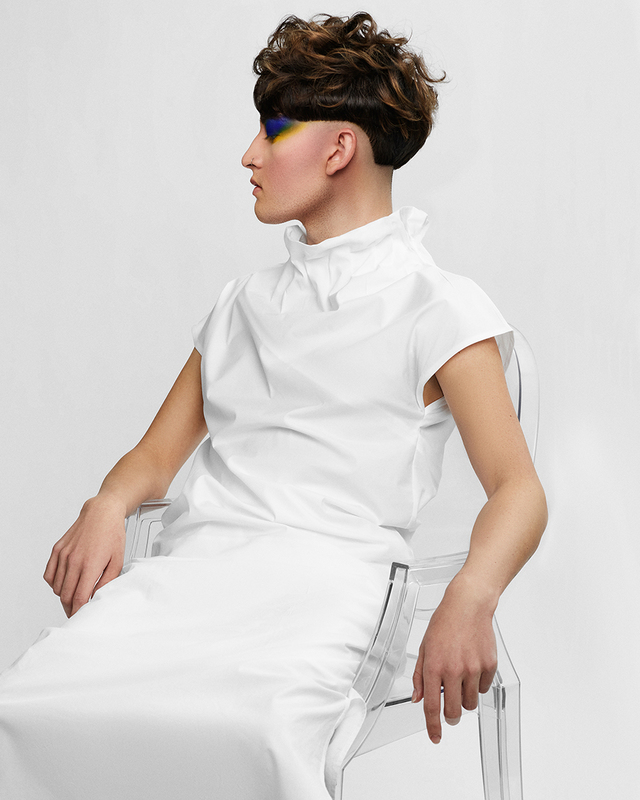 Where will we find you in Long Beach?!
Haha everywhere! I have a program with Jay Wesley Olson, and Andrewdoeshair on Sunday! I get to play at teaching with Hairbrained and I'll definitely be getting my learn on!
What are you looking forward to most about NAHA 2019?!
I'm just excited to be with our community. I have so many people I admire who I hope to hug and so many I would love to meet. I can't wait to celebrate our craft, industry and the many accomplishments of everyone.
---
Stay tuned to see even more NAHA Finalists Collections!
For more fashion-forward styles and Holiday product picks and be sure to stock up on all goodies the Bangstyle store has to offer!