When is the last time you did something that scared you? Like really just shook a fist at fear and went for it anyway? If you are like me, a challenge is exciting but when our creative, personal, or emotional offerings are out there for the world to see, it can bring up fear-based thinking that limits us from reaching for the stars! Sharing your art is a lot like falling in love…butterflies, insecurity, and elation. All at the same time.
The North American Hairstyling Awards are a prestigious, industry-inspired competition that brings hairdressers together in a celebration of creativity, beauty, fashion and photographic magic! With categories ranging from Haircolor to Avant Garde and Newcomer Stylist of the Year, there are opportunities for any hairstylist to create the collections of their dreams.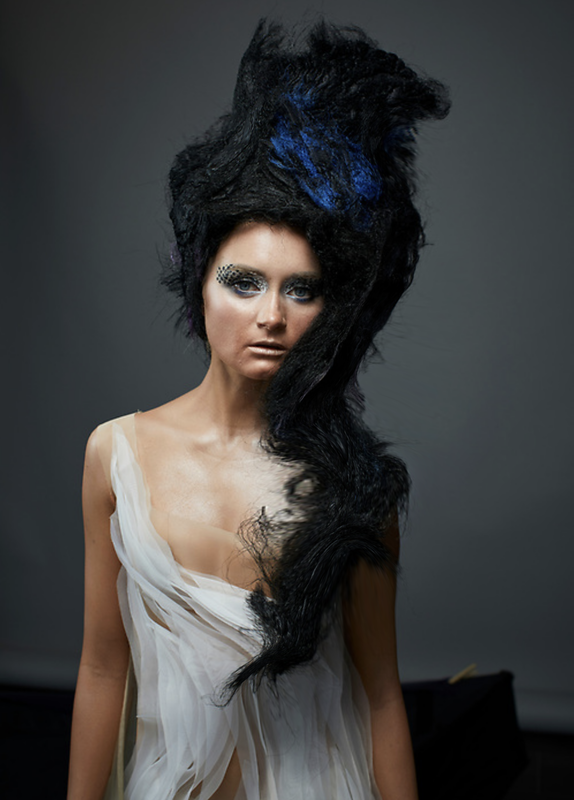 For me, the dream began in beauty school. I saw images of NAHA winners work and was inspired by the hair art. Not just fantasy hairstyles but exceptional design and color work, intricate updos and stunning "beautytorial" images. What I loved about the images I saw was the strong editorial vibe with a beauty twist. It made hair a textural fabric for me to manipulate, not just a canvas to paint on or cut the edges. I had an opportunity to take a class with NAHA winner Jake Thompson a few years later and he taught me so many valuable tricks about working with hair and creating new textures, but he also shared the economic realities of putting together a shoot of this magnitude. I left totally creatively inspired but daunted by the prospect of spending $5,000 or more on production.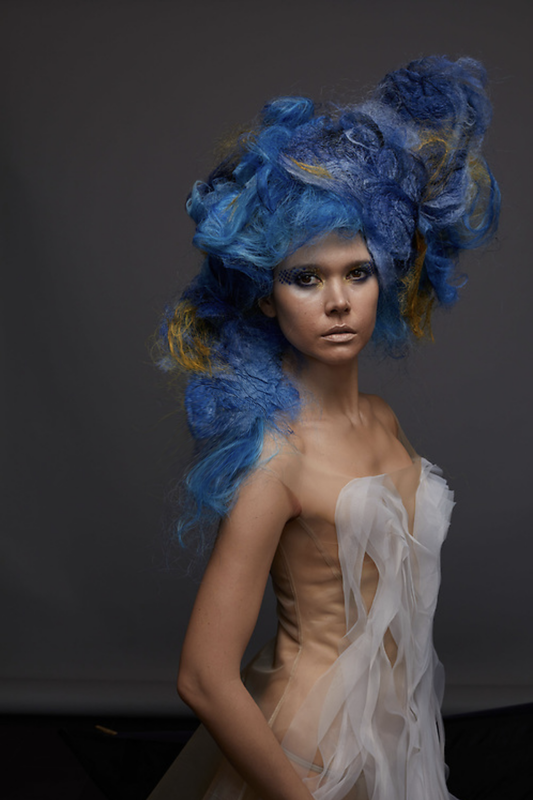 After several years of working with my Tearsheet Editorial team and Redken as a platform artist and backstage at Fashion Week, I had gained some very valuable experience and connections. From models to photographers and wardrobe stylists, I had a team brewing. As an amateur photographer myself, I started playing with ideas and working on bringing all the components together.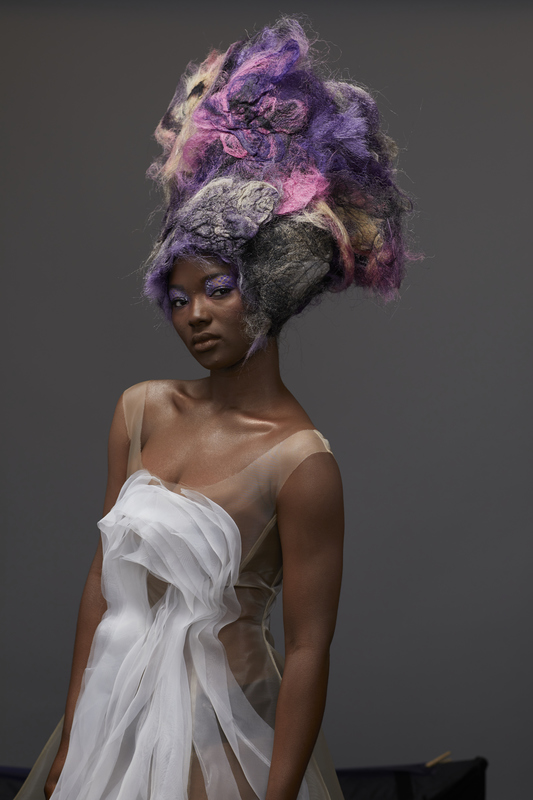 As a hairdresser, I am constantly looking for ways to manipulate the hair as a canvas for art. Months of trial and error led me to a really flexible #hairfabric that can be wired, Velcro'd, folded like origami, or even sewn into a floor length ball gown. I created about 350 dinner plate size texture palettes in every color imaginable and began to form collections.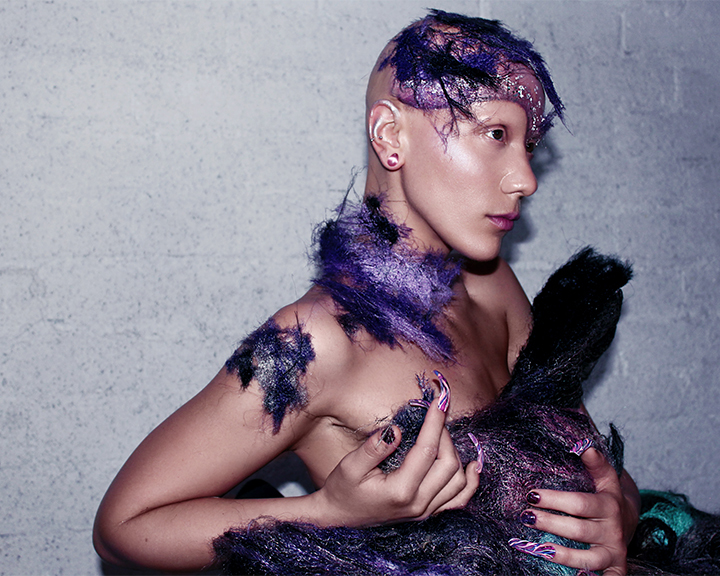 I had dreamed of blending my love of crystals and Reiki with hair art and the foundation was in place.I chose the stones: amethyst, kyanite, tourmaline, pink opal, malachite, and jasper as my inspirations and started to plan.
ARCHITEXTURE had been born. A fusion of texture, form, silhouette and earth's natural geometry, unearthed like an archeologist digs up fossils, I imagined a human born of the crystalline world under the surface, poking a stick at the misconception that what's underneath our carefully crafted exteriors isn't as beautiful, removing the cloak and exposing the brilliance below.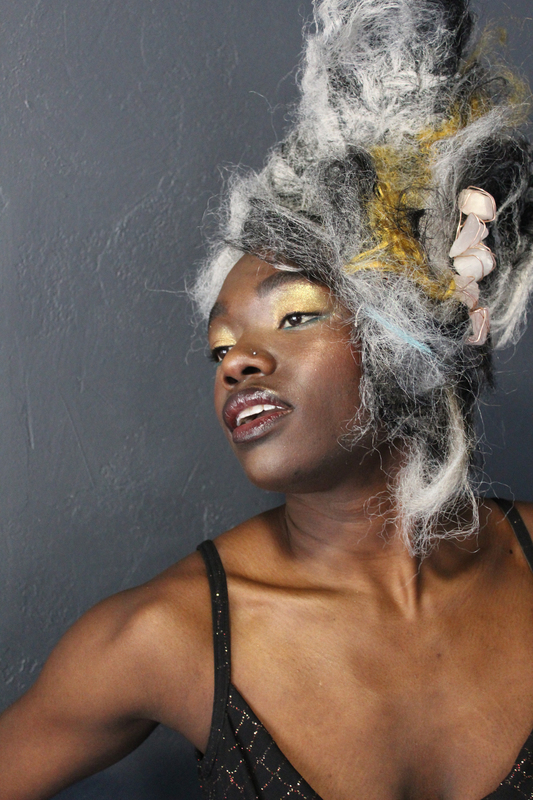 Enter an unexpected opportunity….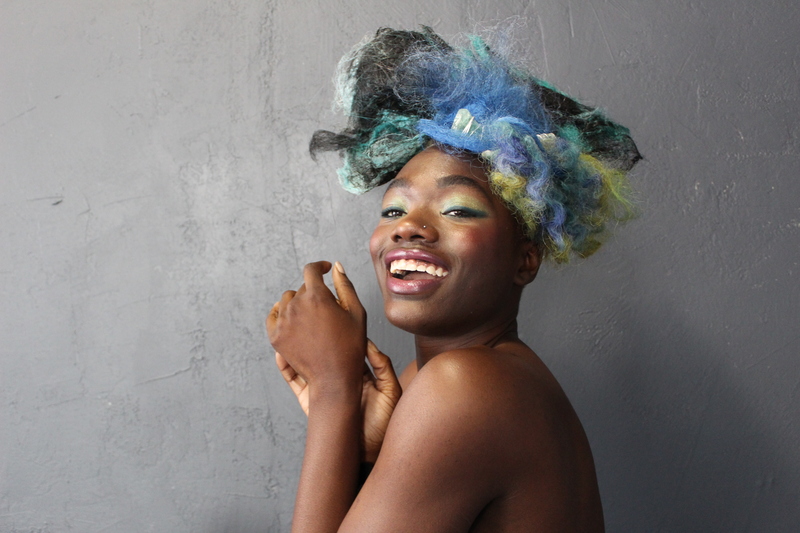 I was selected to participate in a NAHA photoshoot with Redken and flew to New York City to shoot the first of 3 collections!! This was an exciting experience with all the bells and whistles of an epic editorial shoot. The artists chosen had 3 weeks to prepare and it was a lot of work coordinating with wardrobe, makeup and photographers from all over the globe. Jeremie, Marie, Chris, Suzanne and Tom….thank you. Incredible teamwork on shoot days made the long hours and nerves worth it! Lucky for me, a few of the other artists chosen are close friends and it was so helpful to have that camaraderie at the end of the day! Our mentors pushed us to dig in and create from an honest place and the work I saw onset was nothing short of inspiring! Cheers to my fellow artists Sarah Bramham, Matthew Tyldsley, Allen Furlan, Mandy McCullough, Charles Robinson and Roger Molina!!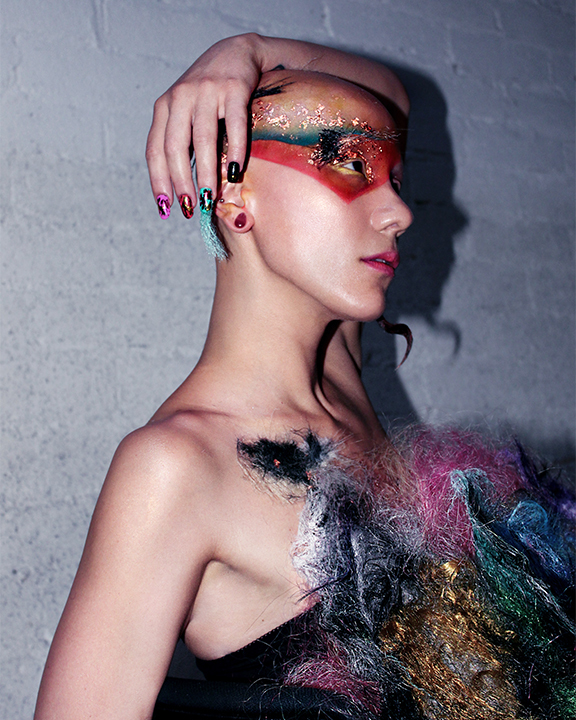 After the first shoot, I began testing the hair dresses. I had built a couple and tried them on myself but basically they were in the closet. An opportunity to test with models came and we got some amazing shots but not quite right. One of the biggest lessons I learned in this process is to let go of one vision in order to make space for something even better! Creativity is fascinating in that it only blossoms when you use it.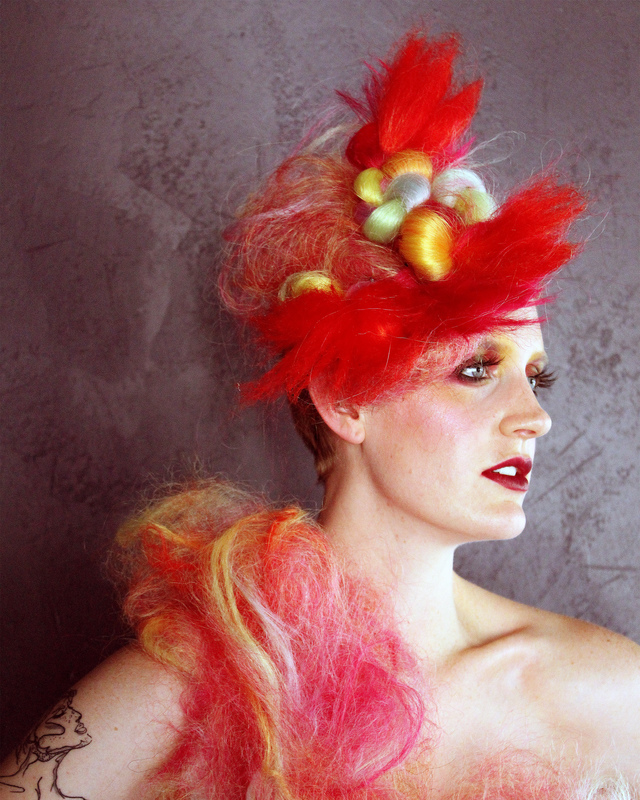 I knew what I wanted to see and immediately called my makeup artist Sara Garcia. She is my right hand on set and I knew that with her skills, she should be entering the NAHA Makeup Artist of the Year category. I challenged her to create makeup that blended the model into the hairpieces. We chose to work with a model with alopecia (total hair loss) for a variety of reasons. We also brought Binh Phan, nail art master, on board to create 3 sets of nails that utilized the hair fabric and crystal elements. His work was entered into the NAHA Nail Professional of the Year and we are already planning our 2019 collaboration! With the extra hands of the best assistant in the west, Brittney Trace, we shot collection 2 on a very hot day in August! The blood, sweat and tears are real my friends.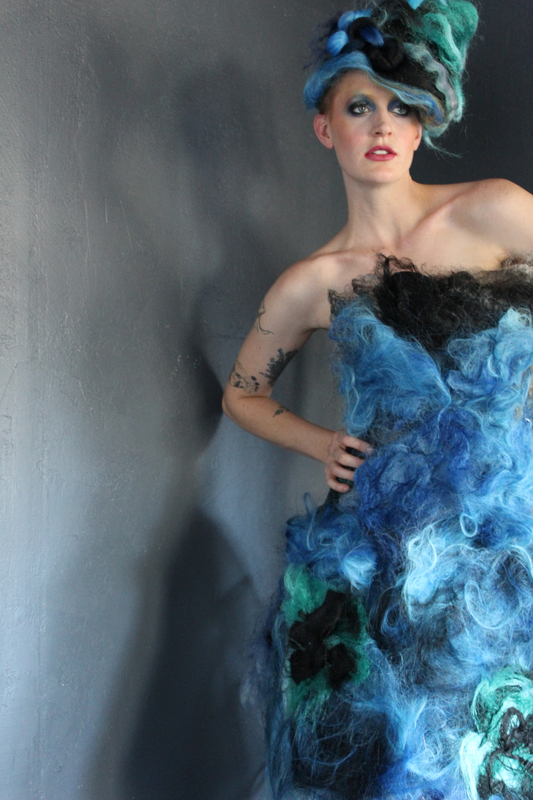 At this point, NAHA had taken over my house. Hairpieces everywhere, mood boards tacked to the wall, and one more epic shoot to go. This was the big one…three hair gowns, 3 headpieces, a pregnant model and 2 weeks to turn around images. Again, Garcia created unique makeup for each look and we married the tones of the fabrics with the makeup for a human geode couture vibe.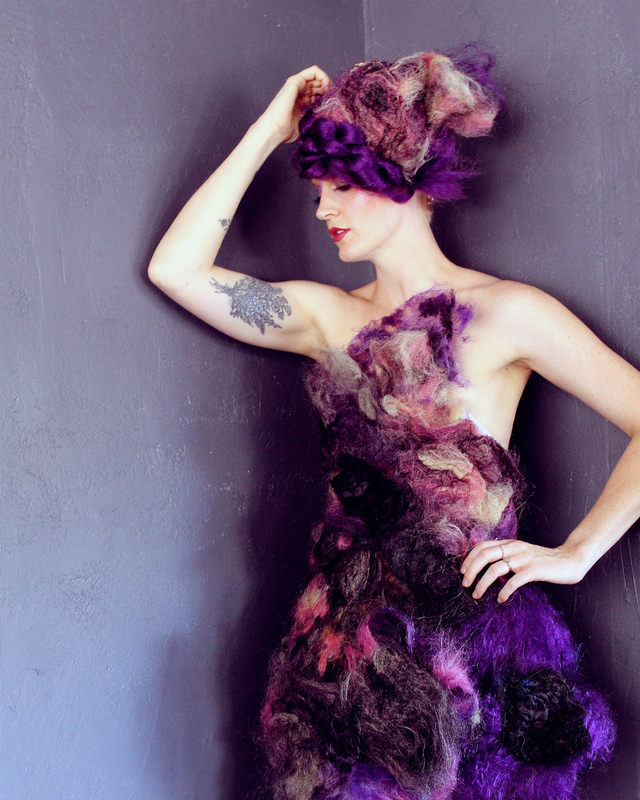 Each dress has a life of it's own and the headpieces were created the night before in a last minute panic, just in case something went differently than we had planned. Instead, they were the perfect cherry on top of this NAHA sundae. I used pale pinks and purple, bright reds and greens and a watercolor of teals and blues, all inspired by the crystals in my pockets! This collection is my favorite. I think.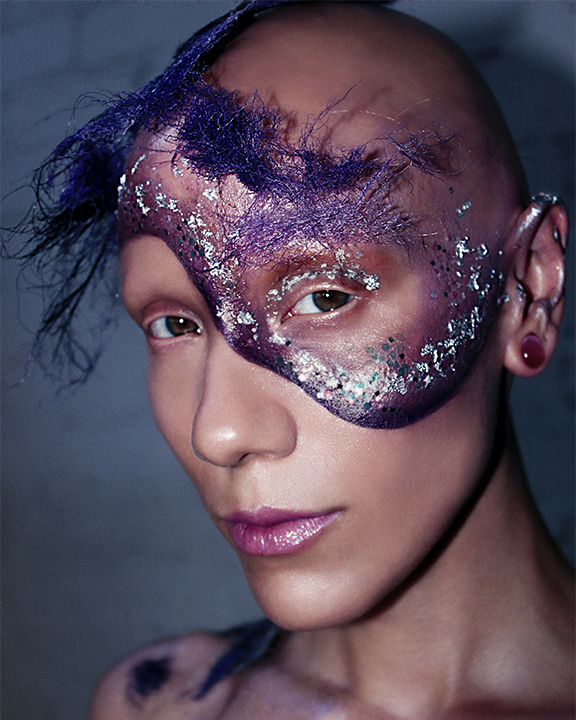 I love them all for different reasons. The headpieces created in New York represent a dream come true and the dresses another. I wouldn't change anything. Each experience opened new doors and showed me the beauty underneath. Sometimes things don't go as planned, communication is challenged, and creative minds don't always see eye to eye, but this type of project requires teamwork and acceptance of all that encompasses. I am grateful to each person on this joyride with me. I literally could not have done it without them all.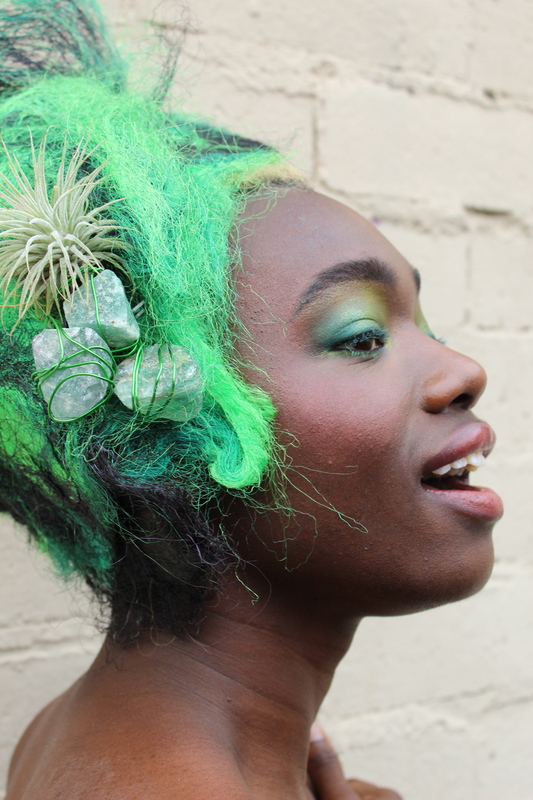 So, yeah. It was scary, and really hard, and expensive. But the end result is 100% worth it…doing things that take you outside of your comfort zone and push you are usually exactly what causes growth. One of my favorite quotes came up again and again during this process.
"They tried to bury us but they did not know we were seeds" -Mexican proverb
Who is burying your creativity, your courage, your self-expression? Is it "they" or is it you? I know my answer and I look forward to sharing what I've got up my sleeve for 2019!
As I write this, it is 6 days to nominations. I do not know how this will feel next week but I can say this…LEVEL UP!
Xo, CurlyGirl (AKA Eyliana Gibson)