Curly girls everywhere can finally rejoice: The one hairstyle that's always been off-limits is now officially a major trend: bangs. That's right, curly bangs were a huge trend on the Fashion Week runways, and now the look is making its way to the streets as women everywhere are opting for eyebrow-grazing fringe that showcases their natural texture. One word of caution: Curly bangs do require regular maintenance to avoid the dreaded "bubble effect." Read on to learn the do's and don'ts of rocking the textured look.
DO opt for a dry cut
This rule applies to both your regular chop and your bang trims. Because curly hair expands when it's wet and shrinks when it dries, it's not a good idea to cut your hair when it's wet. Instead, ask your stylist for a dry cut, and always have them cut a little longer than you'd like to stay on the safe side—you can always go shorter if needed.
DON'T forget to have an in-depth consultation with your stylist beforehand
Bangs are a huge commitment, especially if you have curly hair. Make sure to sit down with your stylist beforehand to discuss all of your concerns, such as the climate in your area—high humidity levels can leave curly bangs frizzy and difficult to style— as well as your natural curl pattern and the amount of time you have to style your hair on a daily basis. Also, ask your stylist about setting up regular bang trims—some salons offer this service free of charge.
DO bring in pictures for reference
Cutting curly hair can be tricky, especially since your texture can change day to day. Your best bet? Scour Instagram and Pinterest in search of celebs with the type of look you want. Make sure your stylist understands exactly how you want your bangs to fall (i.e. to the side, straight down, etc.) in order to avoid any mishaps.
DON'T bust out the flat-iron
Unlike the straight fringe that reigned supreme is seasons past, this style looks best when you allow your natural curls to do their thing. If you need to heat-style, avoid using a flat-iron at all costs; instead, wet strands, then use a blow-dryer with a diffuser attachment to dry the hair and restore bounce. You can also touch up any areas with a 1-inch curling iron on a low heat setting.
DO use a lightweight serum to eliminate frizz and add shine
If you have curly strands, then you already know the importance of styling products. When it comes to styling your curly bangs, however, it's best to skip formulas designed for curly hair, which will weigh your bangs down. Instead, opt for a lightweight serum or oil to keep frizz at bay.
Try: label.m Frizz Control Serum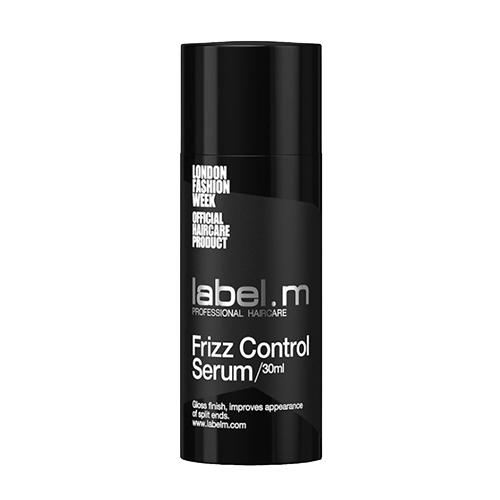 ---
For even more fashion-forward styles, check out label.m, the official sponsor of London Fashion Week. Want more tips and tricks? See all their latest inspiration on Instagram @labelmusa! & SHOP label.m, NOW in the Bangstyle store!