We are thrilled to partner once again with the Professional Beauty Association (PBA) to promote all of the talented artists who are finalists for the 2018 NAHAs (North American Hairstyling Awards), the most prestigious hair and beauty award in the country. In this feature, get to know more about this year's Makeup Artist of the Year Finalist – Daryna Barykina.
Daryna Barykina has captured our hearts through our eyes many times before. She is usually the model and photographer behind some of our favorite Erica Keelan hair colors and now she is the artist, the model, and the photographer. Is there anything this girl can't do? Get to know more about this beautiful soul and the fabulous work she creates – she is truly an inspiration to the inner artist in us all, #goals!
---
What is your favorite thing about being a makeup artist?
I am a fairly new makeup artist; started looking into this medium seriously approximately 3 years ago when I felt the need to experiment with beauty looks for my photo shoots. I am an experienced beauty and advertising photographer and I needed a medium that would help me escape routine work and fuel creativity. My favorite part about makeup artistry is the power of transformation. Casual beauty does not entice me; I enjoy transforming subjects into new unexplored versions of themselves. Appearance is such a powerful aspect. Before we even speak, we experience/perceive/judge each other by appearance. Messing with human features helps me change the perception of the subject, in a way frees viewer from bias and stigmas, challenges to be open to something new. Most intriguing for me personally is that using makeup I can present the subject in a way it was never seen before.
What was the inspiration behind this collection?
Often time materials inspire me. I see color or texture and almost immediately know how to utilize it. This time was not an exception. I had an amazing selection of pressed glitter and knew I had to use it. In fact, glitter has been my thing for a while now. It is very challenging to photograph and that's why I like it, every time working with it I learn something new.
I am a fan of psychology and for the longest time wanted to utilize Rorschach inkblots test artistically. This collection seemed like a perfect occasion. In the process shapes adjusted a lot, as certain random splashes looked messy on a facial landscape. This is when Venetian mask motifs appeared helpful. All together it inspired collection you see.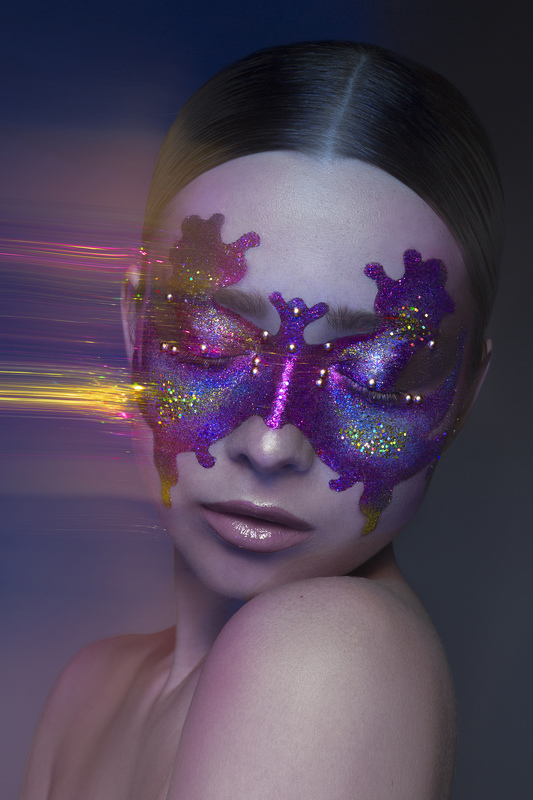 What was your biggest challenge in creating this collection?
This project was a real journey! Being on the other side of the camera and shooting countless hairdressing collections I never knew how tough it is to be a contestant. I spent months debating on the concept then I had trials and every attempt was failure after failure. I worked myself up and reached creative block. I was pretty much sure that was it. I was panicking. At Matrix Destination in Orlando I woke my roommates at 4 am and made them help me brainstorm concepts (and after that, girls still talk to me, can you imagine)? We ordered room service and listed all pros and cons. That brought a lot of clarity. I decided to use familiar medium – glitter, aiming to display it in a new way. Time was slipping through my fingers, the deadline was approaching fast, so I locked myself in the studio and shot until 5 in the morning of the day before the deadline. Each look took me 2 hours to apply and 30 minutes to take off. I was creating and shooting until there were a solid three I was confident in.
Retouched them the next day and submitted few hours before submissions closed. This collection definitely taught me self-discipline, selecting only right elements from the vast variety available, trusting my creative voice and putting the best foot forward.
What does your collection say about trends or movements within the industry?
Glitter is a very trendy thing this year, leading fashion magazines to feature looks involving glitter: on eyelids, lips, and cheekbones. I've noticed that glitter "likes" structure and shape. Very rarely it looks good sprinkled all over, or blended, it demands application with sharp contour. My collection demonstrates the artistic use of glitter, but it shows how clean edges make glitter design look neat and appealing.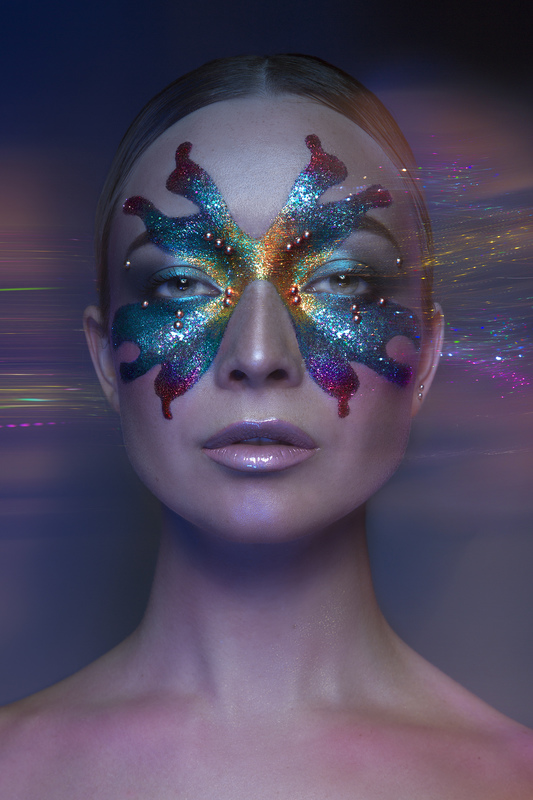 If you were to describe this collection in one word, what would it be?
I would probably call it "Whimsical". It is playful and fairy-like.
Did you have any hero products?
Only two brands were used to create looks: Glitter Injections and Kat Von D.
Definitely, the hero of this collection is pressed glitter by Glitter Injections. As a (self-proclaimed) glitter expert, I can tell this is one of the best glitter products out there.
On the other hand, Kat Von D products I use on myself daily, absolutely love their products for everyday, special occasions, and creative photo shoots.
What were you hoping to convey to your audience with this collection?
With any project, I create I want to spark viewer's imagination. Big part of my process is not being literal. This collection can narrate various stories and viewer gets to decide which one to adapt. Some may see dissolving abstract butterflies; some will interpret this collection as Venetian masquerade, for some it may look like a mythical fairy or an alien from a different planet.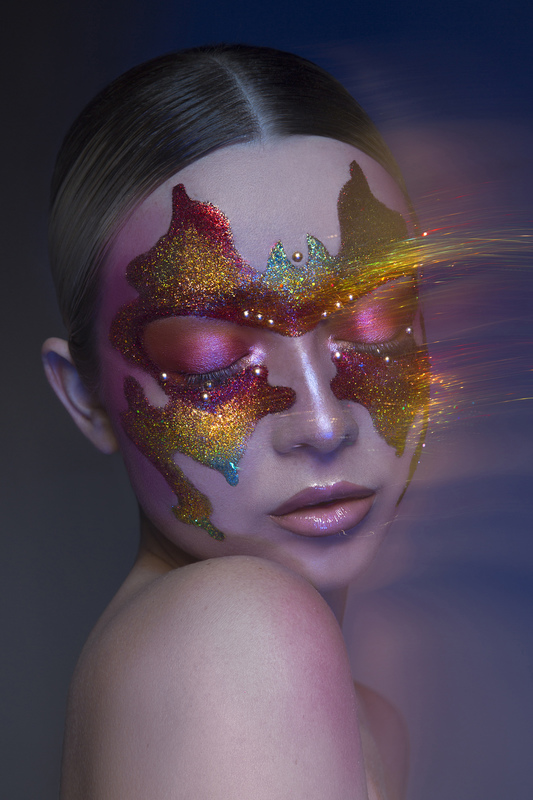 Tell us a little more about you, as an artist.
I have a strong background in photography and used it as my main creative outlet for years until I discovered the transformative power of makeup artistry. It fascinated me with endless possibilities in conveying a narrative. I began with transforming myself
(I was my first guinea pig) into various characters, practicing to incorporate unconventional materials. Now I direct makeup at my own photo shoots as well as for my peers. Avant-garde makeup with a fashion flare is my favorite genre to work in, mostly because it allows freedom to create alternative worlds and invite the audience to experience something fresh, new and thought-provoking.
How do you Vegas?
I Vegas carefully and classy (at least I want to think so) :D Absolutely love people watching!
If you won the lotto (or slot machine) tomorrow, what would you do?
I'd probably make some of my material dreams come true.
---
Check out even more NAHA inspiration here!