We are thrilled to partner once again with the Professional Beauty Association (PBA) to promote all of the talented artists who are finalists for the 2017 NAHAs (North American Hairstyling Awards), the most prestigious hair and beauty award in the country. In this feature get to know more about this year's Editorial Stylist of The Year Finalist, Rossa Jurenas.
Rossa Jurenas explores the expression of color within her collection. Having trained with icons such as Vidal Sassoon and Vivienne Mackinder, her skill is exceptional and her eye is beautifully honed. Being nominated for two NAHAs (Haircolor and Editorial) Rossa proves her adept nature and ability to transform. Learn more about the collection from Rossa and stay tuned for her Haircolor collection!
---
How did you decide on entering "Editorial"? Entering Naha has always been a passion and dream of mine! As I created the collection called "Color Motion" Fave Magazine wanted this collection for their fashion magazine and then I thought I would enter it into NAHA. This particular collection was based on 'hair-color,' which held a special place in my heart!
What was the inspiration behind this collection? Color, pop of color and the overall expression of color! The wardrobe fabrics show texture, movement and a build up of materials. With this texture and dark color palette, it allows the color to stand out! I believe that hair is an accessory! It is how you wear it… the focus is on the hairstyles that enhance a bold color story.
What is this saying about today's trends? Today anything goes! Fashion is about textures, fabrics and overall movement in a final look. Color expression is everywhere!
How did you work with wardrobe to craft the final image? The fashion stylist came in with panels of fringes, neckpieces, feathers and materials that we could build off of! We kept building, and overlaying to create these final beautiful looks!
What was your biggest challenge? Simplicity is class! I love clean classic lines and I wanted to make sure nothing overwhelms each element! From the bold haircuts, striking colors and overall black wardrobe! When working on an editorial spread it is important to keep it simple to allow the focus of the story standout! I would have to stand back and look at the final look with fresh eyes; sometimes I would think there was too much or not enough! Keeping your eyes fresh I think is critical and if you are uncertain take a photo with your phone and look at it there! This will give you all your answers… trust me I know!
How did you work with your team to bring your vision to life? I usually start off by researching fashion weeks, and magazines to keep myself current, even trying to predict what the next season will and could carry! Once I create my own vision I start building the right team! Once the team is establish then we break down my thoughts and see what the stylist can find in clothing. Most times, the ideas flourish and build up with amazing ideas! For photography – I knew that I wanted to work with Damien Carney. For his creative eye, brilliant photography and his way of pushing you to new heights!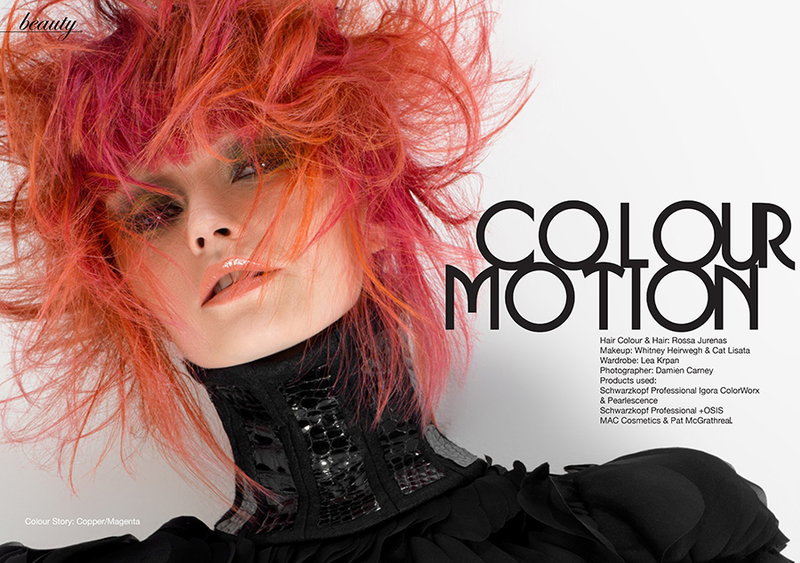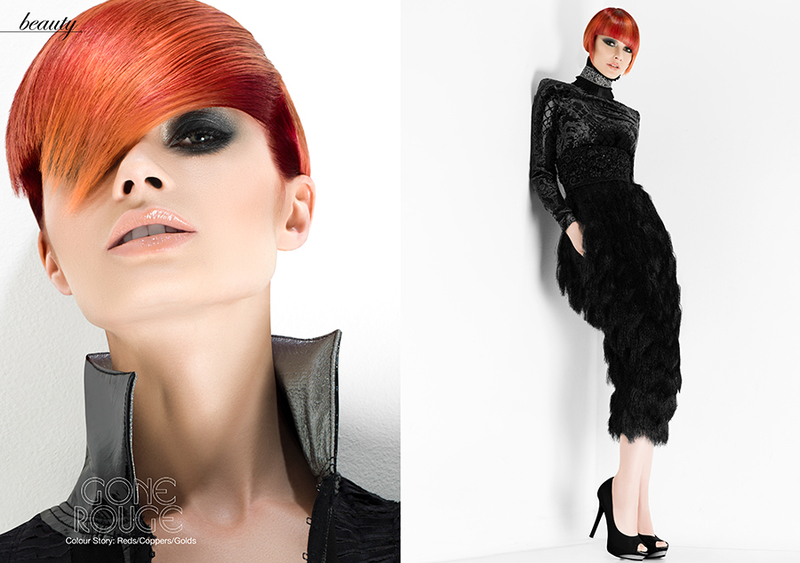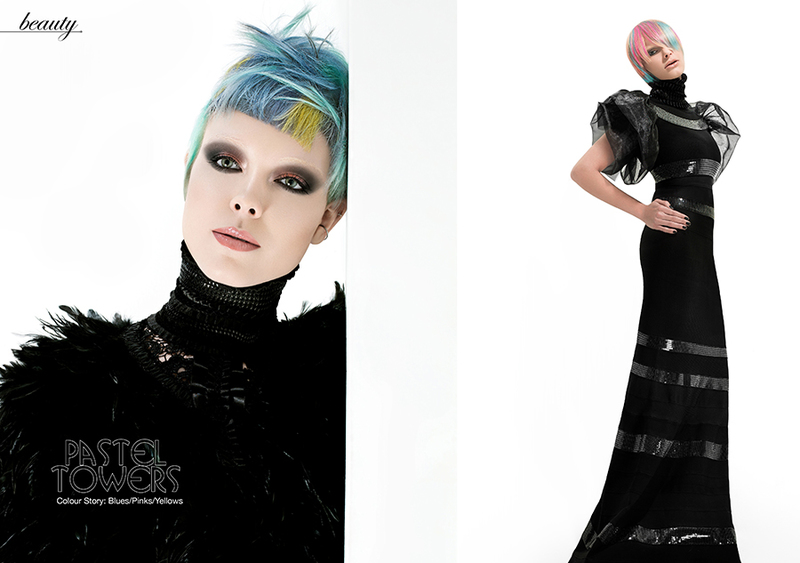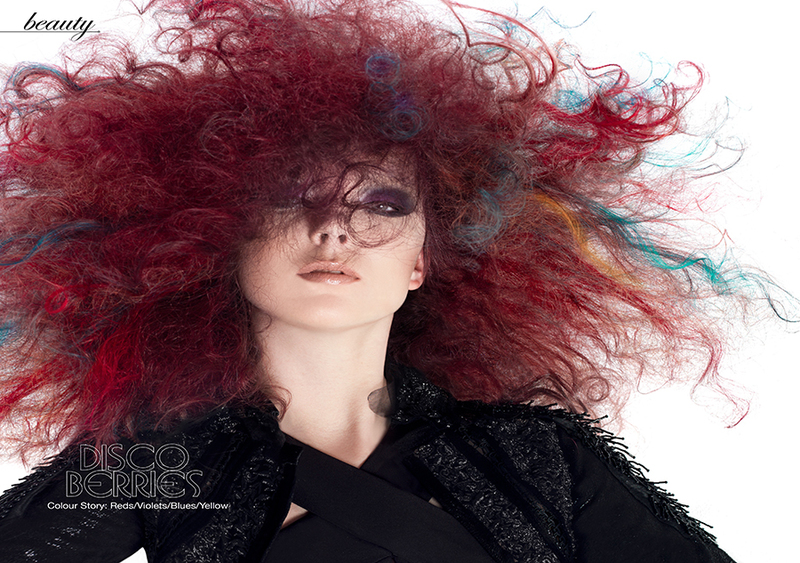 What does this collection mean to you? Focusing on bold colors in a beautiful editorial edition is where I get my passion!
Tell us a little more about you, as an artist. I have been in the industry for 21years. Working behind the chair, to owning my own business and becoming an educator. I have been working with Schwarzkopf Professional for 17 years, with gaining the title of North American Color Director a couple of years ago. When I started my journey as a hairdresser I knew I wanted to do more then work behind the chair! I love all my clients and enjoy this aspect but I wanted to explore other avenues; like becoming an educator, to doing editorial work for magazines, to competition (won 12 Canadian awards, 1 international award. Now working with and on the Global team to create the upcoming latest trends for hair colors…. Just a huge honor and another journey. I love our industry… there are many doors that you can stride into! Passion and Drive is what keeps me trying new things and going for my 'next 'level!
How do you Vegas? Ah ~ Vegas…. My favorite thing to do is to walk down the strip and stop at cool patios or places to stop and people watch; while enjoying a tasty beverage. The first time I came to Vegas … I also enjoyed going on a helicopter into the Grand Canyon, landing to have lunch and a glass of champagne! Fun times! & Of course… NAHA's!!!
Salty or sweet? Mix the two together!
What did you learn about yourself through creating this collection? Always push yourself to higher limits. Reach for the stars! It is easy sometimes to just put a shoot together but what kind of story are you telling! The hardest for me is second guessing myself; listen to you heart but listen to the pit of your stomach… it tells you everything! Now, I need to make sure I live by this!
If you won the lotto (or slot machine) tomorrow, what would you do?
Oh…. Good question! I would probably go on a holiday with my family and then put it away in investments! Haha!! All depends on how much!
---
To see more of Rossa Jurenas' work, check out her Bangstyle profile and stay tuned for even more NAHA features!