One thing Paula Hibbard has known throughout her career is the need to evolve - which is what her latest collection - EVOLUTIO - is all about. Honing her craft in a highly creative industry, being the teacher as well as the student, she knows the importance of continued education. As one of hairdressing's most in-demand boutique educators across all facets of long hair styling and salon etiquette programming. With her vibrant personality and passion for sharing knowledge, she is renowned for taking her students on a journey to creating beautiful hair that is wedding, formal, social media ready, and working to create a fabulous salon atmosphere!
"A team well trained in styling, salon etiquette and client relations saves time, makes money, and results in clients walking out of the salon looking and feeling fabulous – this is your best advertisement! I have a passion for long hair, styling and teaching people how to deliver above and beyond service, because I've always loved seeing the finished product... women who look glamorous and feel fantastic!" – Paula Hibbard
A career spanning three decades, with iconic brands, winning numerous industry awards and her work gracing countless pages of editorial features - she is revered for her brilliance in craft and extraordinary take on education.
The Collection: EVOLUTIO
Harnessing the new decade and taking the opportunity to evolve her craft, Paula Hibbard's new collection 'EVOLUTIO' not only pushes her creativity, it showcases the evolution of her technique, skills and career as a hairstylist.
'EVOLUTIO' encompasses the evolving nature of hairstyling as a craft. Designed with a little quirkiness and a clean execution, this collection embodies Paula's love for styling and colour.
"'EVOLUTIO' represents the evolving story of my hairstyling journey and I couldn't pick a better time to introduce it then at the start of a new decade," says Paula.
Drawing inspiration from Paula's belief redheads will be having just as much fun this decade as blondes, she has matched rich red colours with fresh blonde hues.
'EVOLUTIO' is a collection that showcases how Paula's clever colour choices amplify her talent for creating beautiful hairstyles with a classic, clean finish.
GET THE LOOK:
QUIRKY TAIL

Creating a sleek, feminine ponytail with a quirky touch. After separating the sides from a 5cm centre section, the hair is brushed smooth alternating De Lorenzo After Glow and Vapour Mist into the centre of the nape, and securing into a ponytail. Leaving the fringe out, I added in Gold Fever hair extensions toned with De Lorenzo Nova Fusion Rose Gold. Down the centre, I created a double twist finishing at the nape, then wrapped with chosen rosewood piece. Small sections were taken and sprayed with De Lorenzo Amplify and then curls were created with a double tong and brushed out to a soft wave with movement.
COLOUR
Lozzie was lifted with powder lightener to a pale yellow. We wanted to keep the tone of her blonde fresh and creamy, so toned with a Soft Auburn (AB9) mixed with Beige (B9).
---
ALTERNATELY CLASS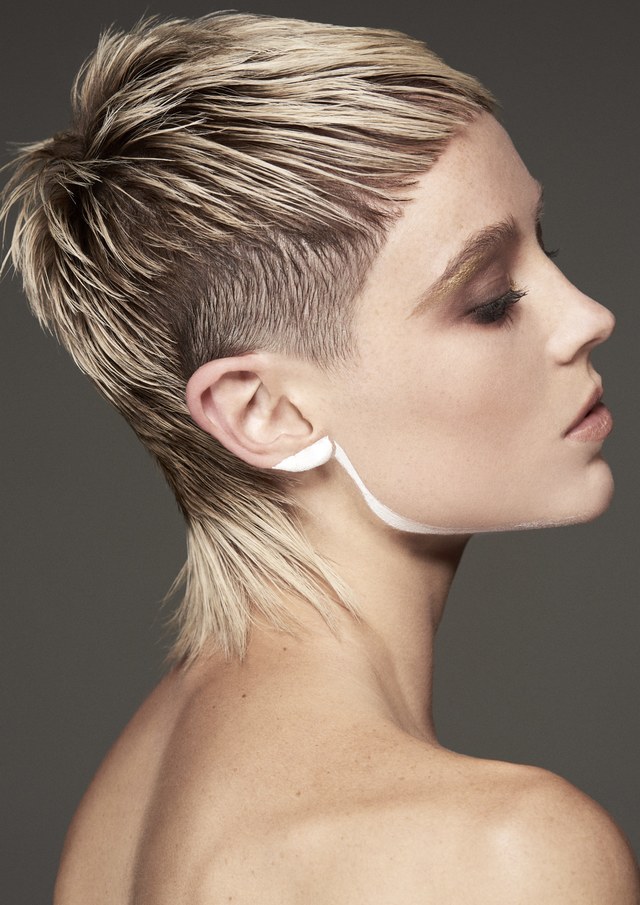 Pixie/mullet enhanced by beautiful colour work. Daniel executed a gorgeous shape which was a pleasure to style. The blow dry radiated form the crown with feathering around the neckline. These edges were frayed slightly to enhance feathered effect. The style was then finished with a combination of De Lorenzo Mudslide & Afterglow, before using a wide-tooth comb to move hair into place. Love the 'no fringe' look to her gorgeous face.
COLOUR
Utilising the depth of Alice's natural hair for contrast, we toned the pre-existing blonde with a Soft Gold (G9) to create a creamy multi-dimensional blonde.
---
LUXURY LOB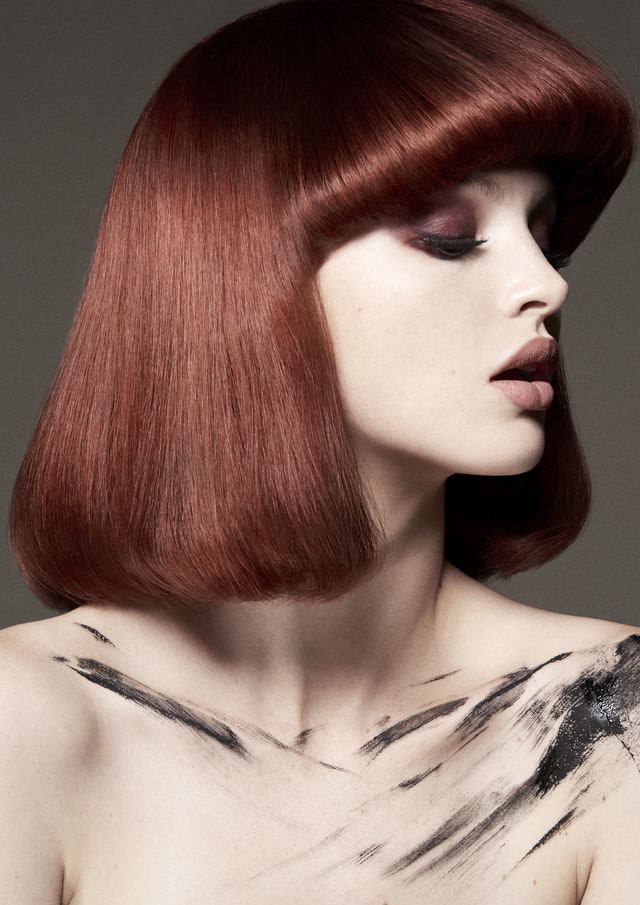 The highlight here was the fringe making the direction of the blow-dry super important. Radiating from the crown, I directionally blow dried the root area, using my favourite blow dry product - De Lorenzo Barrel wave. I finished the ends with a straightening iron to bevel and give slight volume. To create extra shine, I lightly misted on De Lorenzo Afterglow to finish.
COLOUR
We wanted to really emphasise the gorgeous cut and shape of this style so chose a bold red using a mix of De Lorenzo Cinnamon (SP7), Fire Red and Hot Red.
---
SOFT AND FRENCH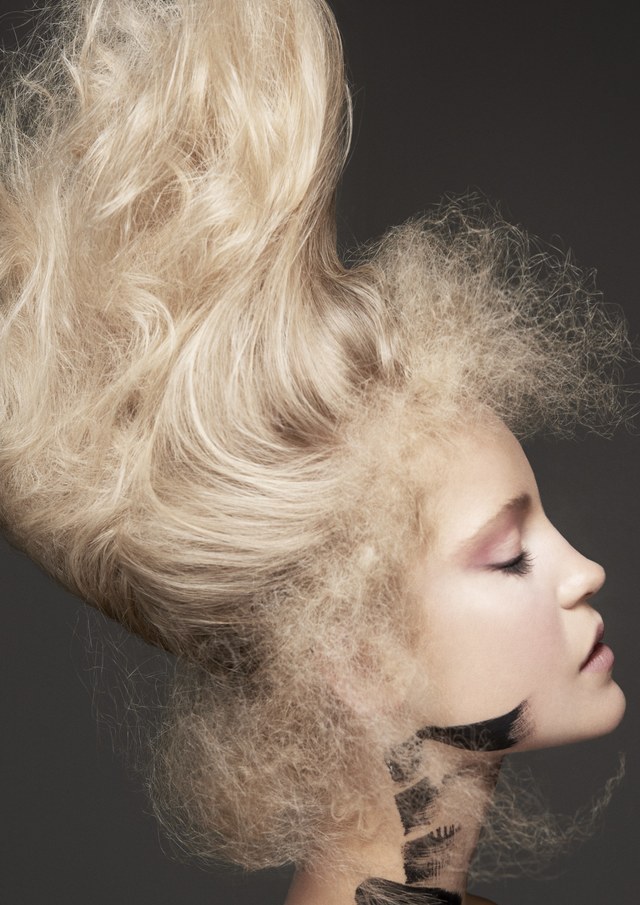 A French Roll is one of the most classic shapes of all time and I LOVE it! To create this magic we set the parameter with a figure 8 at fringe pin set. To create extra volume, the interior root area was crimped and tape extensions were added. A hot roller brick wind was done to add soft movement. I teased the hair and softly brushed it into a French roll shape, however continuing to move the ends upwards towards the heavens. The fringe pins were removed and softly brushed out to fly away!
COLOUR
Lozzie was lifted with powder lightener to a pale yellow. We wanted to keep the tone of her blonde fresh and creamy, so toned with a Soft Auburn (AB9) mixed with Beige (B9).
---
BIG RED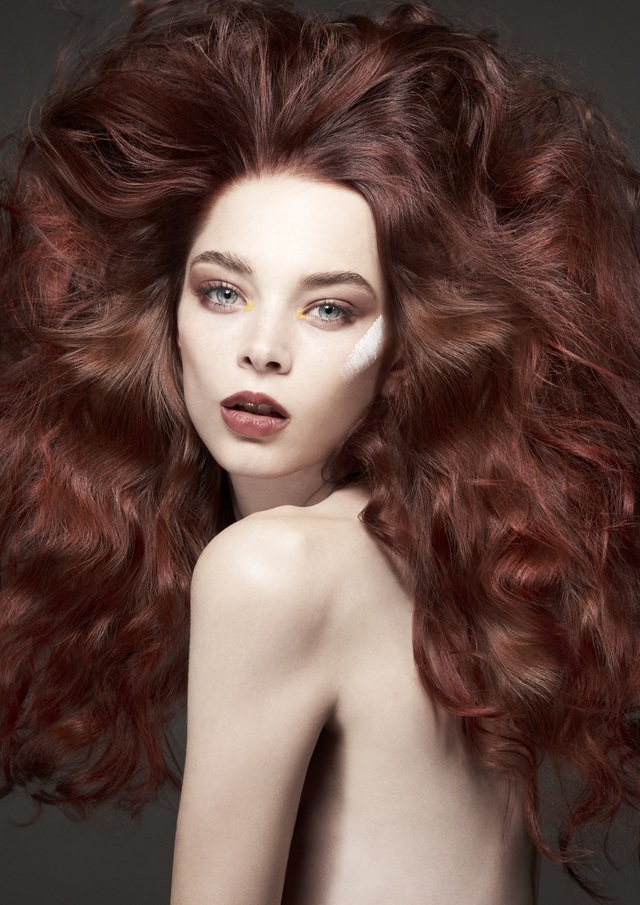 Big hair is my favourite - especially a redhead! My lady in red was blow-dried using De Lorenzo Motion, with the root area crimped to add volume. Gold Fever tape hair extensions were applied to add length and more volume, and dimension to the colour and curl. The curl was a result of each section being sprayed with De Lorenzo Amplify and wound on a curling iron.
COLOUR
A rich Copper Gold (CG3) with some added Copper for intensity was used throughout the roots to create depth, while a lighter Copper Gold hue (CG5) mixed with some Orange and Yellow concentrates to help create pops of colour throughout the texture of Akira's beautiful hair. (Colours all De Lorenzo)
---
LOVE IS IN THE HAIR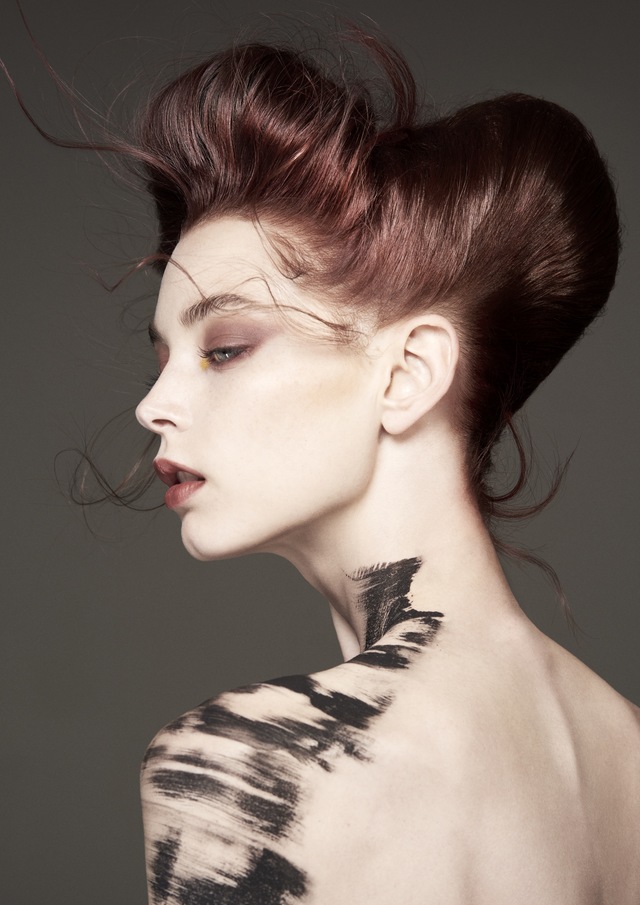 This shape was created with a love heart in mind. Upstyling is my forte and moulding a shape that accentuates a woman's profile is a true pleasure. Using a rolling and pleating technique is what brought this style to life. I began with a directional blow-dry to get the root area going where I needed it. The front is a triangular fringe type section was set in 3 large rollers. While these cooled, I divided the hair from top of the head to the nape, down the centre. The righthand side was brushed up into a ponytail on the crown. An oblong piece of padding was wrapped around the ponytail and secured running down the centre. The lefthand side was brushed up and rolled over the padding and tucked in. The fringe section was teased to create a soft quiff effect and tucked into the roll. For enhanced shine, I finished with an application of my favourite products - De Lorenzo Afterglow and Vapour Mist.
CREDITS:
HAIR: Paula Hibbard - @paulahibbardtheeducator
PHOTOGRAPHY: David Mannah @davidmannah
MAKEUP: Susan Markovic @makeupmode
ASSISTANT CUTTER: Daniel Di lorio @daniel.e.diiorio
ASSISTANT COLOURIST: Holly Breen @miss_hollylouise
SPONSOR: De Lorenzo Haircare @delorenzohaircare