In her latest collection, Lauren Moser takes naturally curly hair and gives it an Elizabethan edge. Highlighting growing trends in the industry, not as just "natural" but now creating new shapes within their medium. Lauren gives us insight into how she got the final shots, where her inspiration came from, and her biggest challenges in creating this collection. Keep reading to learn more about her beautiful art!
---
Where did you get the inspiration for this collection?
For this collection, I was inspired by a window dressing at Selfridges department store in London. They had mannequins draped in exaggerated Elizabethan ruff collars made of cellphone and paper. I loved the regal simplicity of the look. To bring this look into the modern day I created styles that utilized fashion forward shapes and textures that create a balance of old and new.
What products or tools were key to creating each look?
This collection has a little bit of everything! I couldn't have lived without my curling wands and hairspray, wig cap and crochet hook, or my clippers to cut the afro wig I made for this shoot.
How did makeup and wardrobe play a role? And how did you direct your team?
Makeup and wardrobe are what tied this entire collection together. I had a vision for the collars, and I relayed it to a designer friend of mine. I called on her because I trusted her to use her creative eye to make this idea come to life. She produced the collar and it was perfect. Once I had all the pieces together my photographer and I began brainstorming overall composition. We decided to paint the models faces white to give it a whitewash antique finish. I love the effect it had. Almost haunting, and very powerful.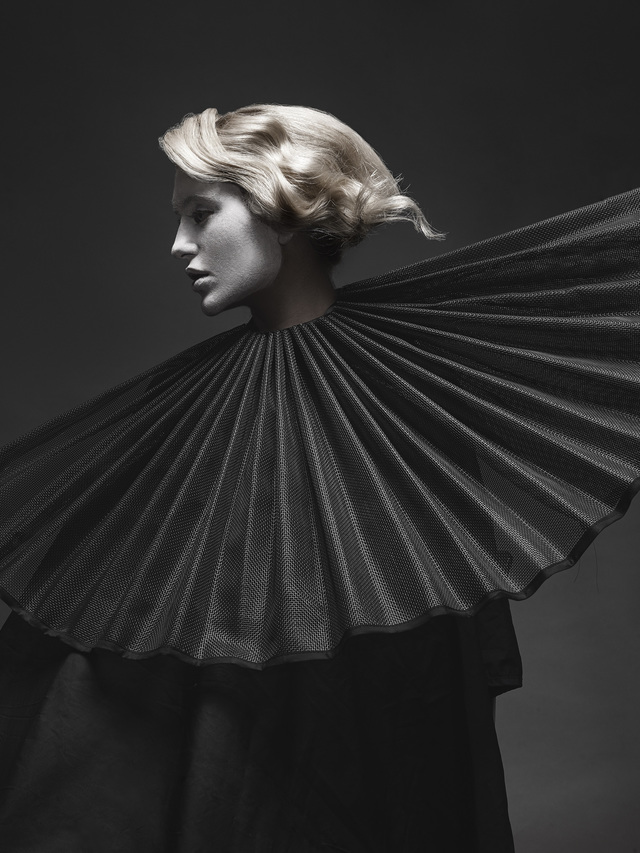 How did you modernize these Elizabethan styles to bring them into the present?
I modernized them by using working in current shapes and textures. I'm loving the current curly trends we are seeing right now, and I wanted to celebrate that.
What is this collection saying about Women's Trends?
Curly girls are no longer looking to control their curls, and are wearing them more open and free embracing their natural form.
Do you have a favorite of the three? Which and Why?
If I had to pick a favorite I would say it would have to be the afro. That model really got into character and worked that collar. I love the result. The way she scrunched the collar gave it a totally different look and I love the way it added to the collection. She understood the vision and added her artistic interpretation. This is one of those times when you know you have chosen the right team.
What was your biggest challenge?
My biggest challenge for this shoot was our location. We shot this in Miami, and due to limited studio space and the high volume of models we were shooting, we had to prep in our hotel room and then travel to the studio to shoot the models. Heat and humidity were high so by the time I got to the studio, the hair was looking a bit sad. The shot with the waves had to be completely taken down and redone. I ended up liking the second look better than the original, so that ended up being one of my happy accidents. I love when that happens!
Natural texture is having such a moment in the spotlight – what do you think about this trend?
I am LOVING this trend. For so long women were controlling and straightening their curls because they weren't "in," and they were seen as unprofessional. Now we are seeing just the opposite. I am always a fan of women embracing their natural selves. As a curly hair specialist, I am loving the opportunity to share my knowledge of curly hair with my clients and other stylists who are still unsure of how to cut and style curly hair.
Now that women have embraced natural texture, what do you think is next? Will it stick around, or will we see a change?
I think we will see it stick around for a while. We have been seeing the curly momentum building for some time now, and I think it is just now reaching mainstream status. Behind the chair, I am seeing women not looking to control their curl volume but to embrace it, and I don't think that is going anywhere anytime soon.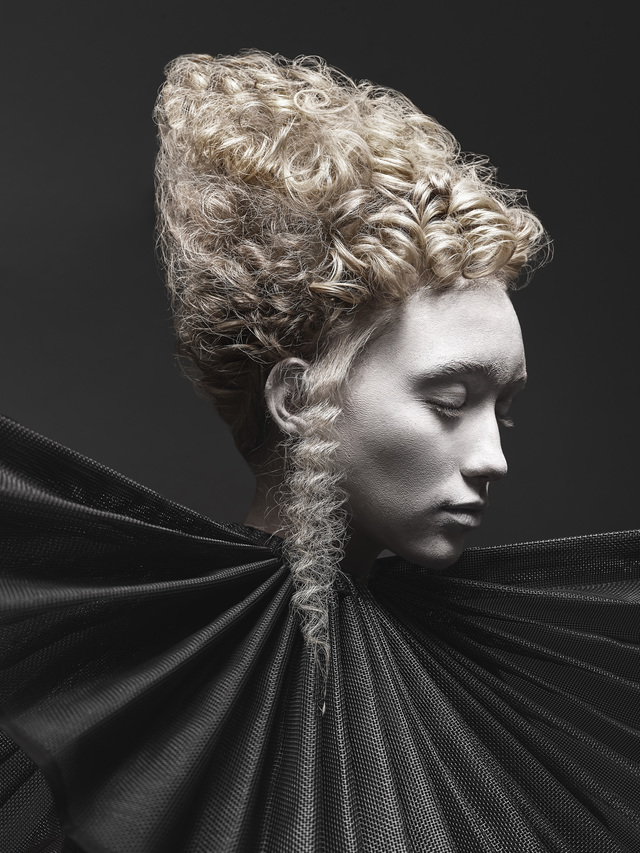 What other trends do you hope to see this season?
This season I am pushing my curly clients to experiment with shorter lengths and interesting shapes. As clients get more comfortable working with their natural textures they are more willing to try new ideas and experiment with length. In the past curly clients associated length with curl control. When you stop worrying about curl control, haircut options become a little more adventurous.
---
To see even more inspiration, be sure to stalk Lauren Moser on Bangstyle and check out even more trends and tips here!