A style is so much more than the color, the cut or the makeup that goes into it – ultimately, it comes from the person behind the chair or behind the camera creating the finished look. In this feature, we get to know David Vendittelli and a bit about his wife, Marilyn Vendittelli, who is also a stylist. Ever wondered what it's like to be married to a fellow stylist? Keep reading to learn about this amazing duo and the beautiful art they create together.
---
My passion for hair is not something I thought I had until I met my wife Marilyn Vendittelli who was well into her hairdressing career at the young age of 17. At the time I was working in a bank and hated going to work everyday. Finally, I saw the light and started a whole new career as a colourist in 2001.
I have traveled across North America educating myself in everything color, continuously refining the craft, the bulk of my education has been with GOLDWELL. In 2014 I became one of sixteen people globally to graduate with GOLDWELL color Masters. Since then it has been a whirlwind of amazing events, 4 Canadian Hairdresser of the Year Awards between my wife and I, 4 Bangstyle Supremes between my wife and I, Goldwell national artists as of 2018 and the greatest moment was opening INdustry hair and Esthetics in August of 2016.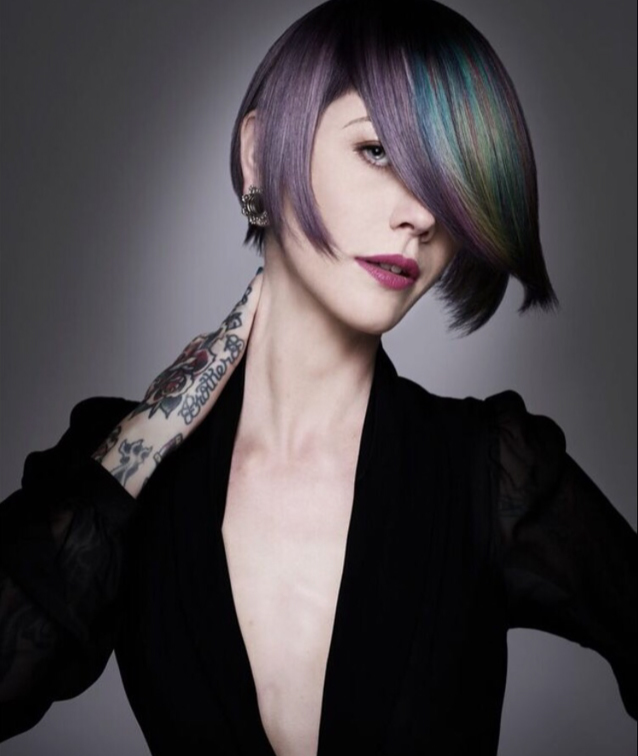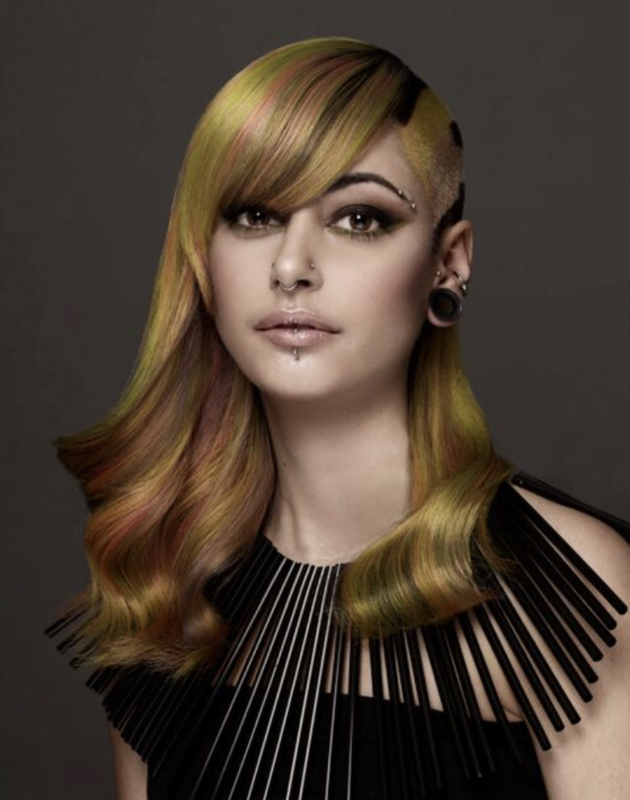 Favorite techniques?
Honestly, it is hard for me to pick one favorite technique, I guess my favorite is being able to use all the education gained over the years and being able to transform every guest that sits in our chairs.
Defining moments:
The biggest defining moment in my career has been the opening of INdustry Hair and Esthetics in August of 2016! It is a blessing coming to work everyday to a team that believes in us and an environment where everyone is equal. It's an amazing feeling knowing that your staff and clients truly want to see you do well and see our dreams come true!
Mentors:
They were many mentors along the way including the obvious artists like Anthony Mascolo, Vidal Sassoon, and Robert Cromeans, but our biggest icon and mentor has been and still is Rodica Hristu. Rodica is Goldwell Global Master and North American Artistic Director, she is someone who believed in Marilyn and me when no one else did, she took us under her wing, pushed us and encouraged us to step outside of our comfort zone. Not only has she taught us many tricks of the trade, but she is extremely humble, genuine and real.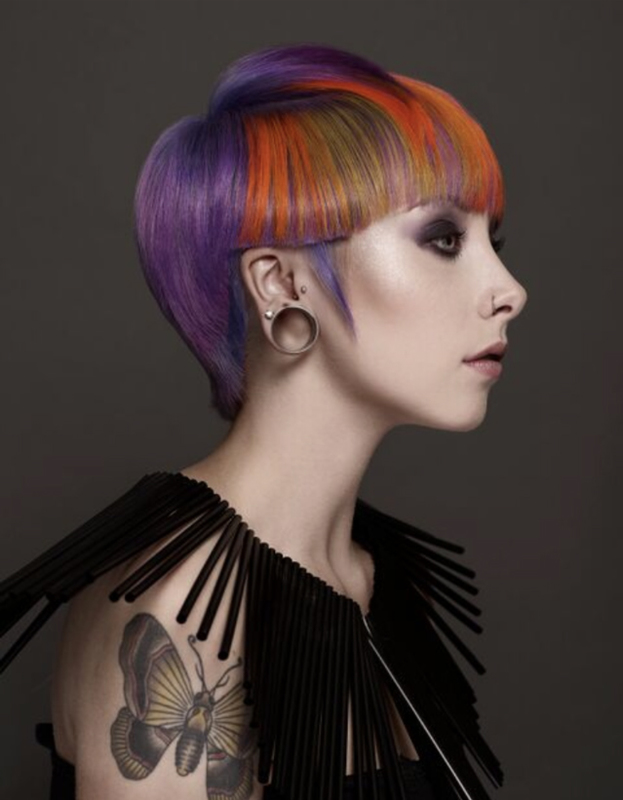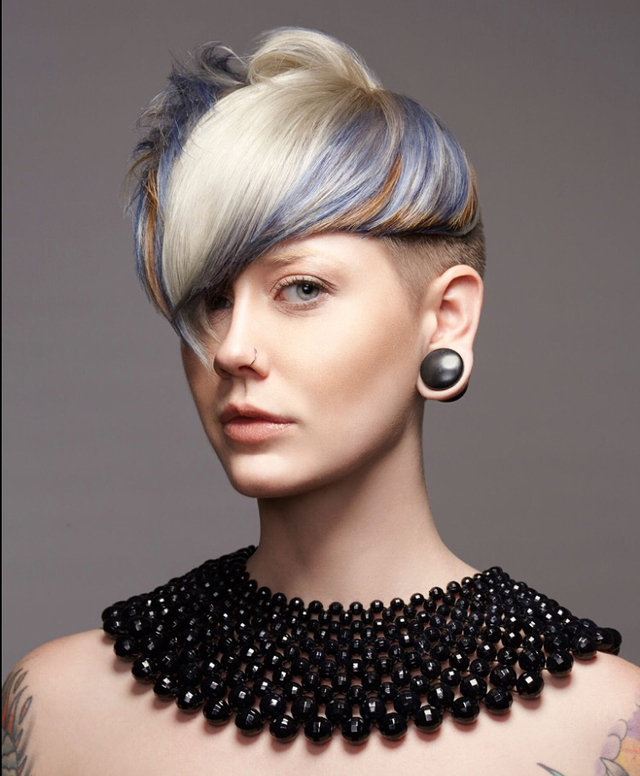 Do you and your wife work together on any collections? How do you two challenge each other in the hair realm?
Yes my wife and I work together, live together, parent together, lol and still love each other!! We have worked together for 18 years and every collection we have done has been a collaboration. Without her there literally is no me. As a Colorist I depend on her to bring my visions to life with her styling knowledge.
We challenge each other with every collection, there is no one opinion I take into consideration more than Marilyn's.
Where do you find your inspiration?
There isn't one specific area I look to for inspiration, it can come from anywhere at any time, from fashion, music, architecture, the streets, many times it is multiple pieces that will inspire a collection.
How did you dream up your latest collection?
The latest collection was heavily influenced by graffiti, looking at the beauty of colors you would never think to look good together, hard lines fused into color melts is a beautiful thing when done in a creative way. This is what I wanted to make come true on the model's hair, unlikely color pairings and hard lines that melt into one another like graffiti.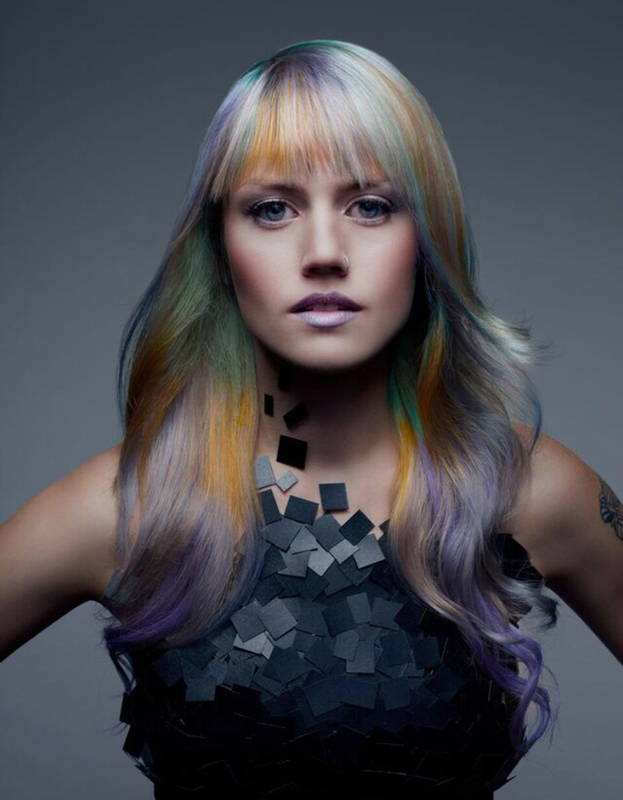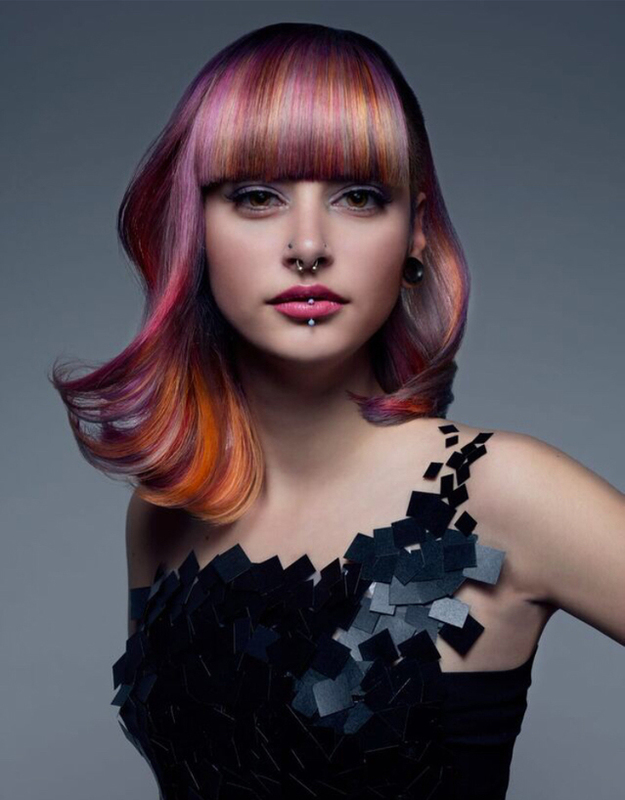 How do you use styling to enhance your images?
Color placement will determine the styling needed for my collections while styling will help me determine where I will place color. Styling should always complement the color and enhance the color placement. One without the other and the story is incomplete.
How do you work with your team to create a collection?
Working with the makeup artist is based on a few components to truly have them understand your vision. First is creating a storyboard so the makeup artist can visually see what has inspired this collection and secondly, verbally express what you want the makeup to look like through the eyes of the camera. Makeup is to enhance the models look and never take away from the hair.
Marilyn and I have always styled the models ourselves, many times we have made tops to truly create a unique piece that has never been seen.
Lastly, you need a kick-ass photographer! We have always been blessed with having Kale Friesen shoot our work.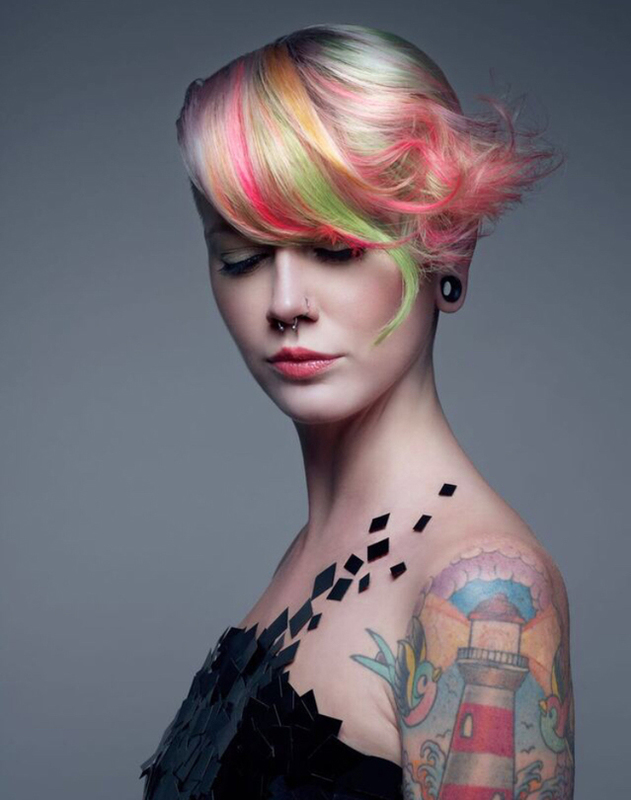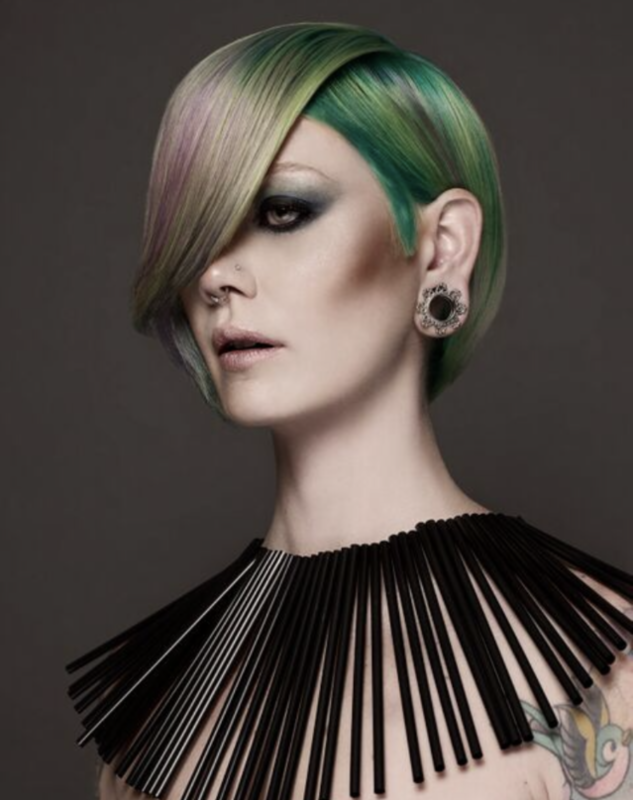 What is this collection saying about trends?
This collection is saying the sky is the limit for women's trends! No longer does color have to be monochromatic, no longer do women need to have the classic browns and caramels, it's beautiful to be different and unique!
How do you formulate the colors?
Formulating color is different every single time, depending on who is sitting in your chair will determine how you formulate. I have been blessed with using Goldwell Hair Color for many years, the options are endless! When doing photo shoots Elumen Hair Color is second to none, you can make any color you can imagine, not to mention the shine!
How do you decide on placement?
Deciding on vertical, horizontal or diagonal color placement really comes down to what I want to see as an end result and how the hair will be styled. Gone are the days we want to see zebra stripes on models and clients. Many times now we are incorporating pivoting sections to achieve fluidity out of color, doing this you will get vertical sections flowing into diagonal sections.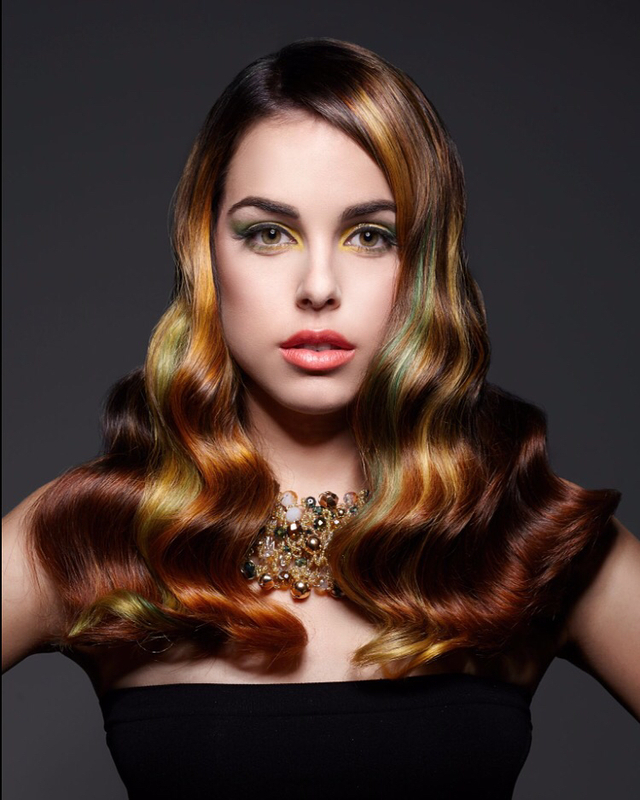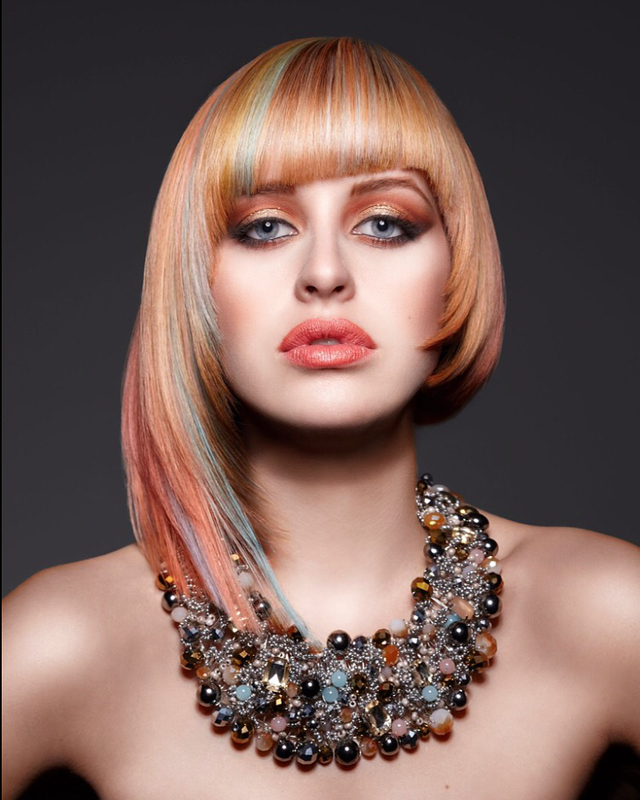 How do you feel about Fantasy colors making their way into editorial work? Do you feel they will still be popular for everyday styles this season?
I like seeing fantasy color trends in the editorial world, as a Colorist I love seeing change and creativity, it's what keeps our industry evolving!
I think that it is still a trend rather than popular for women and men. As colorists and stylists, we are constantly faced with clients bringing in pictures of fantasy hair color, we need to be clear in our consultations if these looks are truly achievable and if not then we need to explain why. On the other hand, if it is achievable explaining the steps involved, maintenance to keep it looking good and the expense. All these things are what clients don't think about when showing an inspiration picture from Instagram.
What's the one product or tool you can't live without?
The one product or tool that I could not live without would be Elumen! It is my go-to for every single photo shoot I do. Color options are endless and the shine it produces is second to none!
If you had a superpower, what would it be?
If I had a superpower it would be to fly!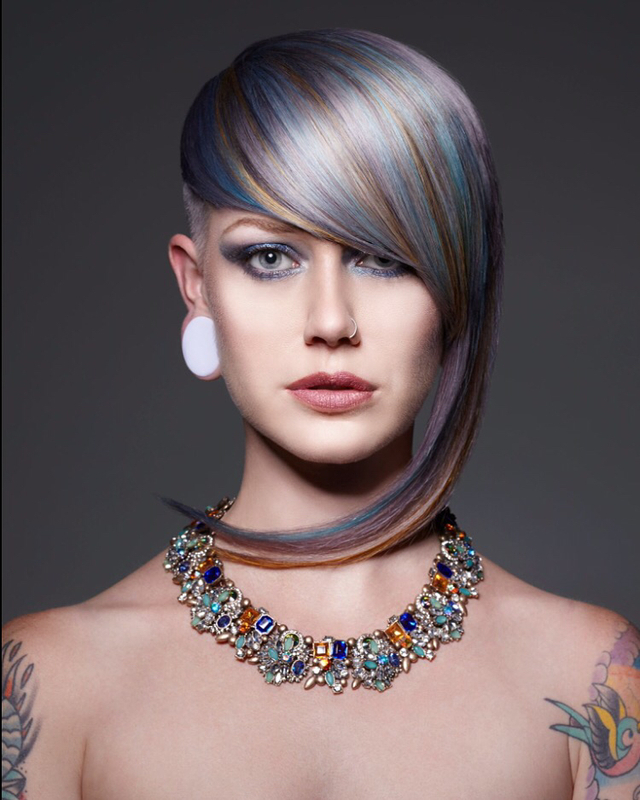 What trends do you think we'll see this season?
Trends… I think we are going to say bye-bye to rooty blondes! It's been a long time coming but I think we are going see a shift in hair color trends! Spicy tones, brunettes, and coppers will make big comebacks!
Any advice for up and coming artists?
I have so much advice for upcoming stylists, the most important love what you do and love where you work! This can be an intimidating industry but if you are in an environment that will encourage education and growth, the sky is the limit! Never stop learning, this industry is forever shifting and changing, don't get stuck in a rut and just go through the motions. Finally, get involved in everything hair, whether it's sweeping hair at the salon or backstage at a show, you never know who or what may come your way!
---
To see even more of David Vendittelli's inspiring work, be sure to stalk him on Bangstyle!