Jennifer Lord's passion for hair started when she was just a young girl. It has done nothing but grow since then and transform into a beautiful talent that she shows us through her latest collection. While strong lines show through both silhouette and accent accessories, her creation naturally showcases the most beautiful part of her passion – its fierce vibes. Keep reading to see this beautiful collection and hear more about this amazing artist and her stunning work!
---
Can you tell us a little more about you and your styling background?

I've been styling hair since I was a toddler…those poor girls in daycare. Somehow I convinced them I could twist and braid their hair just like their mommy. Adding to that, my Dad is a barber. It's in my DNA to be surrounded by hair. I just love it and I'm grateful that my childhood pastime turned into this burning passion of a career.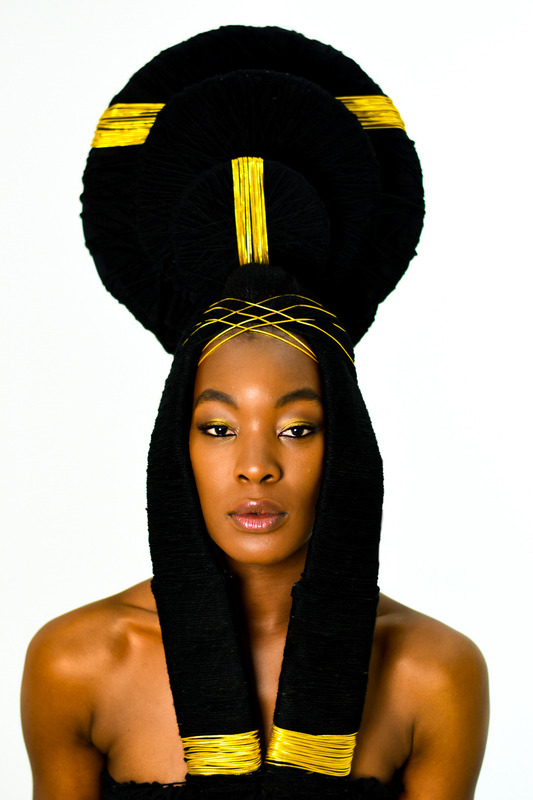 What drew you to hair styling?

Styling hair makes me a G. The expression I receive from my clients and models after a hair slay is priceless. After I'm done with you, if you're not a celebrity, you'll feel like one. Hair is so beautiful and it's also so unique. No two people have exactly the same hair so it's always a treat to discover what one individual's head of hair can do. Seeing my clients pep up in front of the mirror is EVERYTHING. It's like wow, I styled you and I made you super happy? What could be better than styling?!

What is your favorite technique to use?
I love applying classic styling techniques like finger waves and pompadours to Locs. It's totally unexpected and makes heads turn.

What has been the biggest defining moment in your career?
Pushing past my fears to create my own coffee table book "Natural Hollywood Vol. 1". If you would have told me 10 years ago I would have published a book, I would have said "yeah right". But now that I actually did it, everything feels possible and within my reach.
Is there a specific area you often find yourself looking to for inspiration?
I typically look at African art on Pinterest as they have the most variety and I can come across anything from Avant Garde to ancestral braids. It educates me and pleases me visually while inspiring to make my ancestors proud.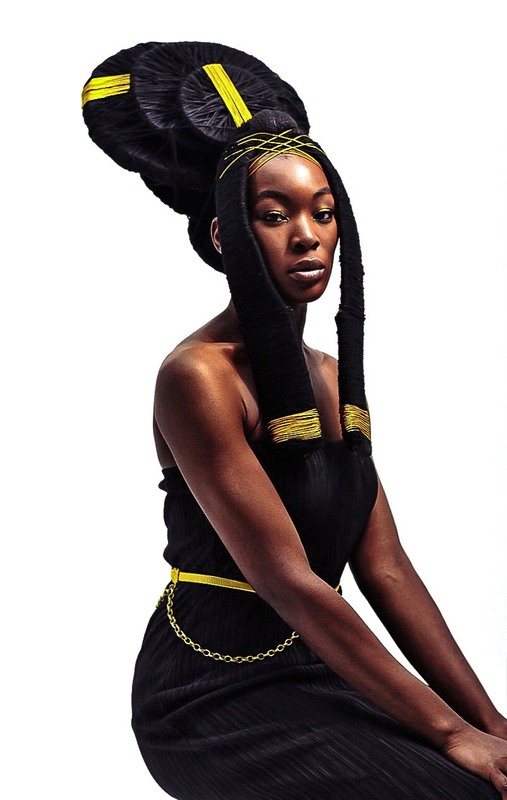 What is the one product/tool that you can't live without?
There is straight up panic if I start to run out of JahRoots Hair and Skin Cream. It's super rich and has my loc clients leaving shiny and flawless. You just can't beat it.

How did you dream up your latest collection?
I typically freestyle my headpieces and when I feel stuck I head to the dollar store or Michael's to view objects that provide shapes and build on that. This time, I grabbed two long loofa shower scrubs for the front pieces and I also grabbed some wicker plate holders from the thrift store next door. I wanted something dynamic and 3 dimensional for this look. The rest of the vision came to life with yarn as the hair to add more texture while the gold strings gave it dimension.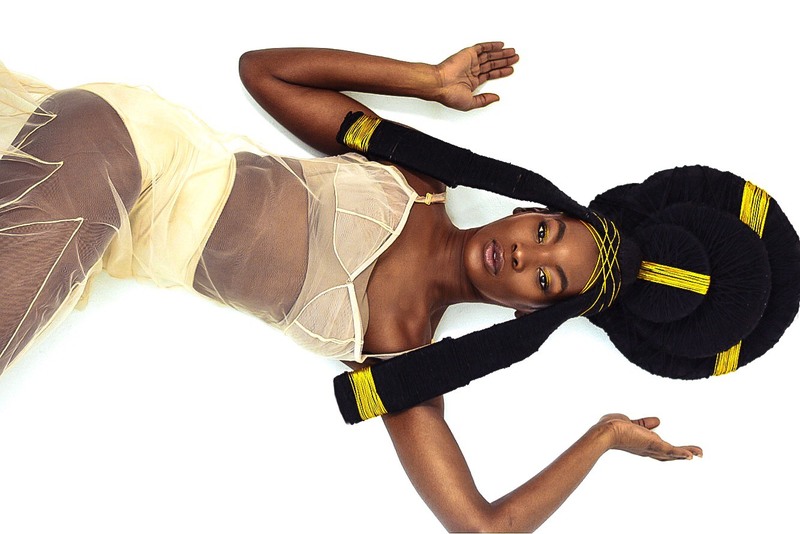 How do you use styling to enhance your images?
The priority is always the hair shape. I initially decide on spheres, cones, triangles and such. Because I like hair that stands out, I usually embellish with metallic colors so that there is an element of pop. The gold string or blingy add-on draws you in, sort of like how a gold or diamond necklace grabs you.

How did you work with your makeup/styling team to craft a final image?
My assistant Leeci helped to keep me focused on the goal as I dramatically brought on my own anxiety. I contacted her the night the pieces were to be completed and she literally talked me off the stress for no reason ledge. Once I shared my vision, she helped me to organize the physics and measurements of the pieces. MATH - for me that's usually the tricky part. She also reminded me that I wanted to keep this original, not repeat the pattern of gold from my last showcase and rather color block the gold. Magnificent detail. My son Jonathan, an 18-year-old artist, grabbed his gold spray paint to cover up the baby blue loofa scrubs. MUA Toni and I decided to accent Shar's already gorgeous skin with an amazing, natural glow and add black eyeliner to accent the unexpected, Egyptian theme.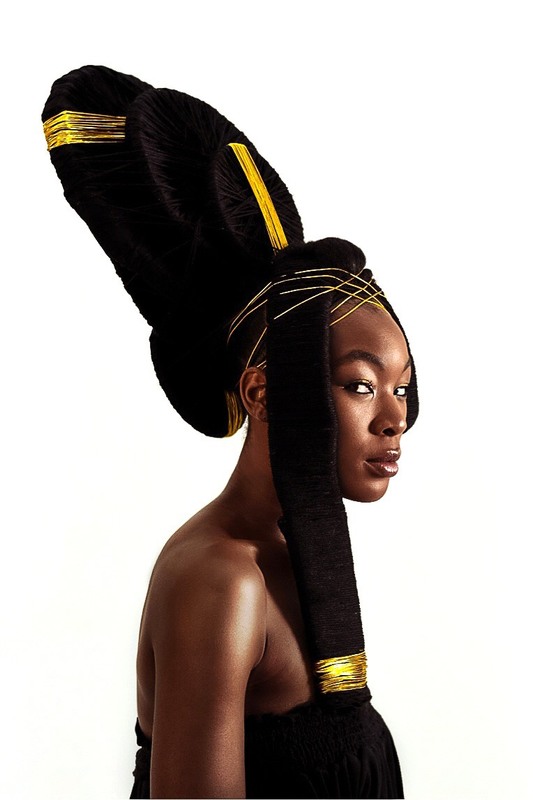 If you had a superpower, what would it be?
To be able to fly myself all over the world and style hair to Gods within in seconds every.damn.day!

Who were your mentors along the way and how have they shaped your career?
My mentors are my Mom, Joanne Carter, Diane C. Bailey and Stellah Johnson. My Mom always worked hard and was extremely determined. I definitely get my determination from her. Joanne always tells me the truth, even when I don't like it. Diane makes sure I'm fearless and pushes me to do great, over the top hair. Stellah, the designer, always creates and inspires me to keep creating also. I'm really blessed to have them in my life as mentors and I push myself to make them all proud.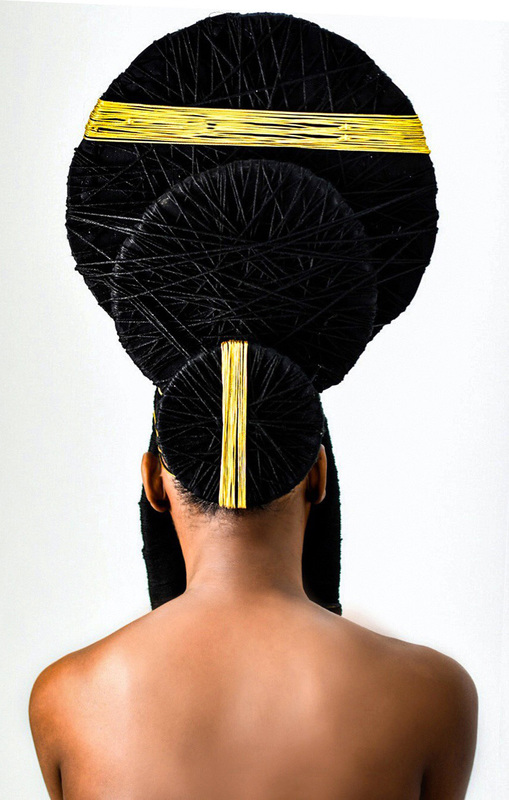 What hair/color trends can we look forward to this season?
This year is all about the blondes with extreme highlights to frame the face, ombre with tons of highlights, and I'm also anticipating a copper red comeback!
---
Be sure to stalk Jennifer Lord on Bangstyle to see even more of her work!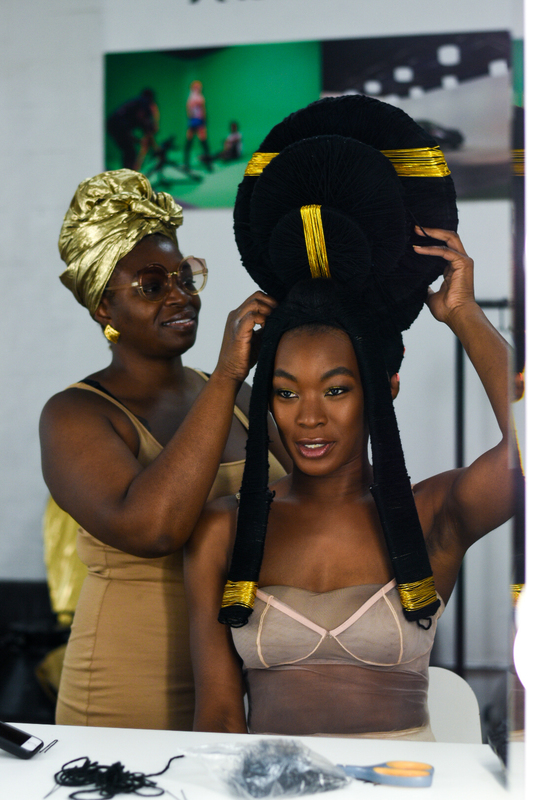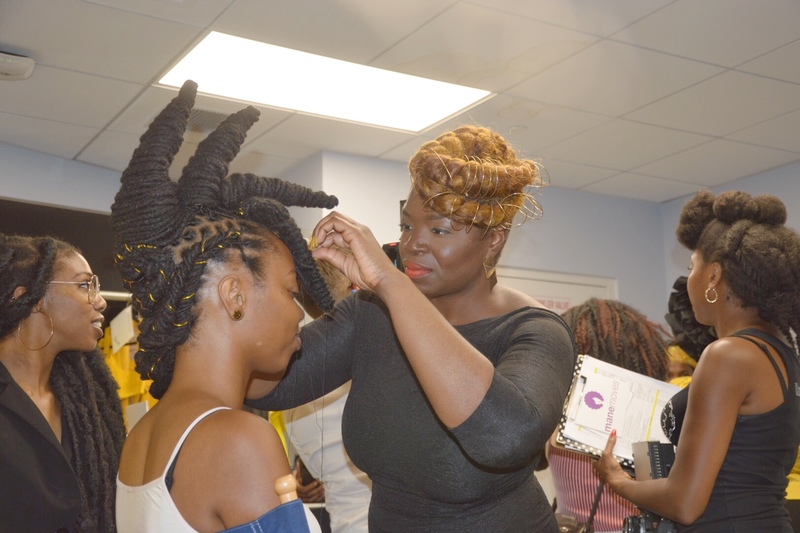 Credits:
Creative Director and Hair Stylist: Jennifer Lord of Natural Hollywood ig: @naturalhollywood
Assistant Hair Stylist: Eleecia Rushion ig: @_getfancybookleecii
Model: SharDey Tutu ig: @shar.tutu
Photo: Rudy Felix ig: @t_f_roo13
Mua: Toni McKnight ig: @muatoniann