Nomobo is a new salon in Chicago, co-owned by one of our favorites, Shelly Wilson! It was a long road for Shelly and her partner Samanatha, squeezing dealing with outdated (and slightly ridiculous) city ordinances, finding the perfect space and designers to fill it all in their spare time outside their previous salon. When they finally opened their doors, it was well worth it. The salon is modern and industrial yet still beautifuly warm and inviting. We were thrilled to have the opportunity to catch up with Shelly, and get the scoop on all things Nomobo...including where the name came from!
Tell us a bit about the salon?
Nomobo opened in March of 2014. We are located in the Wicker Park neighborhood of Chicago. There are four of us who worked at another Chicago-based salon for about 6-10 years each and we all needed a change of scenery. My partner Samantha and I decided to take the plunge and just make it happen.
Nomobo is a modern studio space. As stylists, it's a place where we can come in and work on our clients in a relaxed boutique environment. As professionals, we specialize in haircutting and hair coloring. We provide our clients with a style that works with their natural texture and helps them define their overall look. We are proud to use Kevin Murphy products and Wella color.
The name was derived from the phrase "no mom bobs." Samantha and I thought long and hard on about creating a made-up name that could eventually brand itself. While teaching a bob cutting class, Samantha explained to her students to give clients "modern looks, no mom bobs." Hence, the name Nomobo. We are not trying to offend any moms with bobs, but we do promise to give you a good looking one (: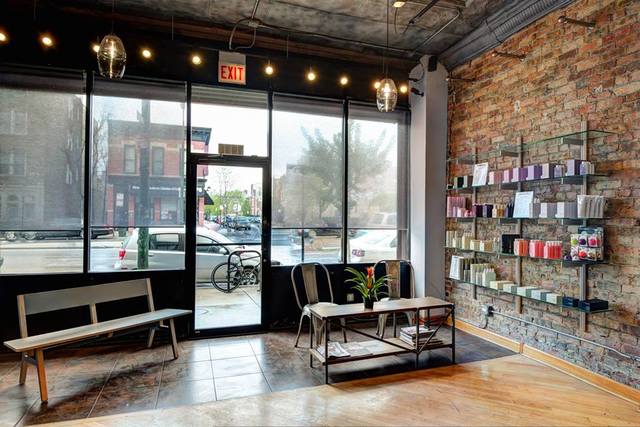 What was the opening process like?
Dealing with the city of Chicago made life a little difficult, but what's life without a little adventure! The city has an antiquated law that you can't be 1000 feet within another salon without city approval (because a few years ago there was a strip of salons selling drugs! So, too many salons near each other poses a threat, I guess. Sounds like salon/retail discrimination to me!) We had to wait months for a court date and its never fun throwing money at a storefront that can't be generating income.
But nonetheless, we were able to spend those months getting everything in order. We luckily found a space that had a lot of great qualities we were looking for - exposed brick wall, hardwood floors, and great natural sunlight. We did as much as we could ourselves- painting, cleaning, installing what we could ourselves etc. to stay within our budget.
We were working full time at our previous salon, so working 7 days a week and having to keep what we do on the weekends on the hush was not fun. And we were broke. But now that it is all done, it was so worth it!
What/Where inspired the design?
We wanted a very clean, minimalistic studio design. The space that we found offered the color palette that we were going for with its warm wood floors and tin ceiling. We wanted an industrial look that still felt very warm and inviting.
My partner Samantha has a great eye for design, so I trusted her when she found mirrors and chairs that she felt would suit our vision. From there, we tried to utilize as many local designers, artists, and friends as possible and gave them freedom to add to the space.
Ben Dimock crafted some awesome stations for us. Jackson Schwartz from Hennepin Made created a great ambiance with his custom glass-blown lighting. Ivan Mihov created a logo and design material that became the way we branded ourselves.
We kept our fingers crossed that everything would look good once it was all in place. We are more than satisfied.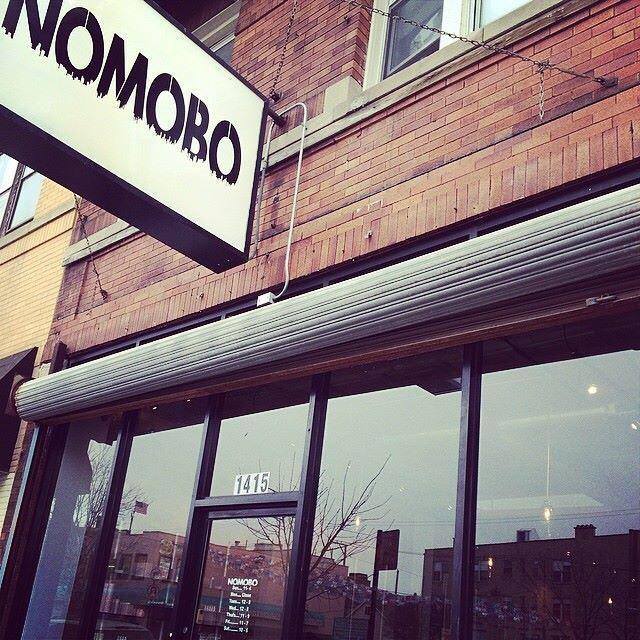 What do you look for in your stylists?
Mostly to make sure their personality will vibe with our salon. We expect professionalism and the desire to learn and grow. We want stylists who are really into doing hair and making a career out of their talent. Last but not least, they can't think they are too good to fold a towel. We want real people with real talent.
Most interesting request from a client?
Well, we could spill, but we will probably be sharing this and don't want to offend any of our fabulous clients. However, we do have a client that is a choreographer for a group called the Fly Honeys, and they asked us to do hair for their cabaret-style performance at the Chopin Theater (https://www.facebook.com/events/666939013388618/). With 3 nights of shows and 40 dancers, this was a great chance to all work together as a salon to do some dope styling work. So that was both interesting and exciting! We are also doing an in-house up-do class in a few weeks so that our stylists can share all their tips with each other. We embrace ways to network with other artists in the city and inspire each other to do other things outside of the salon.
How are you utilizing social media to grow your salon?
We have been taking photos of our clients for our Instagram (http://instagram.com/nomobosalon), which we sync with our Facebook and Twitter. While I feel like most of our clients come from referrals of our current clients or Yelp, our clients love feeling engaged and apart of our salon in the social media platform. Social media gives us the opportunity to share what we are doing in the salon with our friends and clients. I have tons of clients who touch base with me via Facebook messages and I think most like that personal connection and ease of sending pics or brainstorming ideas for their next hair move.
As stylists, I think its great that there are free platforms to have an online portfolio. We also get inspiration from sites such as Bangstyle and Pinterest when prepping for weddings or freelance styling work.
I personally find social media a fun outlet to engage with others who have similar interests, but know there needs to be a balance of it not taking over your life.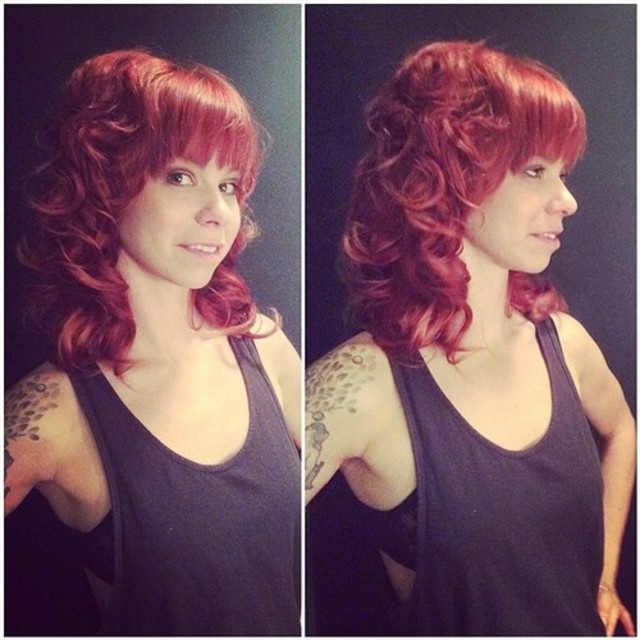 What's on the salon playlist?
Chromatics
Little Dragon
Black Keys
Art Dept.
Oldies but goodies.
What kind of client experience do you strive to create?
We want our clients to leave feeling like it was well worth their time and money to come here. We want people to feel comfortable and just as much a part of the salon as we are. We are never pushy and are transparent and realistic with clients' expectations. We want them coming back saying that was the best haircut, color, and experience they have ever had.
What is your favorite aspect of being in the industry?
Not being a part of other industries. The hair/salon industry is a great one. You can make a decent living while still being creative and working with your hands. You get the opportunity to share your skill with your clients and make people feel good about how their hair contributes to their overall look.
What is your guilty pleasure?
Are there limitations on what we can say on here? Lol
Be sure to "Stalk" Nomobo Salon and Shelly Wilson on Bangstyle to keep up with all their awesome imagery.