Forever chic, Freida Pinto – best known for her role in Slumdog Millionaire and now the Jungle Book – looked effortlessly elegant a the launch event for the Forevermark Tribute Collection in Chelsea, New York. Celebrity stylist Chris Naselli was the genius behind look and of the inspiration, he explains "When discussing Freida's look we settled on something that made her feel most herself while reflecting the theme of the event; each woman having her own story to tell and the diamonds symbolizing the unique and multi-dimensioned woman wearing it." Using the Biolage R.A.W. Styling Collection, Chris created a Red-Carpet-worthy look for the starlet, find out his secret to the style below.
STEP BY STEP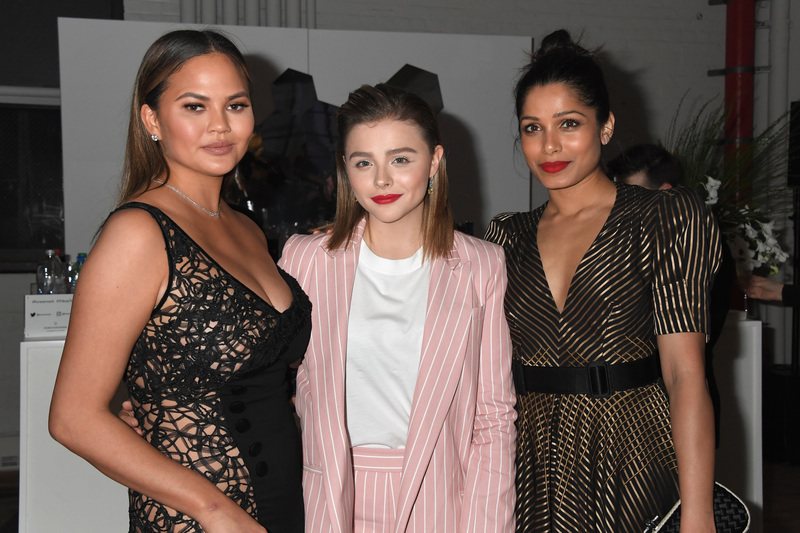 Blow dry or air dry the hair by running fingers through to enhance natural textures and to create volume/definition.
On dry hair apply a golf size amount of Biolage R.A.W. Smoothing Styling Milk from roots to mid-shaft.
Rub a quarter size amount of Biolage R.A.W. Bodifying Styling Jelly between hands and pull up into a high loose ponytail and secure with a bungee. Make sure to keep the pony loose so you don't disturb all that good texture on top.
Split ponytail into two sections then twist the two sections around each other and create a messy undone knot, letting pieces fall out secure with hairpins.
Take the ponytail and spray Biolage R.A.W. Texturizing Styling Spray and lightly backcomb it.
The key is to keep this slightly disheveled while still looking young and modern. Use a dime size amount of Biolage R.A.W. Frizz Control Styling Spray on fingertips and gently massage the hairline to activate the baby hairs and create soft beautiful flyaways.
Lastly, Spray Biolage R.A.W. Frizz Control Styling Spray through the hair to maintain frizz and hold natural falling flyaways in place.
---
Looking for even more hair tips and styling tricks? Check out these looks and stay tuned for more fashion-forward styles from Matrix.