Amber Fillerup of Barefoot Blonde - Get The Look - Styled by Matrix Celebrity Stylist Nick Stenson
Nick Stenson on Amber Fillerup's Look: Amber Fillerup of Barefoot Blonde requested a fun braided look, so I went for the 4 Strand braid, which is much easier than it looks! All you have to remember is over and under, and under and over!

• Prep hair with Style Link Texture Builder Messy Finish Spray to give hair all over texture.
• Next, brush the hair to one side and then section hair into four equal strands.
• Start with the side closest to the face and going from right (#1) to left (#4), begin with strands 1, 2, and 3 on the right, disregarding the fourth strand.
TIP: Adding numbers for each strand will make it so much easier and helps you get into a numeric rhythm - it's the only time math will be easy!
• Then, braid and strand #1 goes over strand #2 and under strand #3.
• From left to right, you cross #4 to the right  and disregard strand #1, then strand number #4 goes under strand #3 and over #2.
• Repeat the last two steps until the end of the hair and secure with an elastic band.
• To give the braid a fun and fuller look, pull on hair to loosen it up and let some fall in front for a natural look.
• To complete the look, add Style Link Height Riser Volumizing Powder to give the roots a lift and finish with Style Link Style Fixer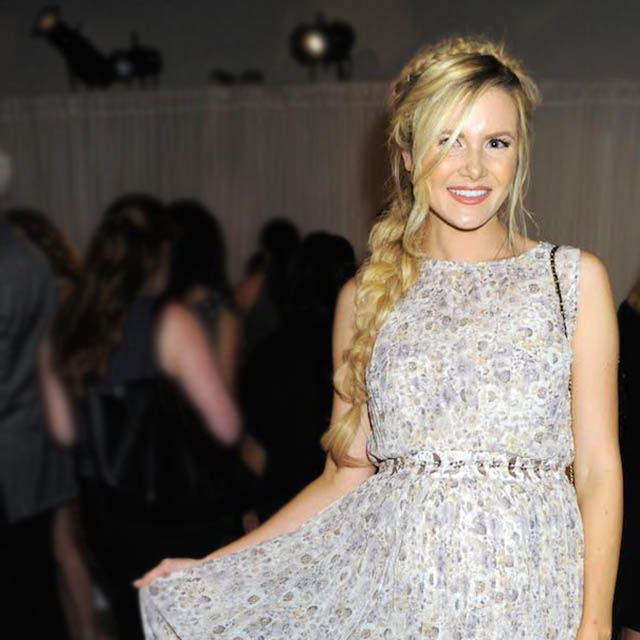 Amber Fillerup of The Barefoot Blonde was spotted at the LC Lauren Conrad Runway Show with a Romantic Braided look by Matrix Celebrity Stylist Nick Stenson using Matrix Style Link products.
Be sure to stalk Nick Stenson to keep up on all his latest looks!
Photo Credit:Jennifer Graylock