By now, we've all heard about glossing (or toning) treatments and how groundbreaking they are. However, if you're still skeptical about them, understanding how they work might answer a few of those burning questions. Whether you color your hair or still wear it au natural, read on to learn why glossing treatments are key to flawless color and a stellar style.
When hair is colored with hair dye or lightened with bleach, it can continue oxidizing and lead to discoloration. Additionally, residual alkalinity from a lightening service can cause damage to the disulfide bonds for up to 14 days following the service. The most obvious clue is that you might notice a small color shift and slightly dryer, sensitized hair. And over time, you'll notice oxidation even more as hair turns brassy or yellow.
Toners or glosses applied in the salon will immediately counteract these effects by regulating the hair's pH balance, repairing bonds, and adding condition and shine.
Glosses are the secret to flawless color
Toners, glosses, glazes — however you refer to them, these salon treatments will instantly improve your shade and deliver shiny, conditioned results. And with Redken Shades EQ Bonder Inside, you'll also enjoy the benefits of bond-building technology to strengthen the hair from the inside out.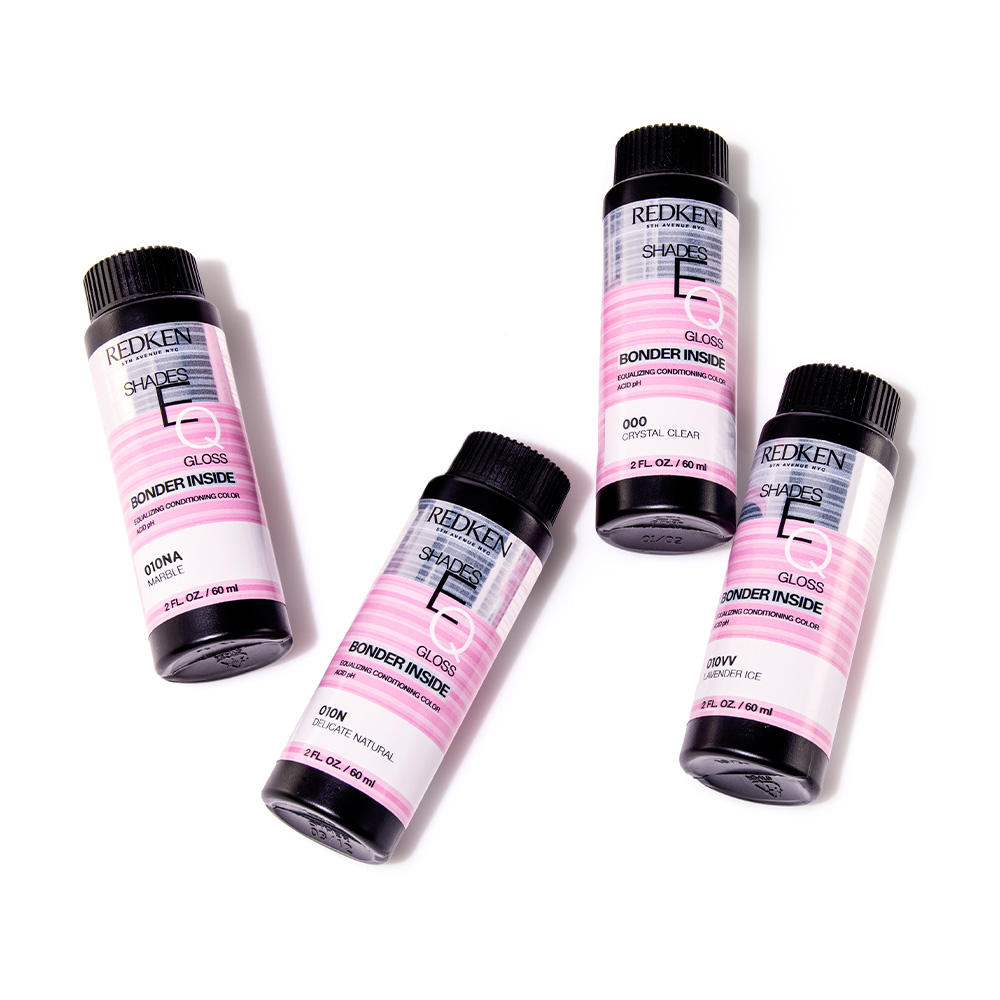 What you should know about glosses:
Glosses are a demi-permanent hair color service that allows you to color hair without the commitment. Glosses do not lift your hair color, so although they can make them appear brighter, they won't actually lighten your level. They can even out tone within the same level or add a slightly darker appearance within a few levels. They can be used to warm up your color, cancel out unwanted tones or simply add a clear shine. Glosses usually last 4-6 weeks and fade gently over time and therefore do not show a line of demarcation. Making them ideal if you're looking to try out a temporary hue or want a low-maintenance option. Redken Shades EQ Bonder Inside is an all-in-one toner and bonding treatment that strengthens sensitized hair in one step.
How to upgrade your home care
Glosses are a great way to improve color and finish while building stronger hair instantly. In addition to this, utilizing tinted home care products like Redken Blondage between salon visits can help cut down on the appearance of unwanted colors over time.
Redken Color Extend Blondage contains a purple hue to tone blonde, silver, or white hair each time you wash. Redken Color Extend Brownlights has a blue tint to it to counteract brassy tones on brunette hair, revealing a more neutral balance. Both ranges can be worked into your routine and used to enhance color between salon visits. Or, for an extra boost of color consider Redken Color Extend Blondage Color Depositing Masks for Anti-Brass, Honey Beige, Rose Blonde, or Icy Blonde Hair Color.
Redken Color Extrend Blondage Shampoo and Conditioner
Redken Color Extend Blondage Color Depositing Masks