Although most would call air-drying a "lazy girl hack," we find this technique to be much more of a movement than a styling trend. It is not just about the tools, preparation and tips used to create the look, it is about embracing a new wave (pun intended) of texture that can only be naturally created. From tight spirals to undone 'dos, women (and men) are learning how to use their innate look to their advantage.
For anyone that's been transitioning to this new look, you've probably noticed that in the beginning it can be more difficult than it seems. Simply washing and wearing your hair can leave you with frizzy, unkempt, dull looking strands. Now while this style will eventually become easier for you, as you begin, it is about learning a new routine and for some – a new lifestyle.
The first step is to pick your desired style expectations, and then plan accordingly. The right amount of hold in conjunction with the perfect amount of movement is what you need in order to achieve that effortless, air-dry effect. To accentuate the movement, Matrix is unveiling its latest Air Dry BOHO Creams to get the exact style you want. Read on to see which formula is right for you.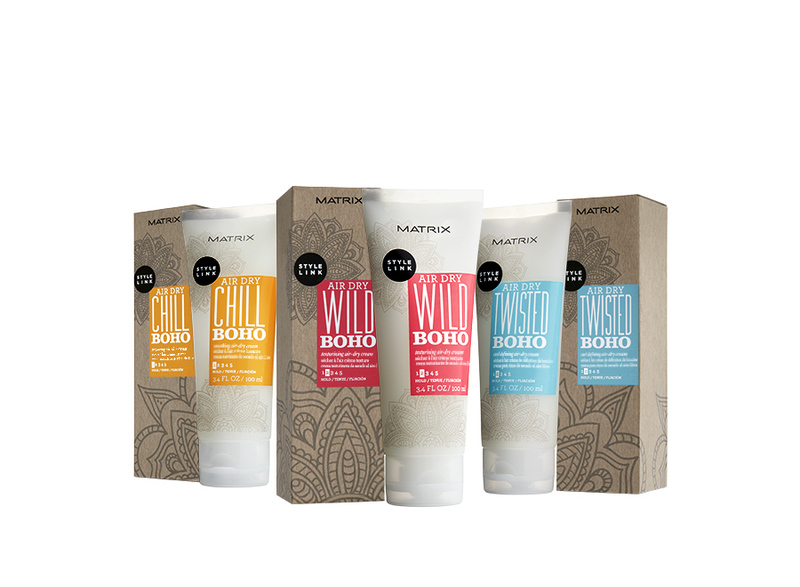 CHILL BOHO – Smooth's flyaways for a lightweight, controlled finish. This is great for anyone looking to add shine and tame rogue hairs without weighing hair down.
TWISTED BOHO – Designed for all hair types, TWISTED BOHO will define curls and controls frizz while speeding up drying time.
WILD BOHO – For those who want the ultimate undone look. WILD BOHO creates modern texture for a tousled, free-spirited style.
The secret to your new air-dried style could lie in one, or a few of the BOHO stylers depending on the day, temperature and humidity. Don't be afraid to try one, or all of them, to see which style best accents your air-dry!
---
Stay tuned for even more BOHO hair hacks, how-tos, and style tips from MATRIX.