All year long you beat up your hair with blowouts & hot tools, summer sun & winter cold. Over time your strands tend to break down from damage and don't behave like they used to. When hair is dull and brittle, it doesn't style, hold colour, or behave the way you want it to.
As the seasons change, so do the needs of your hair. Whether you're in Australia going into the summer months or North America moving into the winter, your hair needs the chance for a little R&R. So why don't you take the same precautions to care for your hair that you do with your skin? If you are anything like us, you probably wish you could un-do the damage done over time.
Don't worry, here are a few tips and tricks to keep your hair looking its best in any season:
1. Switch up your daily shampoo/conditioning regimen - Try a new formula specifically formulated for dry or damaged hair. Even if you don't consider your hair "damaged", an extra boost of moisture can't hurt. Using the right combination of products will ensure smoother, shinier strands.
2. Take a break from your lathering shampoo, give it a cleansing treatment! Try RE.STORE. Your hair thanks you in advance! It is a no-foam cleansing treatment that should be used once a week in lieu of your shampoo/conditioner regimen. It is a concentrated shot of protein for your hair that will leave it soft, supple, and shiny with no residue.
3. Get a trim! - Yes, you heard us right! We know you're holding onto those damaged brittle ends because they "feel long". Want to know a secret? Getting regular trims will actually help your hair grow longer, stronger and aid in smoother styling. Since dry, damaged ends actually lead to more breakage, regular trims allow your hair a fighting chance.
Allow each season to bring upon a ritual for change and healthy habits. Be sure to test out new products like REPAIR.ME, a reconstructing line that is sure to give your hair a helping hand.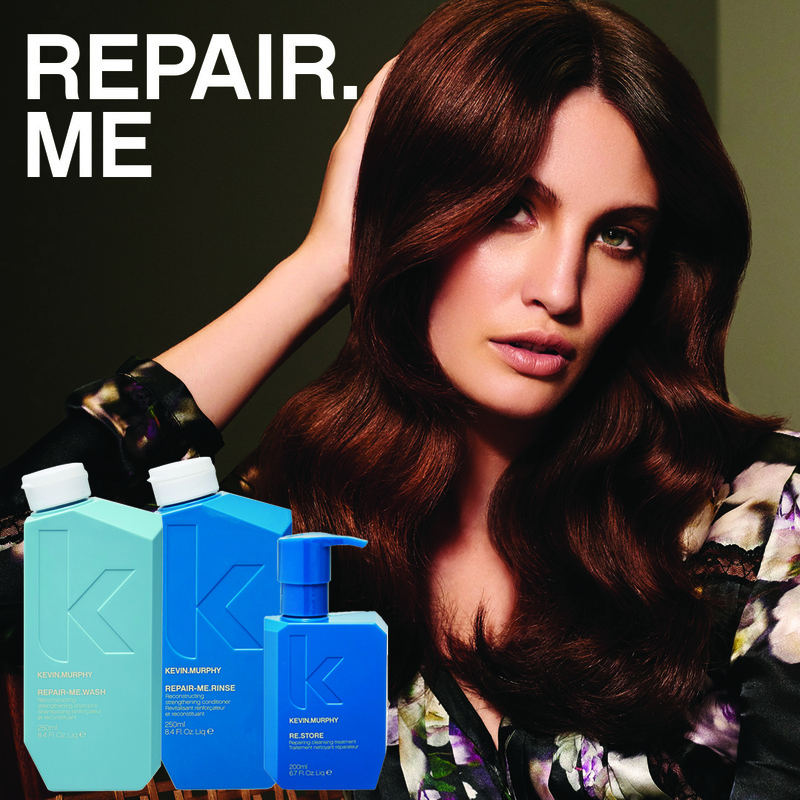 Want to know a little more about REPAIR.ME?
REPAIR.ME is a three-part system that uses naturally derived super food proteins from Green Peas and Fruit Enzymes from Papaya and Pineapple providing nourishment, strength, moisture…. If only those ingredients were in your skincare masks!
With a divine smell, our recontructing shampoo and rinse are packed with powerful proteins that strengthen your hair while gently removing impurities.
RE.STORE uses no-foam technology, which means it's a one step repairing treatment that cleanses and treats your hair at the same time. Using Enzymes combined with the superfood Green Pea Proteins and Vegetable Amino Acids will provide your hair with that much needed "shot in the arm of protein". It's literally like a protein shot for your hair. Hair is left glossy, shiny, and repaired!
Finding a way to reconstruct your hair shaft from the inside out will leave it feeling silky and give it a new shiny finish.
Make a New Year's resolution to treat your hair like it deserves to be treated and we promise, it will look beautiful and healthy in return. Happy Holidays from the team at KEVIN.MURPHY! Here's to another year of gorgeous hair!