If there's one hair care product to incorporate into your routine, it's hairspray. No longer reserved for women searching for '80s-esque volume, hairspray can work miracles on mens' tresses. Read on to find out three reasons why hairspray is a must for your style arsenal.
Immense holding power
Even if your styling routine is extremely low-maintenance, hairspray can hold your style in place without looking overdone. Perfect for guys who hate the look and feel of too much product, hairspray will lock in your style, but will leave hair with a natural, "undone" finish. Another bonus: You can officially say goodbye to those unwanted cowlicks. Simply spray down the unruly section of hair to prevent it from popping up anytime soon.
Fights frizz
Men with textured, wavy or curly hair can agree, humidity sucks! There's nothing worse than styling your hair in the morning only to watch it frizz out uncontrollably just a few hours later. Because hairspray essentially layers a protective coating over your strands, it keeps moisture from entering the cuticle and causing frizz.
Great for layering
The best part about hairspray? It can be customized to fit your needs. Whether you're looking for super-light or ultra-strong holding power, you can layer on the product to achieved your desired finish. For best results, opt for a fast-drying, lightweight formula with flexible hold.
Try: 18.21 Man Made Premium Hair Spray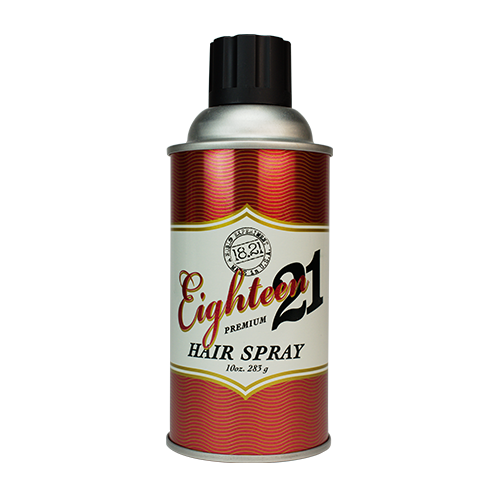 ---
18.21 Man Made has all the tools to create a well groomed look no matter the length or style. Check out all of their goodies in the Bangstyle store and click here to see more hair tips and grooming tricks!