We can smell the Eggnog Latte's and Peppermint Mocha's now! Twinkle lights are already popping up here and there, which means we're just a hop skip and a jump away from the mistletoe! As we head into the holiday season, salons will begin prepping for busier schedules and everyone's favorite time of the year. Before the influx starts, brush up on a quick and easy holiday hair tutorial that can add services to your book and help strengthen the bond between you and your clients this season.
If the Met Gala and Emmy's proved anything it is that color is back! The vibrant looks and fashion-forward styles seen on the Red Carpets are sure to flood their way into salons just in time for the holiday season. A color that always stands out around this time is red. Red nails, sweaters, bows, lipstick and now limited edition ruby red tools from Sam Villa! This vibrant shade comes just in time to fill salons with happy hues of joy.
To coincide with this special occasion, Caralee Pridemore, Sam Villa Ambassador @caraleestyles shares how to create a dimensional updo that is the perfect pairing for a festive hair accessory, sparkly face gems or a bold red lip.
Get The Look:
Step 1: Apply mousse to damp hair and use a round brush and a Ruby Red Sam Villa Light Professional Ionic Blow Dryer to create volume at the base of the entire head.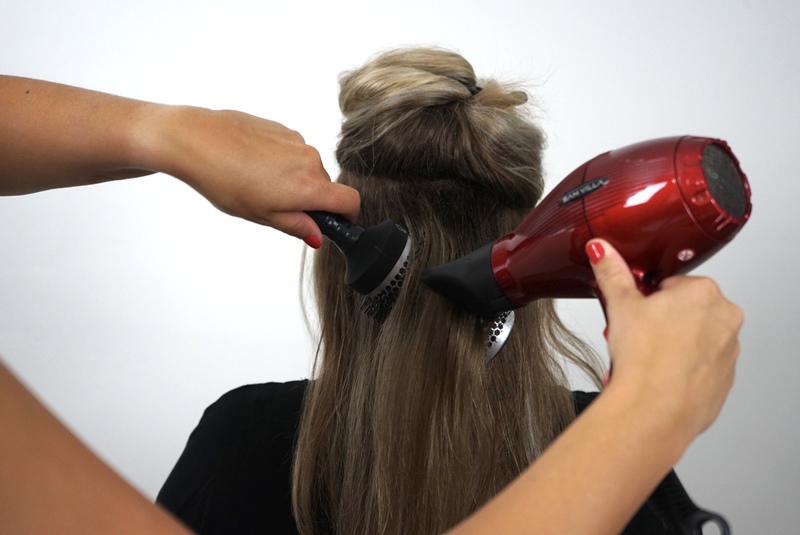 ​
Step 2: Taking 1" sections all over the head, compress with a Sam Villa Textur® Professional Texturizing Iron about 4 fingers down off the part to build the perfect foundation for a strong lasting updo.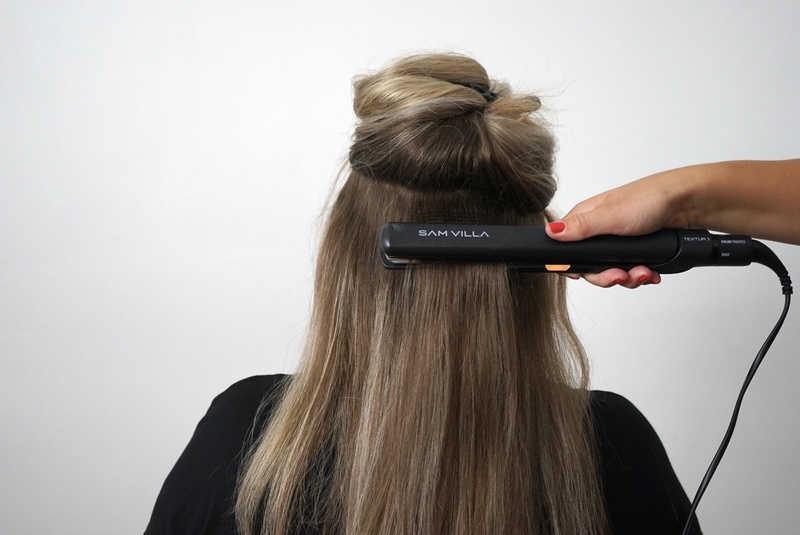 Step 3: Use a Ruby Red Sam Villa Sleekr® Professional Straightening Iron to create curls all over the head, alternating the curl pattern in each section. The extra-long cord gives the freedom to move around the head more easily.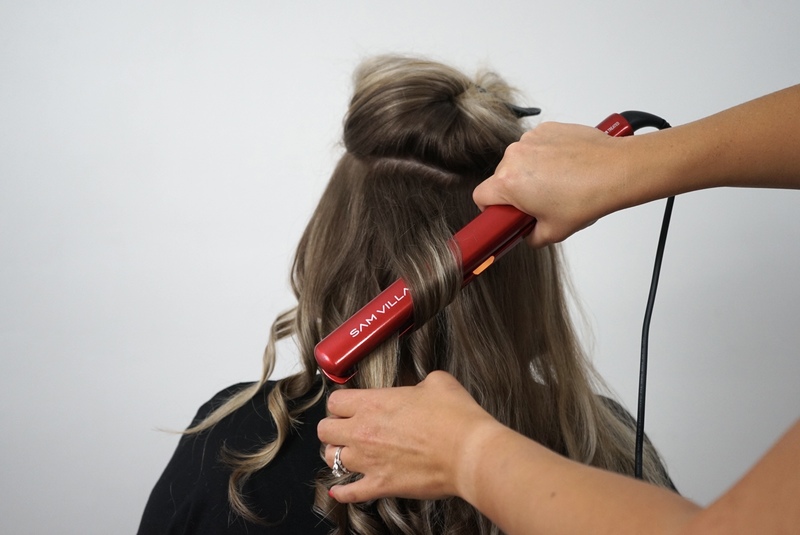 Step 4: Apply AIIR Shine Spray and brush out curls using the end of a cutting comb to maintain a frizz-free style and create more dimension in highlighted hair.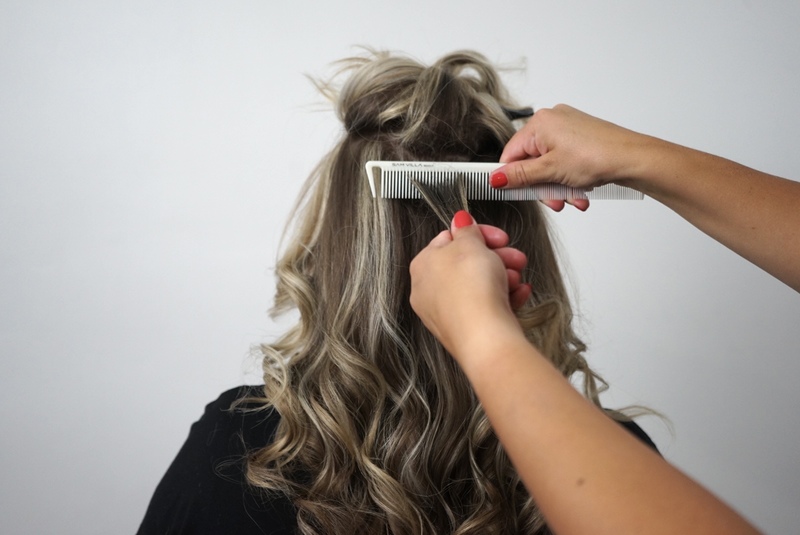 Step 5: After combing through curls, gather into a ponytail and create a second ponytail in the middle of the first ponytail. Take the bottom half of the remaining hair and create a loop. Tuck the remaining hair into the loop to create a topsy tail. Pinch and pull apart the topsy tail to create a round bun shape.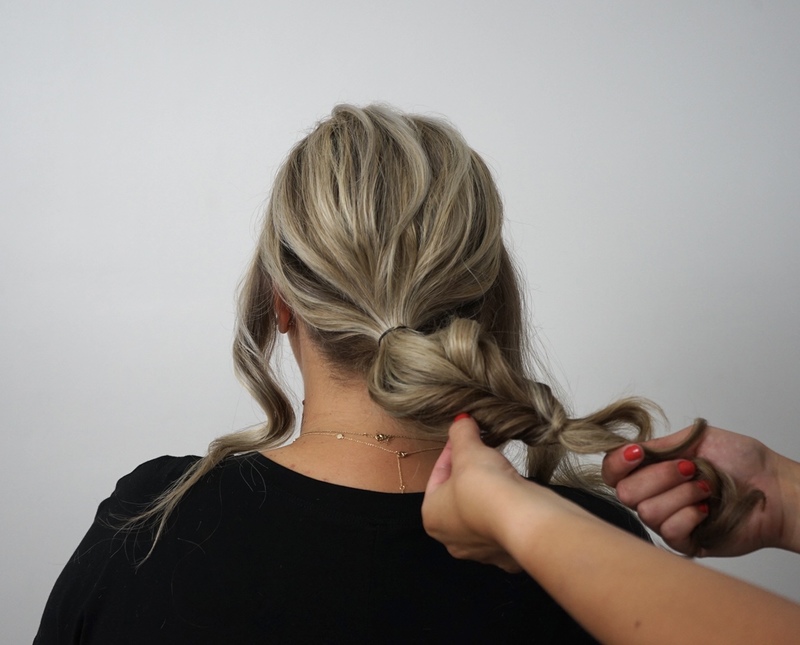 Step 6: Pull all hair towards the right and pin, then take the remaining hair and over direct towards the left to pin to create a round low bun.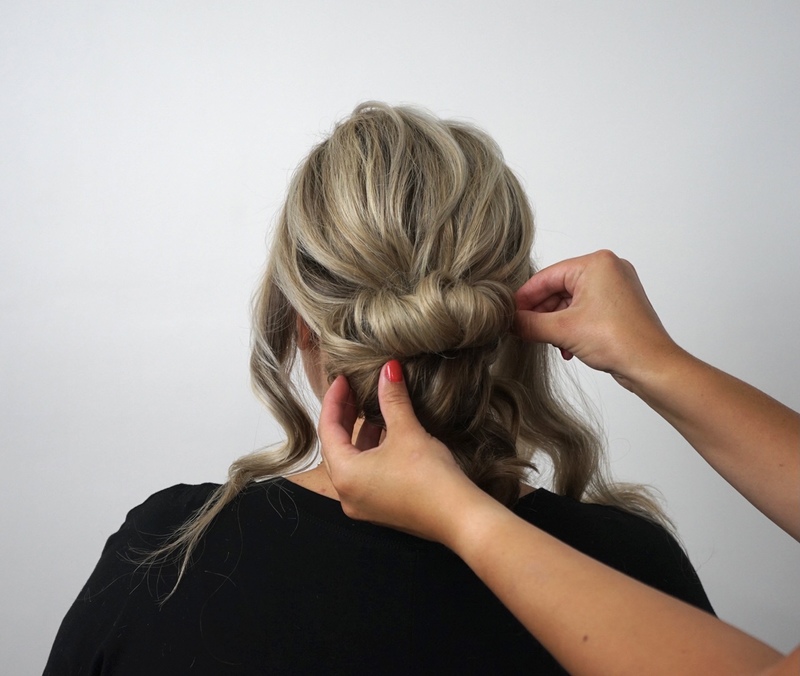 Step 7: Take the remaining hair in the front on the left and right sides over the bun. Any hair remaining will get pinned under the bun.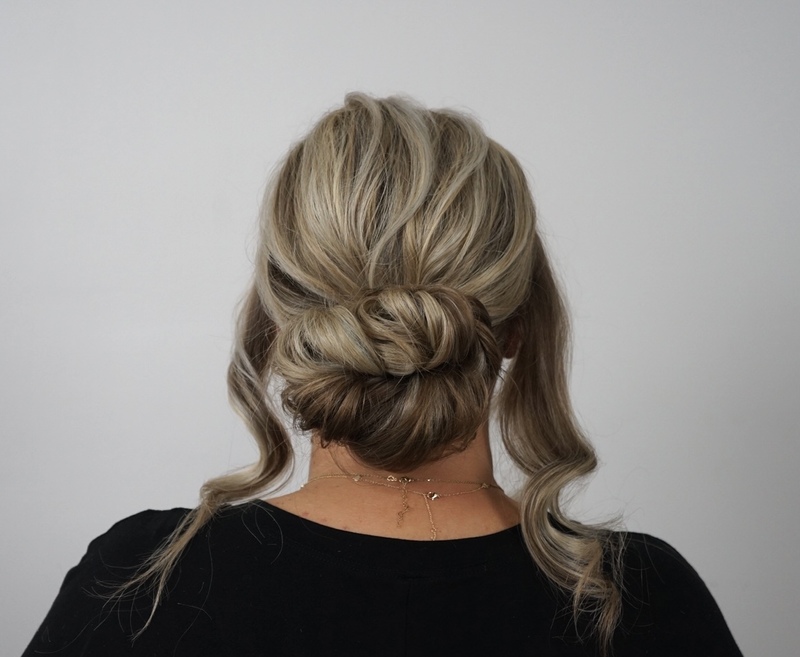 Step 8: Use the Sleekr iron to create beautiful soft waves in the front.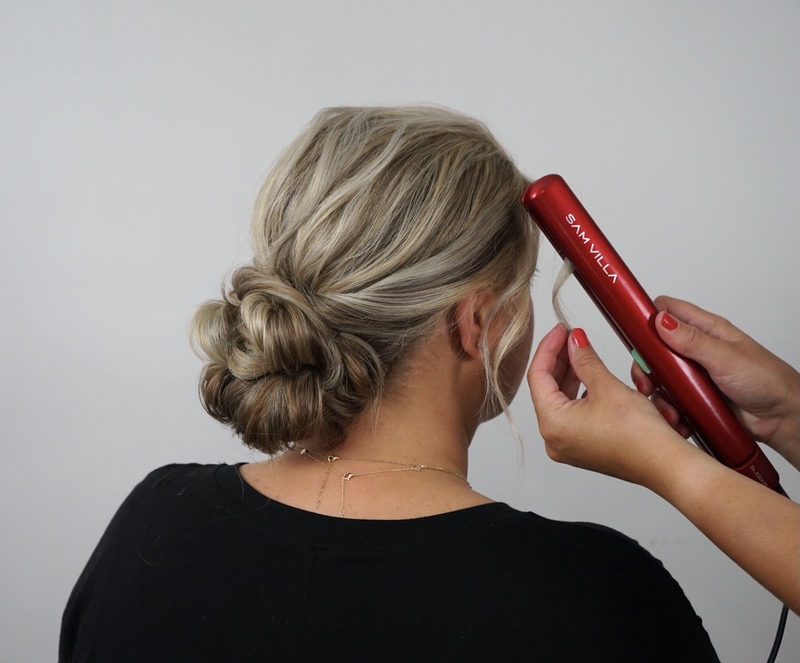 Step 9: Finish with a texturizing spray and pull random pieces apart for dimension. Affix hair accessory to the top right of the bun.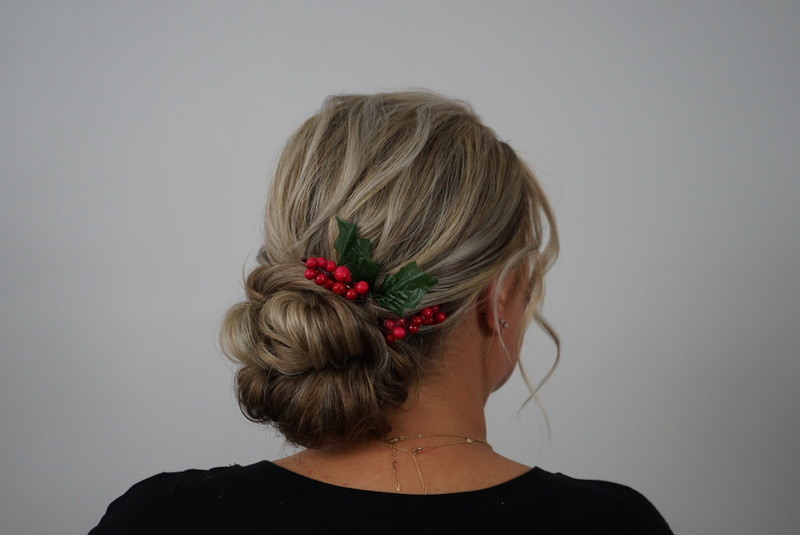 Shop The Products:
Limited Edition Ruby Red
Sam Villa Light Professional Ionic Blow Dryer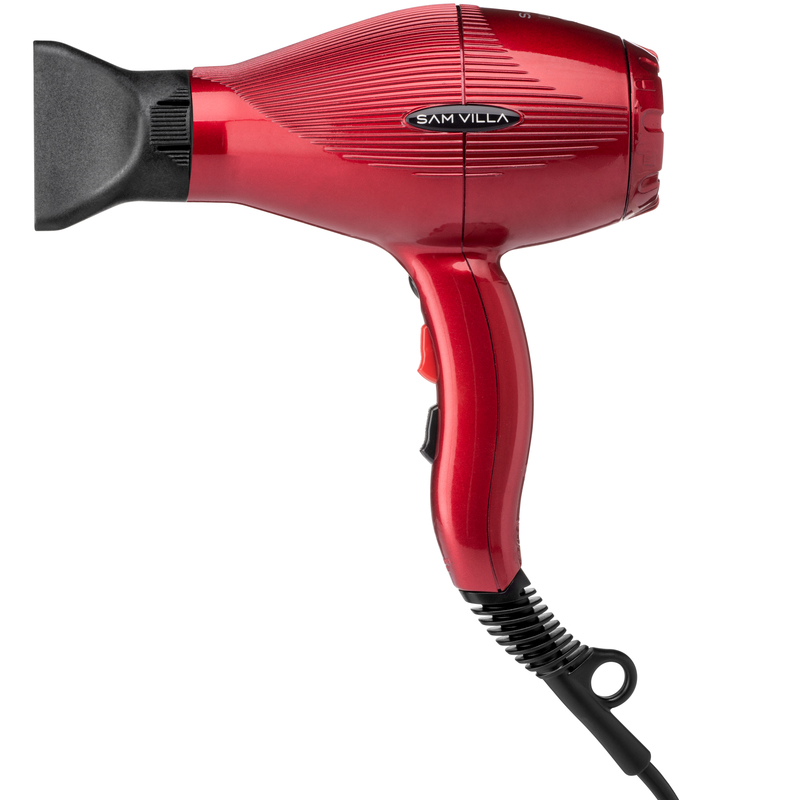 Ergonomic Benefits: At less than a pound and with the shortened nozzle and comfortable handle, reduces muscle strain for all day use
Built-In Ceramic/Tourmaline Generation: Reduces static and frizz creating smooth, shiny finishes
Includes 2 Rotating Nozzles: Wide nozzle for drying long hair; narrow nozzle for polished finishes; diffuser to enhance curl patterns (diffuser sold separately)
Sam Villa Signature Series Sleekr® Professional Straightening Iron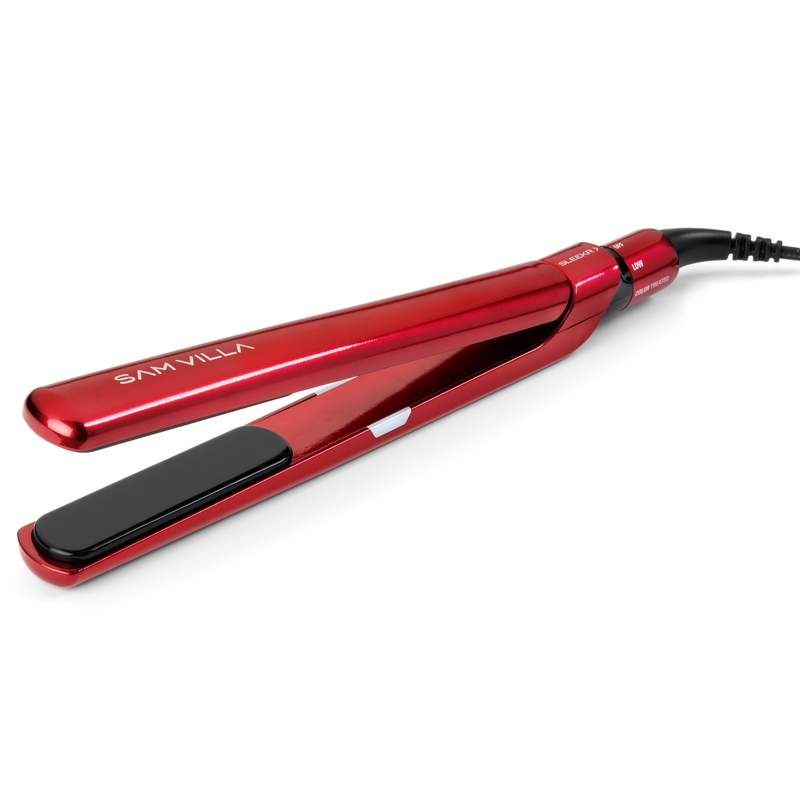 Snag-Free, Flexible Plates: Rounded, flexible plate design eliminates snagging and allows for even compression
Ceramic Heating Element: Provides even heat distribution across the entire plate
Auto Shut Off: Turns off for safety after 60 minutes
Targeted Temperature Technology: Maintains consistent temperature without spikes for specific hair types Low (green) = 375° for fine hair Color-Treated (yellow) = 392° for most hair styles, especially color-treated High (red) = for coarse or highly resistant hair
Tools now available on www.samvilla.com!