Who doesn't love a highly-styled finish? Glamorous waves and voluminous blow-outs have their time and place, but this season the return of the covetable air-dry is finding a place in everyone's hair routine. Effortless and low-maintenance, there is also a newfound comfort in each unique shape air-dried hair takes on. Whether you like to call it air-drying or "wash and wear" hair, we've got a few key tips to ensure you enjoy the hottest (heatless) trend of the season.
When it comes to creating your own individual routine it really comes down to your unique texture and the outcome you're looking for. You'll want to try out a mix of product and placement to ultimately find out what works best for your hair.
HYDRATE
First things, first. No matter what hair type or texture you have, adding moisture and nourishment to your strands will ensure they dry in the desired shape. This especially rings true for those of you with wavy, curly, or frizz-prone strands. The idea here is to add moisture and hydration to hair each time you WASH and RINSE in order to improve the look and feel of your hair. When hair is adequately hydrated, it will feel smoother, look shinier, and natural texture will be more defined. No matter what your hair type and texture, KEVIN.MURPHY HYDRATE-ME.WASH, RINSE and MASQUE are the ultimate indulgences to start your air-dry routine and work plenty of hydration into your hair this season.
TOOL OF CHOICE
Certain textures (highly wavy, curly or coily) will often shy away from brushing or combing hair to cut down on frizz and aid in definition. While this rule changes from person to person, adding a TEXTURE.COMB to your tools is our favourite way to comb hair either in the shower or directly afterwards without disturbing the natural pattern.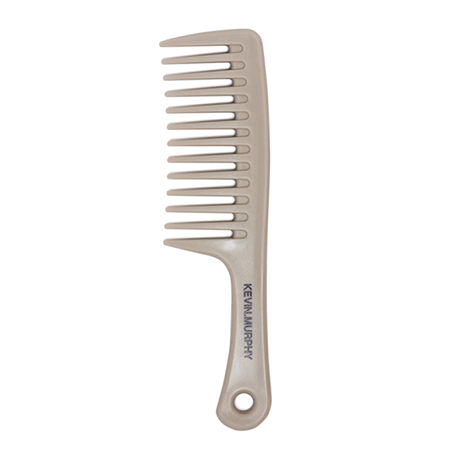 PICK YOUR PRODUCT
From layering to cocktailing, your product choices will change drastically based on your texture pattern and type. These are a few of our favourites:
STRAIGHT - Volume and movement will be your biggest goals, so opt for ANTI.GRAVITY on damp hair and BEDROOM.HAIR once dry.
WAVY - If you're looking to add body and slight definition, add KILLER.WAVES to damp hair, once dry spritz DOO.OVER throughout.
CURLY/COILY - Moisture and definition are must-haves for this hair type. Layer YOUNG.AGAIN and KILLER.CURLS on damp hair and finish with SESSION.SPRAY FLEX before leaving the house.
ADD VOLUME
The main issue that usually flairs up during the air-dry process comes from the lack of volume. When heat styling, using a round brush or curlers at the scalp can help build volume, but when air-drying you must rely on product to do this for you. The reason why it is so important to add volume at the scalp is because this will dictate the rest of your style and often help bends, waves or curls capture more movement. Consider applying BODY.BUILDER or ANTI.GRAVITY on damp strands to add flexible fullness and hold. *Pro-tip: once the hair is dry, change your part or create a dramatic side part to instantly add volume.
FIGHT FRIZZ
Frizz is one of the top reason's clients shy away from air-drying. However, frizz is usually caused from a lack of moisture rather than the addition of it. While being in a humid climate can greatly impact the state of your hair, highly moisturising strands ahead of time will give them the best finish. After improving the health of your hair, utiliising humidity protectant stylers like YOUNG.AGAIN, YOUNG.AGAIN DRY CONDITIONER and SESSION.SPRAY can help lock in your style and fight against those pesky elements.