At one time or another, we've all had to deal with that dreaded "B" word — brassiness. Instead of letting your freshly dyed strands succumb to their fate, arm tresses with a helping hand. From fresh treatments to signature staples to send clients home with, these are the best ways to treat and correct unwanted colour tones both in the salon and at home.
Colour Theory
If we look at the bigger picture, it all comes down to colour theory. This applies to art, design, skincare, makeup and hair colour. When creating new colours or cancelling out unwanted ones, looking at the complementary and contrasting shades on a colour wheel can easily create a solution. As a rule of thumb, shades next to each other on the colour wheel are complementary and can be used to enhance or blend shades to create beautiful finishes. On the other hand, colours that are placed opposite of each other on the colour wheel are contrasting and if mixed together or applied in layers, will cancel one another out.
Formulations
The main contrasting shades colourists always pay attention to are violet, blue, and green. Violet cancels yellow, blue cancels orange, and green cancels out red. Therefore, when formulating colour, colourists can easily add a violet, blue or green additive to their shades to ensure even, neutral tones when achieving blonde or brunette shades. Additionally, if after lightening a client's natural colour pulls too yellow or orange, a colourist can then add violet or blue to a gloss in order to achieve the ideal lightened finish.
Home Care
Once the ideal result is achieved in the salon, clients can then prolong the result and counteract unwanted tones from flaring up at home. Over time, outside factors like swimming pools, harsh water, sun or heat damage and environmental stressors can cause colour fade or unwanted tones to emerge. To easily combat these tones, suggest clients add a few of these products to their home care routines.
KEVIN.MURPHY BLONDE.ANGEL.WASH + BLONDE.ANGEL
If brassiness is your number one concern, this colour enhancing shampoo and treatment duo will effortlessly and gently tone colour to combat unwanted yellow or orange tones. Ideal for blonde highlighted brunettes and grey hair, this moisturising formula will refresh your shade leaving you with a bright, cool finish.
KEVIN.MURPHY SHIMMER.ME BLONDE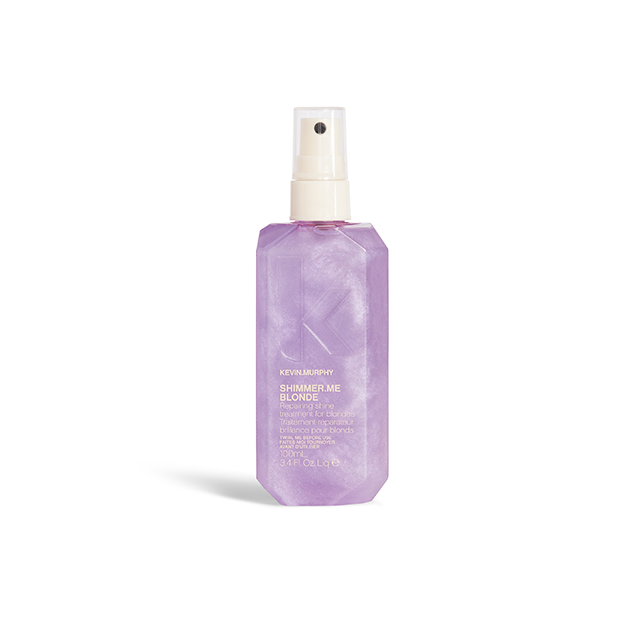 Add a high dose of shine and a hint of lavender to any style with this weightless leave-in treatment. Designed with colour enhancers and optical brighteners borrowed from high-end skincare, SHIMMER.ME BLONDE counteracts yellow and golden tones while infusing hair with a nourishing blend of Australian Fruit Extracts. Leaving hair with a sublime scent and a high-shine finish.