One of the most underrated yet useful heat styling tools is the diffuser! A simple attachment that goes on the end of your blow dryer to softly dry waves, curls and coils. No matter the amount of texture in your hair, having this tool on hand can help breathe new life back into your style. Diffusing hair allows curls and coils to retain their curl pattern by drying them with controlled heat and airflow, which leads to less frizz and more definition. Kauilani Goodwyn, Sam Villa Ambassador @kauigoodwyn, has mastered the art of diffusing and even has a little ditty to diffuse to and is sharing some of her best tips below!
The key to a successful diffused style is to start with applying an anti-frizz, heat protectant product to smooth and define curl, and Goodwyn says, "Make sure to use the diffuser that comes with your blow dryer, so you get the full benefits."
How To Diffuse Hair
Cleanse and prep hair with Mizani True Textures Moisture Replenish Shampoo and Conditioner, or Moisture Fusion Moisture Rich Shampoo and Intense Moisturizing Mask.
Brush through wet hair with a Sam Villa Signature Series Paddle Brush and Mizani 25 Miracle Milk or Cream (depending on texture type) and layer with a styling product with hold to tame frizz and define curl. For this look, hair was layered with 25 Miracle Milk Cream and Foam Wrap.
Use a Sam Villa Light Professional Ionic Blow Dryer with diffuser, hover, then start drying hair: left, right, front, back.
Diffuse hair until it is 75-80% dry and then use the free hand to manipulate texture while drying the rest of the way.
When hair is fully dry, apply Mizani 25 Miracle Nourishing Oil to hands, emulsify and then soften any "crunch" from the hold product and separate hair. This will minimize frizz and add moisture.
Shop The Technique
Sam Villa Signature Series Paddle Brush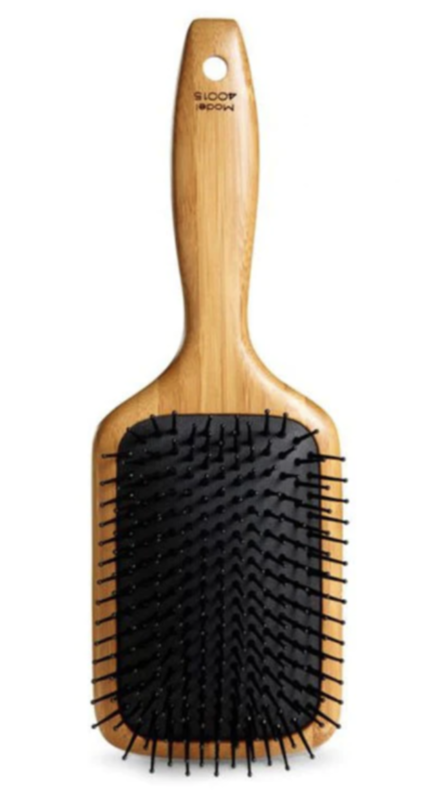 Sam Villa Light Professional Ionic Blow Dryer with diffuser