KEVIN.MURPHY presents its latest product – SHIMMER.ME BLONDE, a revolutionary shine treatment created specifically for highlighted, blonde and grey hair shades.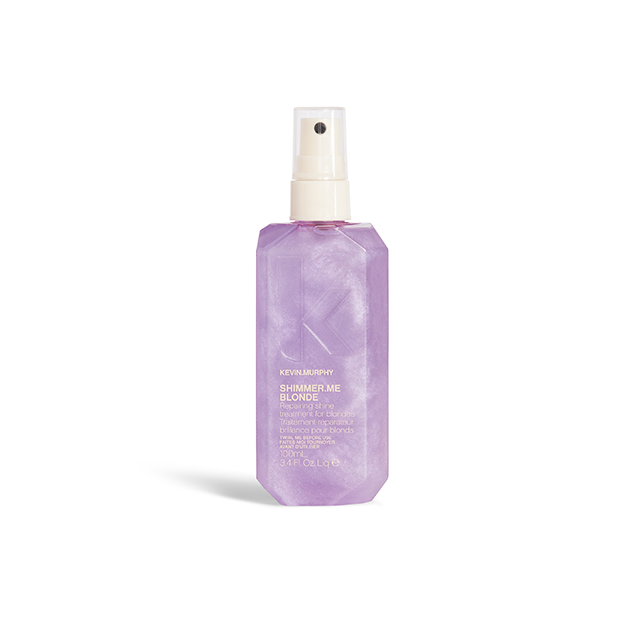 Formulated to counteract unwanted yellow tones and create radiance from within, new SHIMMER.ME BLONDE will enhance colour as it treats your hair. Known for excellence in utilising skincare technology within their hair care products, Kevin Murphy explains "I wanted to create something different that brought a light,
 healthy shine to hair, so I looked at high-end skin care ingredients that
 create luminous skin." Not only does SHIMMER.ME BLONDE brighten up shades that are dull and lifeless, as a leave-in treatment the ingredients work around the clock to soften and condition the hair as well. With a gentle balance between the immediate effects of shine and color enhancement, and the long-term effects of a treatment, this is the ideal product for anyone looking to enhance the look and feel of their hair.
SHIMMER.ME BLONDE is great to use before and after styling and even to perk up second day strands. KEVIN.MURPHY STYLE.MASTER Massimo Morello loves to use it to prep. "I really love to use SHIMMER.ME BLONDE on damp blonde hair before doing a blow dry. It adds elasticity and shine! A recipe for success!" He says. While STYLE.MASTER Sarah Lund loves using it as a finisher, "I love finishing with SHIMMER.ME.BLONDE to add a cool shine to Violet and Pink hair colors! The Lavender and Silver Mica in SHIMMER.ME.BLONDE act like a highlighter to make the hair glisten. And the best part is that it works to treat the hair at the same time!" she added.
With color enhancers, optical brighteners, and the ability to moisturise and refresh lightened and highlighted shades, SHIMMER.ME BLONDE is the answer to keeping your blonde bright for the season ahead!
Learn more about SHIMMER.ME BLONDE by KEVIN.MURPHY, here!
For even more hair inspiration, tips and tricks, visit us on Instagram, Facebook, Twitter and Bangstyle!