The shag has always been a unisex style – a soft silhouette with lots of layers and tons of texture. The cut creates a great amount of fullness throughout the crown with thin fringes. While the shag has its roots in the 70s, it has bubbled up over the years and keeps making a comeback. With its latest rendition, the SamVilla ArTeam is proving its popularity is back once again. Keep reading to discover tips for styling a shag for different textures!
"More women are embracing the shag these days because the new version is softer and adaptable to most hair lengths and textures," says Jesse Linares, Sam Villa ArTeam.  Shags have choppy ends and layering that create tons of texture and a rock and roll vibe that can be created by rough drying fine to medium hair or using the right blow dry/setting tricks to control coarse rebellious hair. "Shags are great because they have structured modern lines, yet they're full of movement, so the result is a disheveled shape and texture that women feel comfortable styling, because it doesn't have to be perfect," adds Linares.
FOR FINE TO MEDIUM TEXTURE: ROUGH DRY TO THERMAL POLISH, EXPLOITING NATURAL TEXTURE
·       Start by applying a liberal amount of volumizing mousse scalp to ends on damp, towel-dried hair. Redken's Aerate 08 all-over bodifying cream mousse is an excellent choice because it provides a cushioned fullness without a "crunchy" finish.
·       Rough dry hair using the "Max Airflow" nozzle on the Sam Villa Artist Series Professional Blow Dryer, focus heat on the roots and direct hair up with hands. This is a classic "flip the head over" scenario. Move around the head until the root direction is set and the hair is 80% - 90% dry.
·       Apply a generous amount of a strong volume product, like Redken Guts 10 volume spray mousse, to the root and mid-strand area, and continue the same rough-drying technique until hair is noticeably voluminous and 100% dry ***This step can be repeated on dry hair several times until the desired results are achieved.
·       Finally, mist a thermal setting spray, like Redken's Iron Shape 11 thermal holding spray, onto ends and rough dry using cool air (to dry the product onto the hair strand without heating it away). Polish the ends and create movement using a Sam Villa Artist Series 2-in-1 Marcel Curling Iron and Wand 1" as a wand. Taking small to medium sections, pinch the ends of the hair and rotate wrist naturally around the barrel creating a soft spiral movement with naturally undone ends. Be random and take alternating sizes of sections for a natural finish!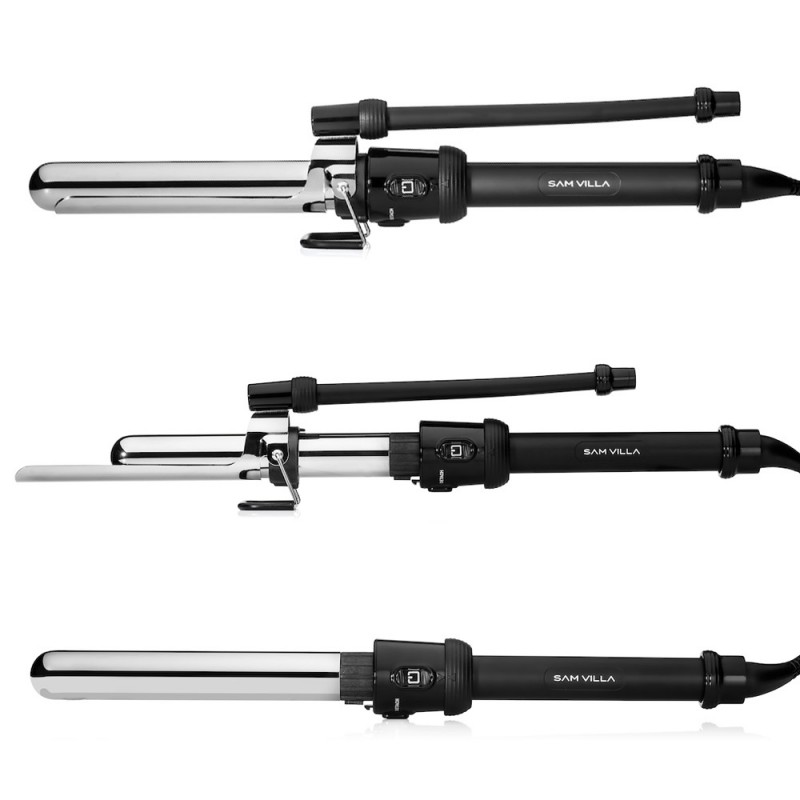 FOR COARSE, UNRULY TEXTURE: DISCIPLINED BLOWDRY TO THERMAL SET, CONTROLLING REBELLIOUS HAIR
·       Start with a disciplined blowdry! On damp, towel-dried hair, apply a moderate amount of a smoothing heat protectant from scalp to ends, try Redken Pillow Proof Blow Dry Express Treatment Primer Cream. Follow with a generous amount of Redken Satinwear 04 thermal smoothing blow-dry lotion.  Blow dry using the "Focused Heat" nozzle on the Sam Villa Artist Series Professional Blow Dryer, taking small sections and using a high-tension paddle brush to create the desired volume at the root area with polished ends. The Sam Villa Artist Series Polishing Paddle Brush is ideal because of the blend of first cut boar bristle and tourmaline-infused nylon bristle.
·       Working in sections, apply a heavy mist of thermal setting spray from scalp to ends. Rough dry using cool air (to dry the product onto the hair strand without over-heating it).
·       Working in vertical sections from the bottom up, ribbon-curl the hair to create lean, side-to-side movement with a flat iron that has rounded plates like the Sam Villa Signature Series Sleekr Professional Straightening Iron. Hold the hair out from the head and insert the iron vertically. Close the iron and slide down the hair strand, rotating wrist to "ribbon curl" the hair.
Credits: Hair/Sam Villa ArTeam; Photo/Katie Parker; Wardrobe/Brittany Hart; Makeup/Nicole Schimel
---
For even more hair care and styling tricks, be sure to stalk Sam Villa Professional on Bangstyle and check out all of his tools in the Bangstyle Store!