As a legacy hairdresser and innovative educator, Reggy van Gils approaches his role as Artistic Manager of Pierôt Coiffures, Netherlands, with vast knowledge and an outside the box approach. He redefines what beauty means and relates to the individual as he accentuates their character. Take a peek at Reggy's collection, Mugshot, and learn more about him as a stylist.
---
What drew you to hair styling?
I was introduced into the business of hair styling at a very young age, as my father has been a hairdresser since before I was born. I was drawn to the business when I was 17, when I started working at a local salon in Tilburg, in the south of The Netherlands.
Next to working there, I started my education at Imko, a well-known school for hair stylists in The Netherlands. I did not finish my education there as they considered me too headstrong, according to my teachers, as I had created my own style and methods of cutting hair, early on into the educational program, making it difficult for my teachers to teach me the "standard ways".
What is your favorite technique to use?
First of all, I think that it depends on the model and the project as to which technique of styling fits best. If I would have to choose a technique that I feel is most challenging and exciting, I would say it is reshaping hair by use of my hands, rather than tools. Using only tools gives the hair too much of a "fixed" look, where working with your hand creates a more organic shape and flow.
What has been your biggest defining moment in your career?
Recently, after competing for 7 years, I was nominated for the National Coiffure Awards in two categories, Avant Garde and Ladies.
Is there a specific area you often find yourself looking to for inspiration?
I think that now a days social media defines the industry more than anything else and showcases what is trending and up and coming. Not only does social media showcase this in the field of hair and fashion, but also in all creative and "art" arena's. I think my biggest inspiration, is what I see on the streets from builidings to nature, and the people all around them. You can see all kind of shapes and colors working and living together in one of the most diverse areas in this country culturally demographically. Daily life in and on the streets provides more inspiration than anybody could wish for.
What is the one product/tool that you can't live without?
My Chameleon scissors, a pair of scissors with which one can cut 360 degrees without raising your arms above your shoulders or in other difficult positions.
In terms of products, I could not live without the Super Dust Styling Powder from L'Oreal Professionnel.
How did you dream up this collection?
Hair collections usually feature women with beautifully done makeup, perfectly matching clothing and flawless hair. What I wanted to show with this collection is a more raw and edgy side of hair, which is slightly off balance; a strangely cut fringe, a slightly crooked blockhead and a messed-up bun.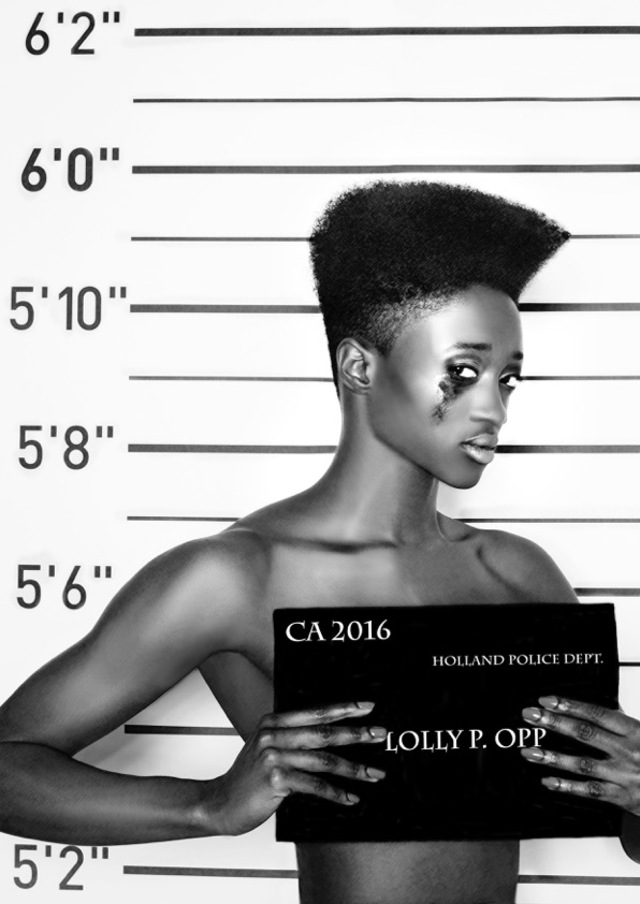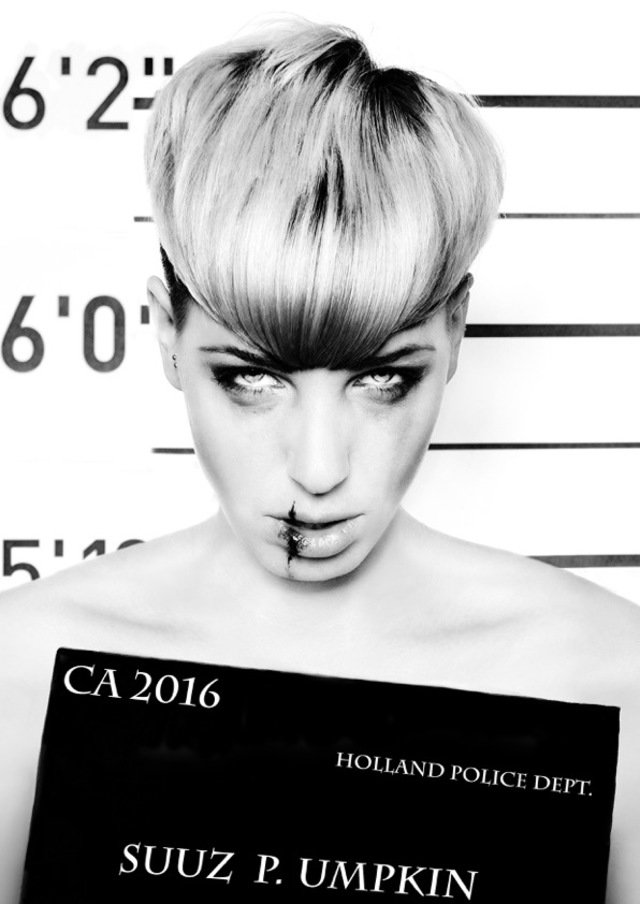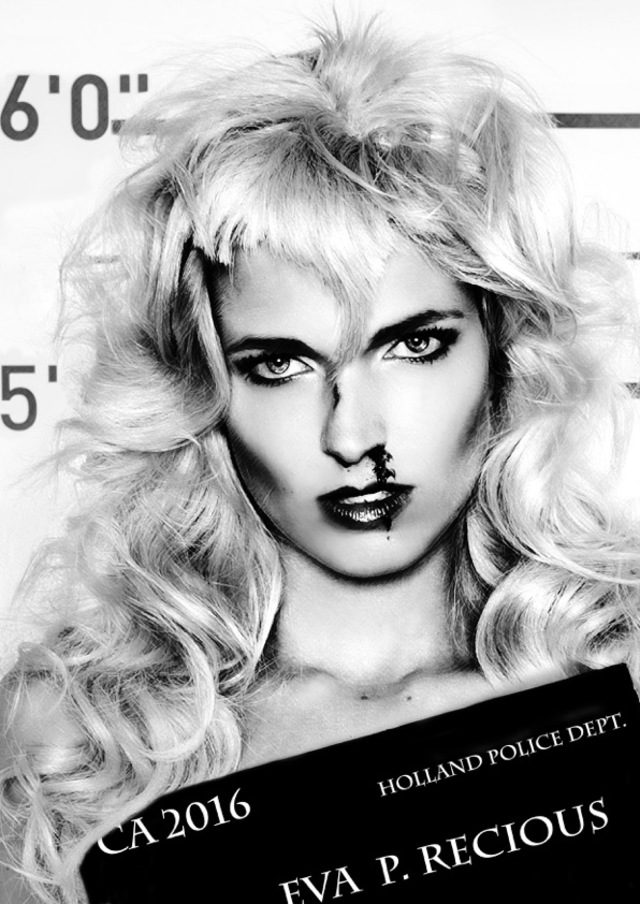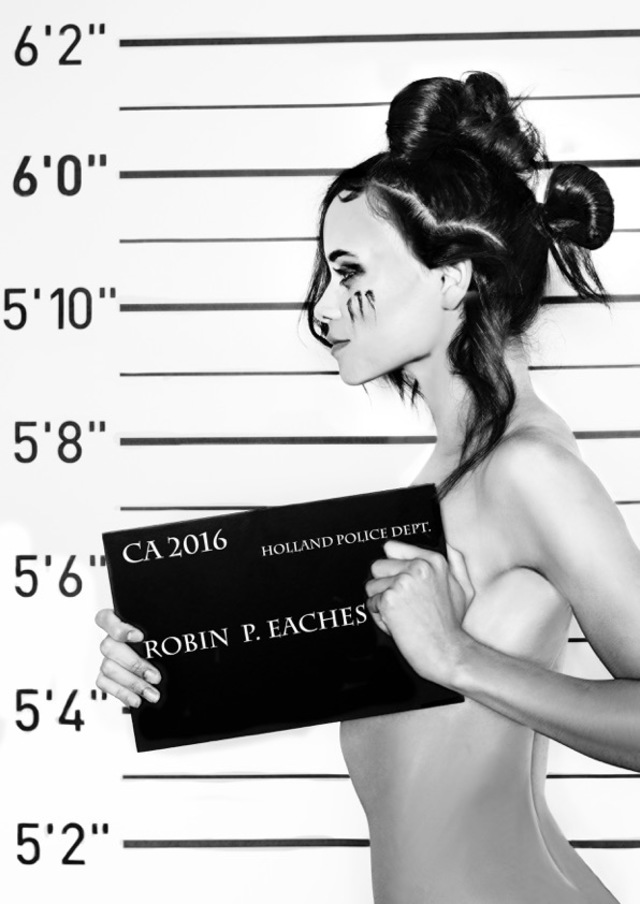 How do you use styling to enhance your images?
Considering our idea for the shoot, we decided to show a raw image. Showing the models in a mugshot, using the recognizable sign and background, giving the images that edgy style we were looking for. Perfectly styled clothes and accessories didn't fit with the raw beauty we wanted to show, so we went outside the box.
How did you work with your makeup/styling team to craft the final image?
After the usual brainstorm sessions, we wished to show a more realistic, less perfectly edited image. Together with my regular photographer (Helene Jaspers) and makeup artist (Rose Heinze) we developed the shoot from the first idea until the final image. I am convinced that it is of the upmost importance to involve a trusted photographer and makeup artist from the beginning of the creation of an idea until the final image. Working together closely on this shoot, each in our own disciplines and with our own creative ideas, made it all come together more perfectly than I could have imagined when I came up with the idea.
What is this collection saying about women's trends?
Imperfection is perfection. That covers it all, I think. Now a day more and more women are proud to not be the perfect image but a unique human being.
If you had a superpower, what would it be?
I would say either flying or teleportation. I have always enjoyed the beauty of all the different cultures, styles and ways of living around the world. Both these superpowers would provide me the opportunity to see as much of the world as possible, and to do some very good deeds along the way.
Who were your mentors along the way and how have they shaped your career?
Of course seeing my dad, working as a hairdresser since I was very young, has taught me so much. My father is a classic hairdresser and I believe that in hair styling a lot comes back to those classic basics of hairdressing.
My most important mentor is Maurice Pierôt of Pierôt Coiffures, who has taught me so much on the creative side of hairdressing and hair styling.
What hair/color trends can we look forward to this Summer/Fall?
I am convinced that we now, more than ever, live in a fast world, where fast and easy changes are of the upmost importance. Where my fathers oldest clients come back weekly for a fresh wash and set hairdo, the trends now are much more loose and effortless. The essence of the modern haircut is perfectly cut hair, which can easily be brought into that unique shape the client intended. In terms of shapes, everything imaginable is possible at the moment.
In terms of color, the trend will be what is sometimes called "Colorful Hair" and "Holographic Hair" in which different vibrant colors are used in a way that it is not clear where which color ends and the other begins.
---
For more inspiration, be sure to check out Reggy van Gils on Bangstyle and stay tuned for even more hair art!