Clients are consistently on the search for a solution to the age-old question - "How do I get my hair to grow?" No matter their style, the texture, color, or the hair type, for various reasons it can be difficult to grow long hair. Breakage and split ends are two of the top factors when it comes to dealing with this problem, which is why Redken has created a solution with the NEW! Redken Extreme Length range!
What stylists are saying:
"I can't tell you how many clients I have coming into the salon every day that are looking to grow their hair out. Some of my clients have a lot of breakage, and are always looking for a solution to get their hair stronger. I always recommend consistent hair trims and taking care of your strands in between appointments, but now, with this NEW! Redken Extreme Length range, I can also send my clients home with something that I know will gently nurture their hair and help it grow longer with less breakage." – Redken Brand Ambassador Rodney Cutler.
The perfect addition to the Extreme family, Redken Extreme Length is formulated with biotin - part of the B vitamin family that plays an important role in the health of your hair, skin, and nails - and is all about lengthening and strengthening strands.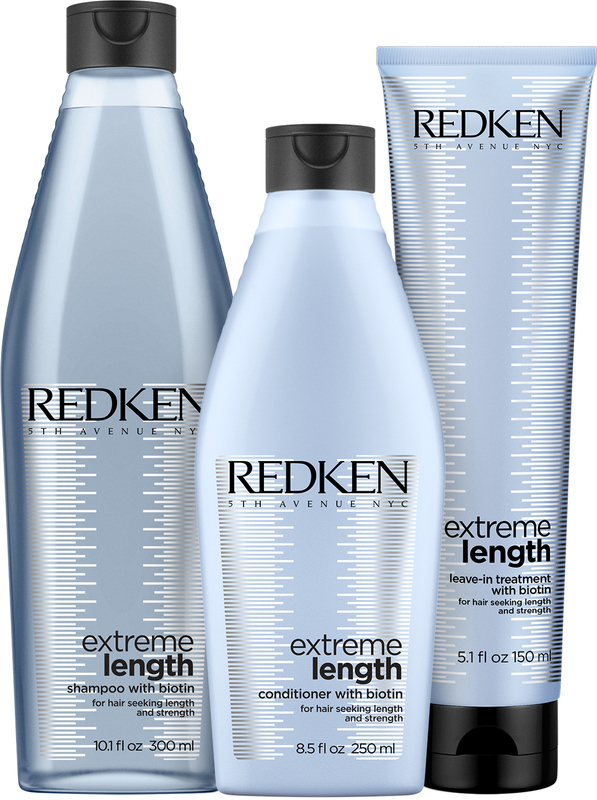 How does it work?
The key to getting your hair to grow comes from cultivating strong strands, this is exactly what the addition of biotin in the Redken Extreme Length range is for. Start off by gently cleansing the strands with Redken Extreme Length Shampoo With Biotin and then follow up with Redken Extreme Length Conditioner With Biotin to condition hair and add shine with biotin and castor oil. After cleansing and conditioning, it is important to gently towel-dry hair and apply a small amount of Redken Extreme Length Leave-In Treatment With Biotin to their lengths and ends. *Pro-tip: opt for a non-terry-cloth towel to dry your hair when possible. Formulated with biotin and soy protein, Redken Extreme Length Leave-In Treatment With Biotin creates manageability, smoothness and shine while visibly reducing the appearance of split ends by 78%.
And, when using the entire Redken Extreme Length range system, overall hair breakage is reduced by 81%*.
Whether clients are looking to grow out their hair or simply improve the appearance of their style, the NEW! Redken Extreme Length range is the perfect regimen to work into their routine. Take a peek at some of our other recent innovations here and stay tuned for even more solutions to your most requested concerns.
---
For more color formulas, tips, and tricks visit www.redkensalon.com, follow along and tag us in your creations on social media @Redken!