By now, you've probably heard that washing your hair every day can actually do more harm than good. Shampooing every single day can strip your hair of its natural oils, leaving it weaker, dryer, and more prone to breakage. In fact, most experts agree that you should only wash your hair every two to three days, depending on your hair type and how healthy it is, among other factors.
To help carry you through the days you don't shampoo, dry shampoo is a must. But as any low-maintenance girl knows, a lot of dry shampoos leave something to be desired. Some are overly drying; others create a tacky, sticky feeling and, worse, a lot of dry shampoos leave behind a visible white residue. Especially for those with darker hair colors, this is a major problem. After all, dry shampoo is supposed to make your life easier—not cause more problems.
To help combat this problem, Redken has introduced its Invisible Dry Shampoo. Consider this the be-all-end-all of dry shampoos. With a fragrance-free formula, Invisible Dry Shampoo is virtually undetectable. It's specifically formulated to not leave behind any visible residue, even on dark hair colors. Best of all, it works quickly and effectively to instantly absorb excess oil from the scalp and actually leaves hair feeling fresh and clean—not dry, sticky, or dirty.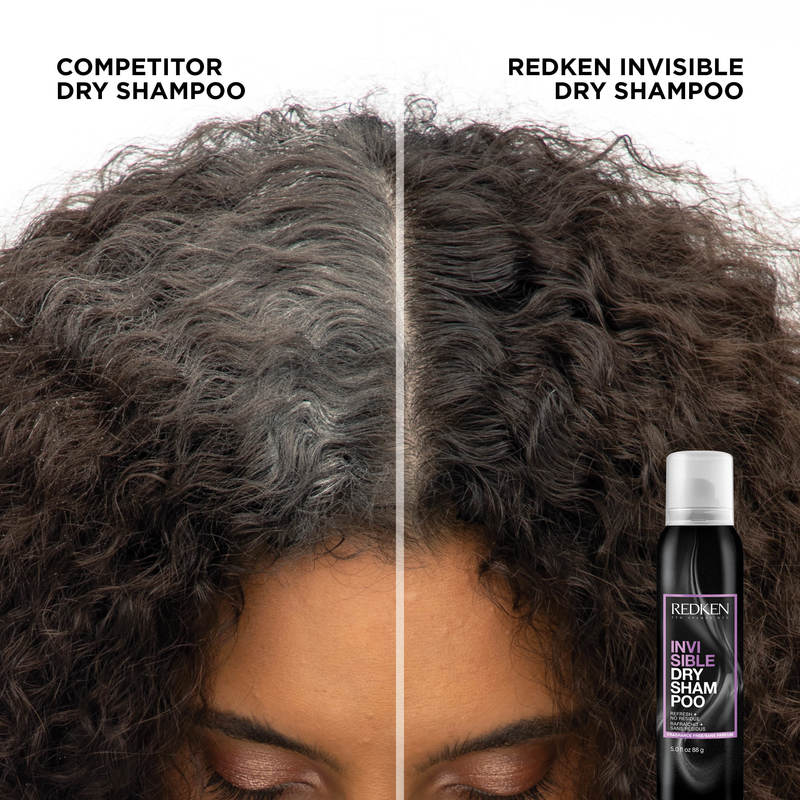 How to Use Invisible Dry Shampoo
When it comes to dry shampoo, proper application is key. A lot of people spray it closely and directly onto the roots and leave it at that. While this may seem like a good idea, it can actually lead to excessive product buildup, which can clog the cuticle and weigh hair down. That's the opposite of what you want!
Instead, hold the can of Invisible Dry Shampoo about 10-inches (this is farther than you think!) away and spray onto the roots. Then, massage the dry shampoo into your scalp using your fingers or brush it out to thoroughly and evenly distribute it through the scalp and through the lengths and ends. This helps reduce buildup and residue at the root.
Because it's formulated to be weightless, Redken's Invisible Dry Shampoo is the perfect solution to those in-between-wash days. It's also great for extending your blowout or prepping day-old hair for styling, as it absorbs oil that can make hair slippery and prone to falling out while also adding a perfect amount of grit and texture.
For those with fine hair that tends to fall flat, Invisible Dry Shampoo can provide a boost of volume without the need for a full shampoo and blow-dry. And, for ladies with bangs, a quick spray of Invisible Dry Shampoo at the root can help fluff up fringe and eliminate excess oil. Simply hold the can about 10-inches away and spray only on the fringe. Then, use a round brush on the underside of the fringe to distribute evenly.
Invisible Dry Shampoo is also a great way to preserve color and prolong the life of certain treatments, like keratin treatments. Think about it: the less you wash your hair, the longer your color or keratin treatment lasts. Invisible Dry Shampoo can help you extend the time between washes without having to worry about greasiness, stickiness, or visible white residue. This is especially good news for those of us who still aren't able to visit the salon for color services and other treatments.