Janelle Monàe's transformative look has been at the top of the list for best dressed after almost every award show. What's more, her beauty to coincide with her looks is absolutely stunning. It appears as though this singer-songwriter can pull off just about any look and also a total trendsetter. Now, you may be wondering about some of the secrets to her all-around stellar appearance and today we're getting an inside look at one of them. Celebrity Makeup Artist Jessica Smalls tells us just how she prepper Monae's face to get her glowy skin. The secret might surprise you…
SKIN:
The key to Janelle's look lies in the exfoliation process I took her through. I started by cleansing Janelle's skin with the DERMAFLASH PREFLASH Cleanser, which prepped her skin for exfoliation. Once her skin was pat dry, I used DERMAFLASH 2.0 LUXE to exfoliate and remove her peach fuzz. This allowed her skin to be baby soft and absolutely radiant, which creates a flawless canvas for makeup application. After using the DERMAFLASH 2.0 LUXE, I applied the DERMAFLASH POSTFLASH Moisturizer to re-hydrate her skin.
MAKEUP:
When it came to the makeup, I applied Marc Jacobs beauty (MJB) "Under(cover)" Eye Primer to ensure that she has bulletproof lids that wouldn't crease and applied cooling gel eye pads under her eyes. Next, I used the MJB eyeshadow palette "Scandalust" and applied the color "That's Why" in her crease, "Little Miss" over her lid, and "At the Office" in the center of her lid for a gold glitter pop. To finish it off, I applied MJB Enamored Hi-Shine Gloss in "Work It" to the entire lid for a sultry bronze glitter-glossy eye. I lined her waterline with MJB liner in "Blacquer" and blended with "Little Miss" to diffuse the liner under her eyes for a little drama. I finished her eyes off with a pair of false lashes, a coat of MJB Velvet Noir Volume Mascara, and two coats of MJB Feather Mascara to her bottom lashes.
Next, using the MJB foundation brush, I blended the MJB Shameless Foundation in "Deep Y500" from her nose and then outward. I sparingly applied concealer under her eyes and atop any imperfections, set her face with a medium brown loose powder and then used the MJB "Omega Bronze" Bronzer to accentuate her gorgeous bone structure. I had Janelle give a big smile and applied the MJB Air Blush "Night Fever & Hot Stuff" to the apples of her cheek and dabbed a bit of the leftover "Fantasy" Dew Drops on top for that divine glow.
BODY:
Don't forget about the body! Once Janelle's face was complete, I massaged her skin with Vaseline Brand "Intensive Care: Cocoa Radiant Body Butter" for a hydrated glow. Since it's not greasy, it's a perfect way to ensure glowing skin without risking any transfer residue on the clothes.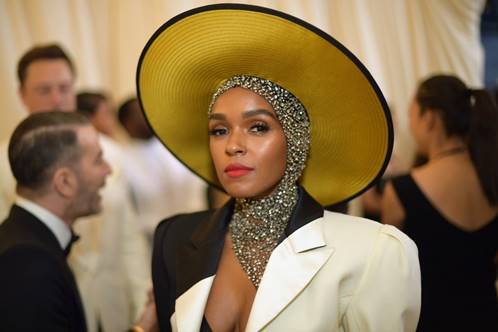 CREDITS:
Talent: Janelle Monáe
Makeup Credit: Jessica Smalls
Talent Image Credit: Getty Images
Product Credit: DERMAFLASH 2.0 LUXE
---
Feeling inspired? Be sure to check out all the goodies the Bangstyle store has to offer!