We are beyond impressed by Newcomer Javier James' collection. Taking 3 weeks to prepare each piece, his skill and tenacity move us. Javier proves that research and hard work makes a difference in creating a collection that stands out. Take a peek at Javier's collection: Algorithmic Rhythm #Past #Present #Future and keep reading to learn all about the collection of creating traditional Victorian hair!
---
What was the inspiration behind your collection?
What inspired my 2019 NAHA Newcomer collection was the curious Victorian tradition of making art from human hair. Art crafted from hair is a 19th-century tradition in which tresses were braided into jewelry, looped by wire to resemble flower petals. Hair art has its roots deep in the 17th and 18th centuries. No one knew how to mourn like the Victorians and The Victorians were famously sentimental. Hair art, which could be used to commemorate the living or dead beloved, perfectly merged the fashion for mourning and sentimentality. Today, when the accessibility of photography and social media renders hair portraits of our loved ones obsolete, the craftsmanship of these historic examples is evident. Every meticulous knot in a strand or delicate petal of a flower formed with hair and wire reflects an intimate connection between the artist and the absent subject that acted as both portrait and talisman of a relationship.
Tell us more about you as an artist.
I feel as though I was born an artist. Throughout my life, I have dabbled creatively in painting, drawing and fashion design. With a natural talent and an eye for style, I have built a solid reputation not only for possessing artistic vision but also for quality. My makeup skills and "think outside the box" hair styling specialties have led me to work with other well-known stylists, artists, designers, and photographers in the Mile High City (Denver) and beyond! Although I am devoted to my salon and clientele, I am also a session regular backstage at fashion shows and editorial photoshoots spending my time working between Denver, New York, and Los Angeles. Natural skill combined with an attention to every last detail and an underlying commitment to my craft fuels the mastery of my profession.
As a newcomer, what did you learn about competition?
For me, competing in NAHA is a powerful fuel for motivation. This particular photographic competition motivates me to put forth an even greater creative effort that can result in higher levels of creativity that I love discovering, sometimes unlocking a deeper component within myself that wasn't quite expected. Competing in NAHA has helped me to get and stay motivated both personally and professionally. Set goals. Realistic attainable goals. Set that goal and witness that goal flourish. Nourish that goal. Let's face it, most of us are competitive to some extent. We are not only competing with each other, but with ourselves, with time; with our pasts. For myself, NAHA has been a goal since 2016. Three years in the making. With my Newcomer nomination, the fact that I have been included in 30 years of NAHA history among some very elite legends is validation for myself as someone who is new to the industry and I find this to be a HUGE goal win both personally and professionally. What an honor!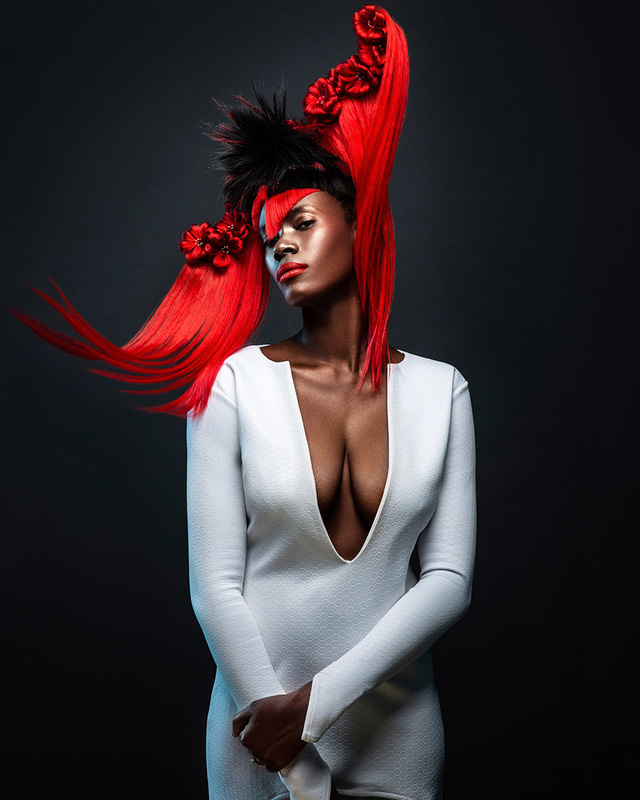 What did you learn about yourself through creating the collection?
No question: Instagram is a MUST for hairdressers. The present AND future theme(s) of social media and algorithms played an important and challenging role while creating my collection. Research. The greater your knowledge base and level of curiosity, the more ideas, patterns and combinations I discovered. I didn't let myself get lost but as a creative, it was easy to let myself be a sponge to these new and very modern ideas and the question of how to incorporate them into a hair collection became very clear to me. Bridging the past and future and making it into art. There aren't many hair tutorials on YouTube on how to construct or de-construct (as many of us like to do) a Victorian wire braid. Through trial and error and, of course, research, I was able to braid my own flower petals using traditional 19th-century materials. Producing a Victorian wire braid hair tutorial is definitely a must in my future!
What was your biggest focus with each style?
2019 marks 30 years for the Professional Beauty Association celebrating NAHA. Through my collection, I wanted to tell a story of the past, present, and future. My collection is called "Algorithmic Rhythm #Past #Present #Future" (hashtags included!)
"The Past" key element is the obvious inspiration behind my collection usingVictorian-era braiding techniques into a more modern and abstract piece of artwork. Depending on the region, the decade, and the form it takes, hair not attached to the body can have a range of powerful meanings. "The Present" and its HUGE role with social media is another key element. Beauty is in the eye of the beholder - they say, but in today's world of being "Instagram famous" is beauty now in the eye of the algorithm? Today, the beholders are a bunch of robots and mathematical equations! And as hairdressers, we just love algorithms. Butit'ss nice to pick up our phones and show our talents to the world. "The Future" key element came in the form of a question. What will the future be like? What if you wake up tomorrow and you had no followers? Can you go back to being yourself? Seeking validation from strangers. What are the side effects going to be 30 years from now?
What products/tools did you utilize?
Because my collection involved a very non-traditional technique I had to do a lot of research and practice with my Victorian braids. The tools I used were the same ones had this been done in the 17th and 18th centuries. Wooden dowels and wire and of course human hair that I hand colored. Thanks to Kerastaste and Shu Uemura I used mostly their glossing and hair spays to keep each flowers shape.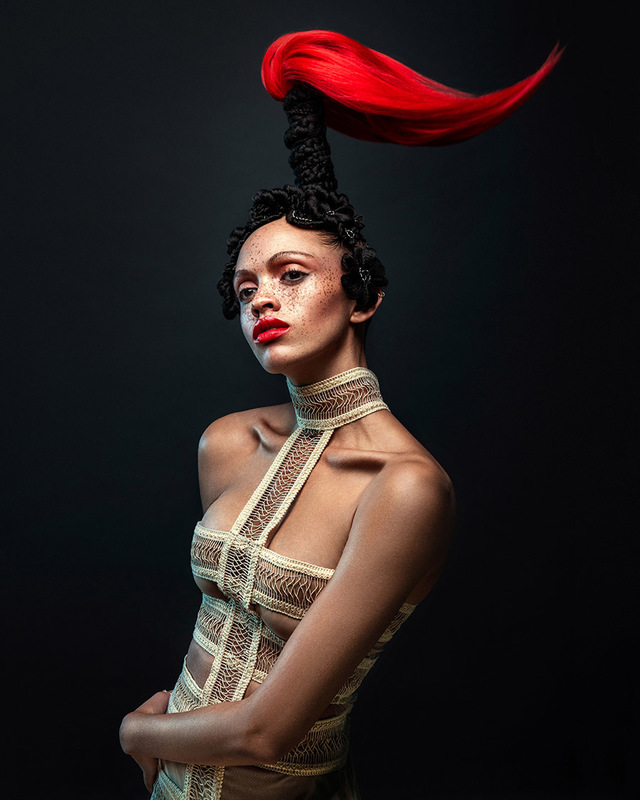 What other forms of art inspire you?
Song, dance, painting, drawing, sculpting. I could spends hours and even days inside a museum. Inspiration is around us all the time. All you need to do is open your eyes. As for my collection, the concept came from form, definitely shape color and texture. Victorian fashion of lace and leather played a huge role as did my beautiful black models mixed with European traditions. A parallel art that is rarely seen.
How much prep time went into each piece?
3 weeks per look. Hand braiding each petal to form one flower takes at least one hour start to finish. There was a lot of trial and error in the beginning having no real technique available for research. I did a lot of reading and found a hair wreath instruction manual that dated back to the 1800's.
How did you select your team? Have you worked with them before?
I live and work by the motto "Surround yourself with people who dream bigger than you do" My makeup artists' name is Tiaja Pierre. a NAHA nominated makeup artist who is based out of Denver. Menez to Society were my wardrobe designers and stylists on my team - They are two first generation Mexican American men who are blowing up in the fashion industry. Follow them on IG @meneztosociety They are a creative force to be reckoned with. I predict their fashion line to be bought and sold Bergdorf's or Neiman's. Their work is stunning! I look for the dreamers, the go-getters, the do-ers. The people that I surround myself with are constantly and literally blowing my mind on a daily basis and I'm honored to have them on my side. Also, Black models are having a HUGE moment in fashion and beauty (it's about time) - and it should never end! Makeup brands like Fenty Beauty, Jeremy Scott for MOSCHINO are dishing out more opportunities for black models to appear in campaigns and on runways. Thanks to this work, it looks like the melanin moment will turn into a permanent movement. We still have a long way to go before these industries can be truly inclusive, but the progress that is being made makes the future so exciting! My photographers name is Melanie Watson, a NAHA nominated photographer from Australia who is based out of Denver where we both live. I fell in love with her puppy portraits and fell in love with her candid photos. The rest is history.
Where will we find you in Long Beach?
I'll still be that sponge taking it all in. Eyes wide open! SO many of my colleages will be teaching at ISSE so Ill be in attendance to support them
What are you looking forward to most about NAHA 2019?
This is the first time in 30 years that the awards show will be held in California! The day of NAHA my team and I will be celebrating during the day at the Beverly Hilton in Beverly Hills poolside. A little bit of relaxation before the big show. They all deserve it. I'm also looking forward to the red carpet reception and seeing all the superstars in this industry that I love and admire. This is such a HUGE honor I'm just going to be taking it all in. Every last minute of it and hope that I never wake up!
---
Stay tuned to see even more NAHA Finalists Collections!
For more fashion-forward styles and product picks and be sure to stock up on all goodies the Bangstyle store has to offer!