When our hair undergoes mechanical, chemical, or environmental damage, you've got to take a two-fold approach to treat it. It isn't just about what goes on your cuticle to protect it. It's about what gets absorbed to improve the cortex and cuticle from the inside out.
Strength and moisture are two of the biggest factors that can impact the state of your hair following damage. And up until now, many of us were relying on layering different products or lines to mask the problem. However, a new all-in-one formula and revolutionary system that concentrates on strength and repair while also conditioning the hair is changing the game. Enter: Redken Acidic Bonding Concentrate Leave-In Treatment.
Redken Acidic Bonding Concentrate Leave-In Treatment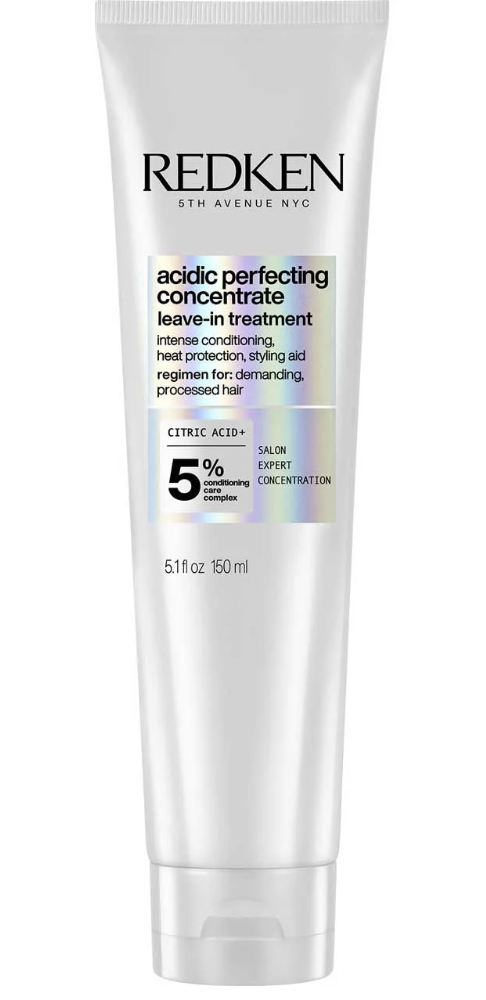 As Redken's most concentrated all-in-one formula, this treatment works wonderfully following your current hair care routine or when used to enhance the Acidic Bonding Concentrate system results. What stands out about this Leave-In is its ability to create 10x smoother hair instantly and 88% less visible split ends in just one use. With heat protection up to 450 degrees, it is the ideal product to prep hair for styling that also cuts down on frizz and breakage.
What types of damage does it protect against?
The most common hair types looking for bond-building protection are those who lighten or color their hair. This is because the hair undergoes a chemical treatment and can easily be damaged during the process. However, heat styling is also a big culprit when it comes to damaged bonds. Over time, repetitive heat styling can damage the cuticle, causing it to raise and become brittle, leading to dull color and breakage. If you don't fall into either category, your hair can still benefit from Acidic Bonding Concentrate Leave-In Treatment. Each day, water, brushing, UVA/UVB rays, indoor heating, and external weather can take a toll on our hair. By adding regular bond-building protection and pH balancing, this Leave-In helps reduce the impact and improve the feel and look of your hair.
Bonded hair is healthy hair
Healthy hair can be characterized by strong, shiny strands that look and feel soft and silky. To get healthy hair, you've got to pay attention to what's going on inside the strand as much as how the outside looks and feels. The mix of Bonding Complex and pH-balancing technology within Acidic Bonding Concentrate Leave-In Treatment is precisely the blend you need to create healthy, bonded hair every time you style.