We are thrilled to partner once again with the Professional Beauty Association (PBA) to promote all of the talented artists who are finalists for the 2017 NAHAs (North American Hairstyling Awards), the most prestigious hair and beauty award in the country. In this feature get to know more about this year's Makeup Artist of the Year Finalist, Jalia Pettis.
The inspiration behind her collection was 'Warrior Princess,' it is no wonder why because from what we can tell this is exactly what Jalia Pettis is! A mother of 3, her transition into the beauty industry started about 9 years ago when she left her position in the world of HR Management to pursue her passion in the arts. Through education and perseverance, Jalia has sculpted her aesthetic into what it is today; what we would call truly beautiful. Take a peek at her collection and get to know more about the artist and the collection, in this artist feature.
---
What is your favorite thing about being a make-up artist?
My favorite thing about being a makeup artist is seeing my client's reaction once I have completed their individual look. It feels great to know that I am able to aid in boosting their self-esteem or giving them that jaw dropping appeal.
What was the inspiration behind this collection?
My inspiration in creating this collection was to highlight women of color. I love natural and clean makeup artistry. My concept was to combine clean work that still had a meaning. In doing so I came up with the concept "Warrior Princesses". Each of model's individual looks and features is exotic so it made me draw on Indian, African, Polynesian, Asian and Aboriginal descendants.
What was your biggest challenge in creating this collection?
The biggest challenge in creating this collection was in my own mind. I was concerned as to how it would translate. If someone viewing would understand or even care to know what it meant. I am a very harsh critic when it comes to my work; going through the images it was important to me that I selected the right one.
What does your collection say about trends?
My collection can be viewed from two perspectives. One is the simplicity of it, I kept the skin as clean as possible. This would lean towards the no makeup makeup trend. I even had one-on-one's with my models weeks prior with regard to their skincare regimens. The second would be tribal, which is trending for festival attendee's and women who are very into cultural empowerment.
If you were to describe this collection in one word, what would it be?
Two Words: Warrior Princess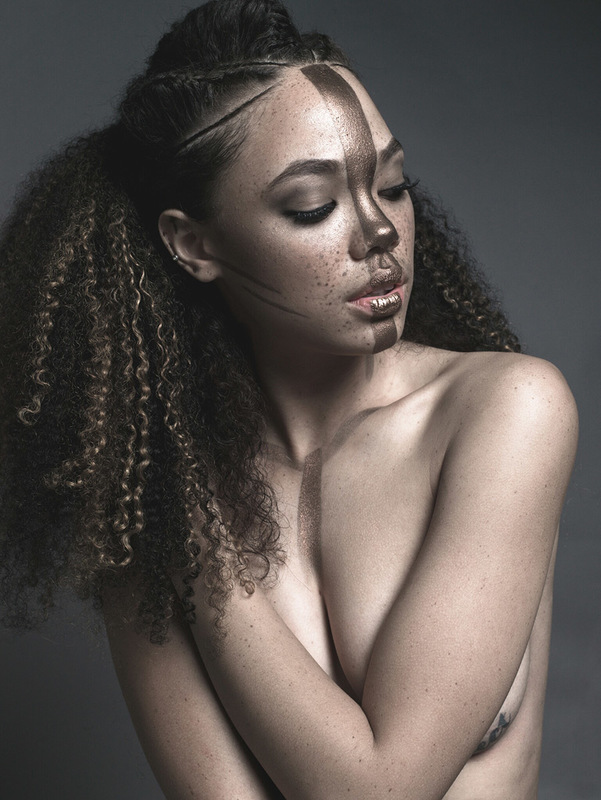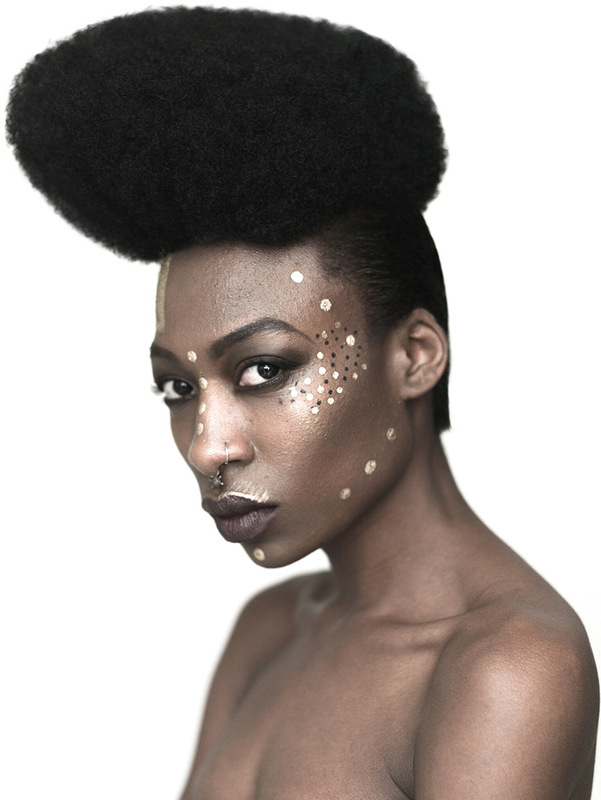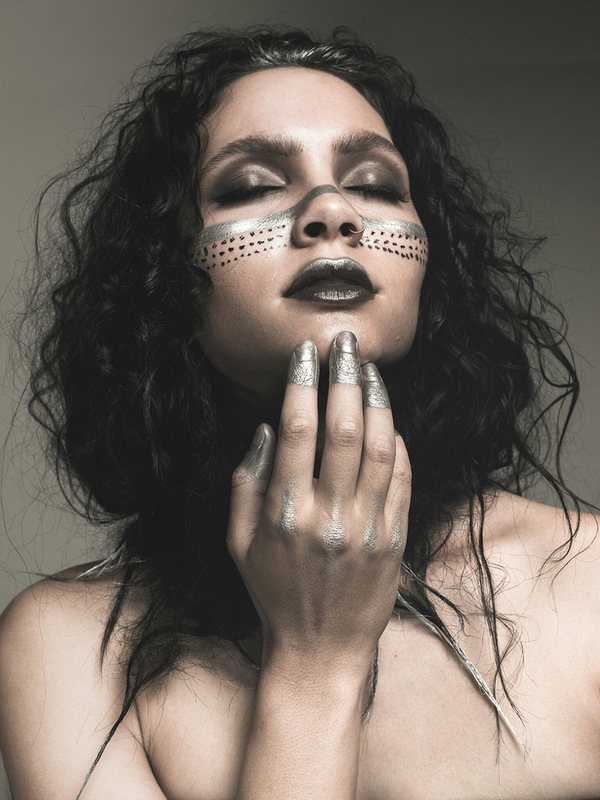 What were you hoping to convey to your audience with this collection?
In creating the looks of the three women I wanted to show gentleness as well as strength. An ode to women of color to be proud of who they are regardless of their skin color or the texture of their hair.
Tell us a little more about you, as an artist.
I am a Licensed Esthetician as well as a Professional Makeup Artist. I have been in the industry a little shy of ten years in total but didn't take the leap to do it full-time until I relocated from South Carolina to Arizona back in 2012. I won Beacon through the PBA back in 2015 so to be a NAHA Finalist just two years later is an amazing feeling. I enjoy creating beauty and editorial concepts. I also enjoy commercial work that appeals to people at all levels. I am very eager to jump into platform education that would be a natural progression for me since I have a background in training and human resources.
How do you Vegas?
Every Vegas experience has been different for me. It's safe to say that in July I am looking for this to be like none other. I plan to have a ball, a few of my friends are going to join me at the awards and I plan to network my butt off, lol
Salty or sweet?
Sweet.
What did you learn about yourself through creating this collection?
In creating this collection I learned that I had to remove self-doubt and be true to the passion that first drew me to the industry to begin with.
If you won the lotto (or slot machine) tomorrow, what would you do?
This is too funny because in my mind I really have this planned out. The first thing I would do is take a week-long vacation to Paris then another week in Japan and blow a few bucks on material things for myself and my kids. After I do that, I would come home and get to business…investments, savings and scholarships.
---
For artistic inspiration, be sure to stalk Jalia Pettis on Bangstyle and stay tuned for even more NAHA features!