As winter winds begin to blow and clients are on the lookout for a way to repair their dry hair, you can now offer them a solution that will give their strands new life. Biolage Advanced formulas have long been the pros' go-to for a variety of damaged hair needs. With a system designed to treat the specific condition of unwanted porosity it will restore moisture levels and improve manageability. The new Advanced Oil Renew System features a modern and highly concentrated blend of reparative oils that nourish, quench and soften hair without weighing strands down. Keep reading to get to know more about the Biolage Advanced Oil Renew System and exactly how it can improve hair.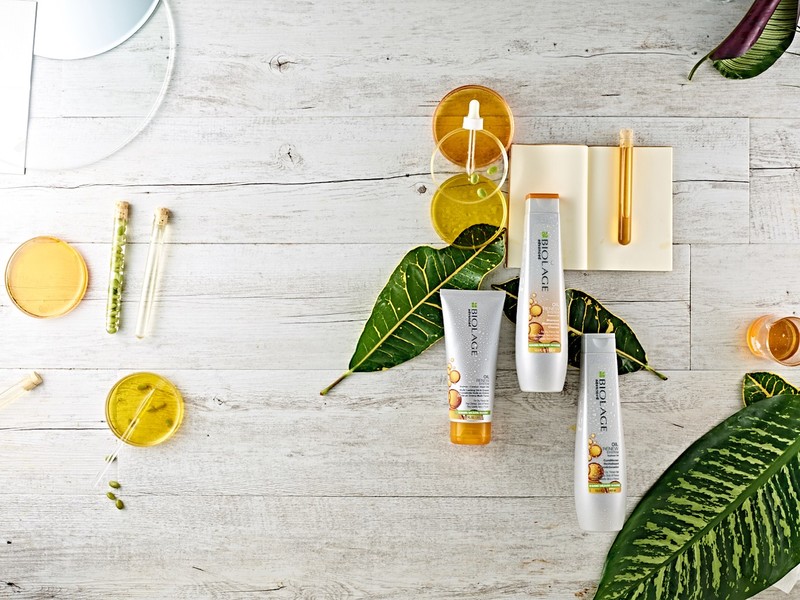 WHAT IS POROSITY?
Porosity is the hair's ability to absorb and retain moisture. It's affected by the flexible outer layer of the hair, which is called the cuticle. The cuticle controls how readily moisture and oils travel in and out of each strand. If the cuticle is healthy, it's compact and the hair easily retains moisture. The damage begins when the cuticle becomes raised, which occurs from exposure to chemicals like haircolor, or with frequent use of thermal tools. Once the cuticle is raised—slightly or greatly—it's more difficult for hair to retain the moisture it needs. The result is reduced elasticity, brittleness, dryness and increased breakage.
THE POROSITY SOLUTION
The innovative Oil Renew formulas offer concentrated daily care for porous hair. After just one use, the Oil Renew System repairs hair with 2x less breakage; replenishes strands with 24-hour moisture; shields hair from the daily stress that causes cuticle damage; reduces porosity and frizz and increases manageability and softness.
THE THREE MOISTURE-RETAINING OILS
Biolage haircare technology has come up with a new generation of ultra-lightweight and highly nourishing and effective oils that transform hair without heaviness or buildup. Three of these oils make up the foundation of the natural Advanced Oil Renew System:
· Soybean Oil: Thanks to concentrated levels of protein, vitamin E, antioxidants and essential fatty acids, this multi-tasking oil is highly nourishing and moisturizing. It also prevents future damage from occurring.
· Coconut Oil: This vitamin E-enriched oil prevents moisture loss, while high levels of lauric acid prevent the loss of protein in the hair. As a result, coconut oil reinforces the hair fiber and protects hair from damage and dehydration.
· Argan Oil: This has been the go-to oil for hair and skin for centuries. The modern iteration of this rare oil contains polyunsaturated fats for deep moisturizing and substantial amounts of an omega 9 that controls water loss and makes hair soft and pliable.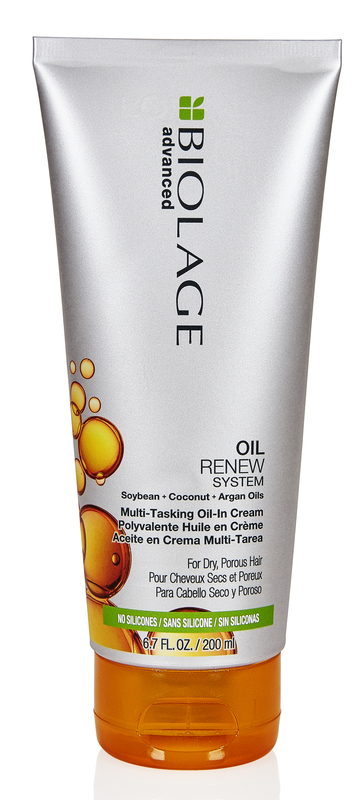 THE ADVANCED OIL RENEW SYSTEM
Purify, quench and lock-in the moisture that porous hair craves with the complete Advanced Oil Renew System:
· Advanced Oil Renew Shampoo: Containing the highest concentration of weightless soybean oil, this gentle cleanser whisks away dirt, pollution and impurities.
· Advanced Repair Oil Renew Conditioner: Thanks to soybean oil, the second step in the system quenches hair with moisture and transforms the damaged cuticle surface to reduce porosity. Hair feels instantly more soft and smooth.
· Advanced Oil Renew Leave-In: The "star player" in the high-powered system, this unique oil-in cream formula contains all three healing oils —soybean, coconut and argan—for unmatched strength and moisture. The multi-tasker absorbs instantly, protects hair from damage, enhances manageability, nourishes hair and reduces frizz. It also protects hair from thermal damage up to 450 degrees Fahrenheit.
Advanced Oil Renew joins the Biolage family of Advanced systems—Fiber Strong for fragile hair, Full Density for thin hair and Kertain Dose for over-processed hair. Each system in the Biolage Advanced collection allows stylists and clients to experience superior care and performance thanks to powerful formulas that provide targeted hair care and repair.
Biolage Advanced Oil Renew System will be available in salons in August of 2018.
---
Want to try on a new style this season? Check out these top hues and stay tuned for even more celebrity styles from Matrix!