Color has always been one of the most popular services at the salon, but these days with fun new colors and exciting developments it's transforming the way we care for our hair. There's no doubt about it, color can be addicting. Always searching for new shades and the quickest ways to achieve them, which can sometimes leave our hair in need of some major TLC. With the latest product from Matrix, "chemically dependent" salon clients with extremely damaged hair can go from broken to bonded in no time--experiencing "like new" hair health—thanks to The Re-Bond 3-Step Strength- Rehab System from Matrix Total Results.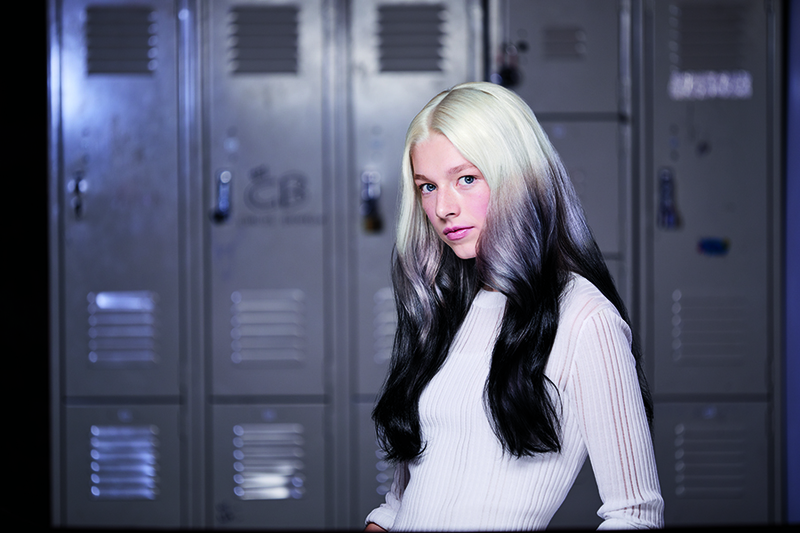 The Re-Bond reconstructs damaged hair at the deepest level—actually repairing the structural bonds that are destroyed during chemical services. This game-changing repair system is packed with an unprecedented amount of active ingredients to help fortify weakened, over-processed hair. Hair is left revitalized, repaired, strong, smooth and manageable. The Re-Bond improves every strand while maintaining hair's resilience. The win? Clients who love changing their haircolor and enjoy heat styling, no longer have to fear the damage. Let's learn a little more about this amazing system.
The Re-Bond 3-Step Strength-Rehab System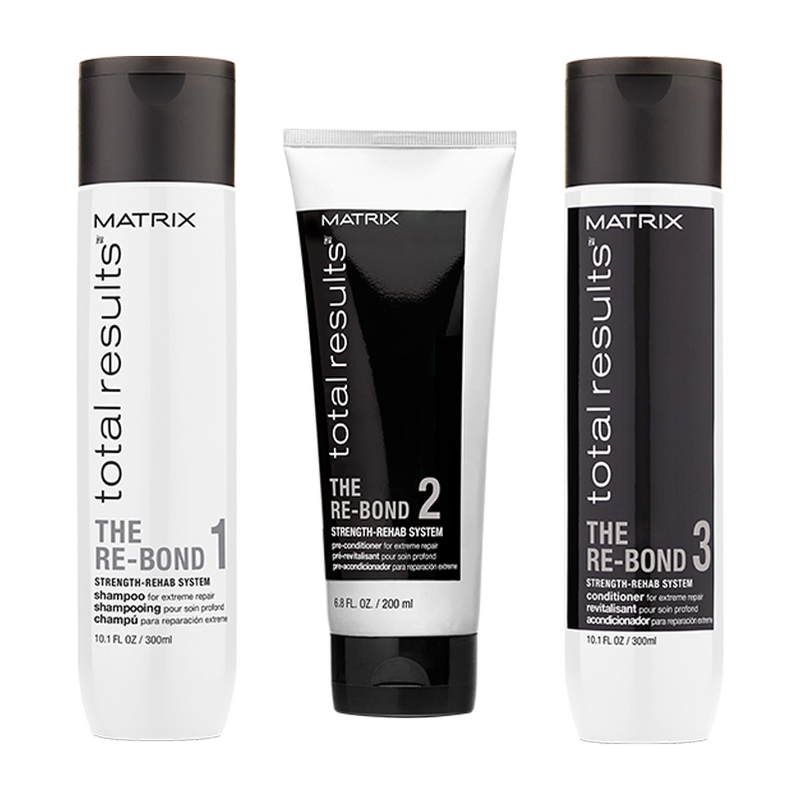 ​
The regimen for extremely damaged hair from chemical services and heat styling:
Step 1 —The Re-Bond Shampoo. Powered by citric acid, removes unwanted product build-up "cleansing the canvas" for the subsequent steps. Apply on damp hair, lather, and rinse. Use daily.
Step 2 —The Re-Bond Pre-Conditioner. Infused with maleic acid, reconstructs weak bonds. Apply thoroughly on wet hair, leave on for five minutes, and do not rinse. Use 1 time per week.
Step 3 —The Re-Bond Conditioner. Thanks to high concentrations of taurine, the final step in the Re-Bond system perfects and sustains bond resilience leaving hair strong, healthy and as good as new! Layer over the Pre-Conditioner Step-2 then rinse and style as desired. Use daily.
The Re-Bond will repair internal strength after damage from 3 previous lightening services*, offering a next-generation solution for over processed hair. It can be alternated with any Total Results care and styling system, and is an ideal take home regimen after any in-salon haircolor or lightening service.
"Total Results The Re-Bond is the perfect hair care regimen for clients who always want the latest in haircolor. With The Re-Bond, we can color on and on," says Matrix Artistic Director Chrystofer Benson
Matrix Total Results The Re-Bond will be available in all fine salons in March, 2018. Currently available at Ulta.com and JCP.com.
---
Want to try on a new shade this season? Check out these top hues and stay tuned for fashion-forward styles from Matrix!