My week started in Charlotte, NC on Wednesday, March 25 with a call time of 1pm @ Label House. The massive crew responsible for preparing the facility, that for the rest of the week would house 21 national, international, student & celebrity designers, was hard at work. Over a hundred models, a team of hairdressers, make up artists & handlers were in attendance for what has become known as North Carolina Fashion Association's "Style Week." The event has grown substantially in the last few years with no signs of slowing down, showcasing the designer's work every night to a room full of fashion lovers, the media, fashion bloggers and photographers. The shows producer, Erica Arcilesi organizes this show twice a year.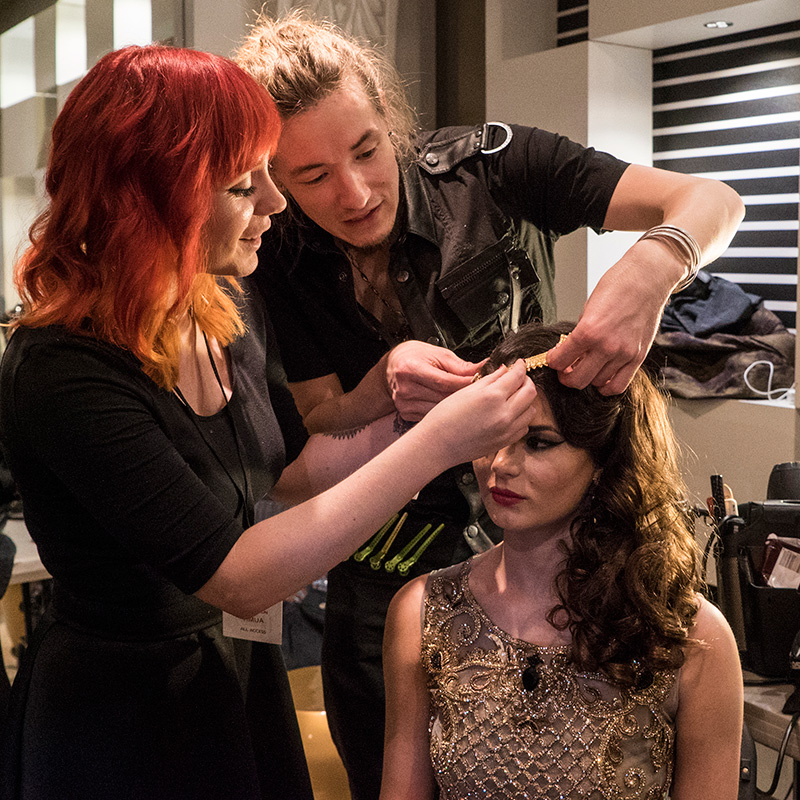 Photo by Mark Hames
Top students from the Paul Mitchell Hair school of Charlotte were invited to assist the hair & make up teams. These teams worked on models from 1-8pm everyday with multiple hair changes during the course of the show. Sonya Alexis, the Hair Director, had daily meetings to discuss the designers' visions for their collections. The diversity on the hair team was impressive with artists from Matrix, Paul Mitchell and Redken. My good friends and fellow Redken Artists, Ashley Flora and Lacey Broocke, were invited along with me and my team from Louisville, KY to be a part of this amazing group of stylists. Our hair creations varied from sleek and polished to edgy and textured and were as diverse as the designers showcasing their latest collections.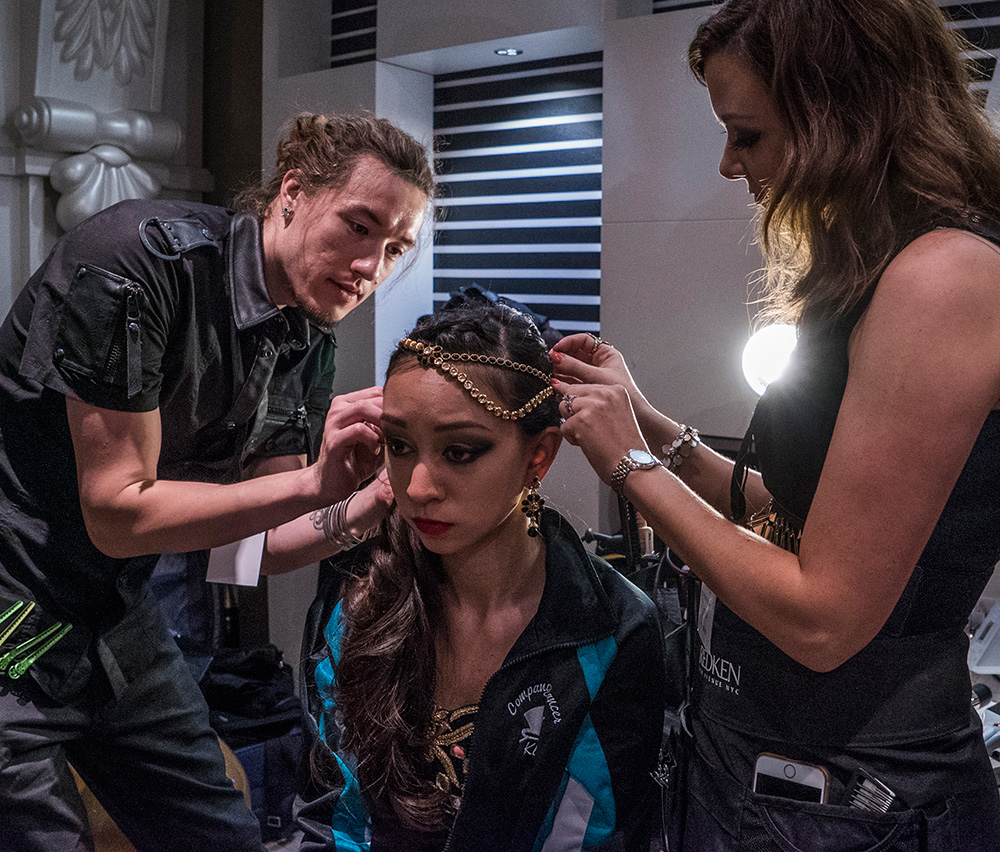 Photo by Mark Hames
Day 1
Featured student designers from the Art Institute of Charlottes. Designers: Pewilben, Adnama Nampahc & Haute Exclusive.
For designer Pewilben, models had various braids with an overall cohesiveness with loose, organic "Milk-maid" styled braids, cornrows with wispy pieces. Male fashion designer Terrance Henderson requested models have textured volume inspired by David Bowie. Sam Villa Textured Irons were used to create the crimped effect for visual texture and new Metal Fix 08 in Gold was brushed around the hair line. Designer Adnama Nampahc's models had smooth, undone hair with minimal volume and very loose waves.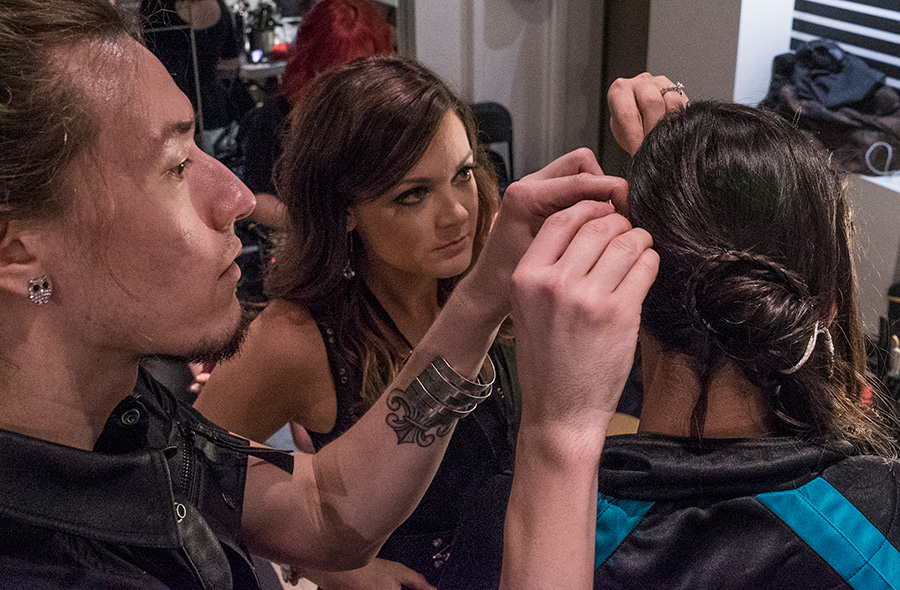 Photo by Mark Hames
Day 2
Featured designers: FLOW by Tara Davis, Keone Brown & Pretty Birdie Co.
A lot of hair setting went into work for Flow by Tara Davis. Models had to have an Afro like effect with full curls. The models had their hair set on 5/8 inch marcel irons in tight spiral curls then lightly separated. Lots of bubble braids and asymmetrical shaped rolled on top of the head were used on Keon Browne's models.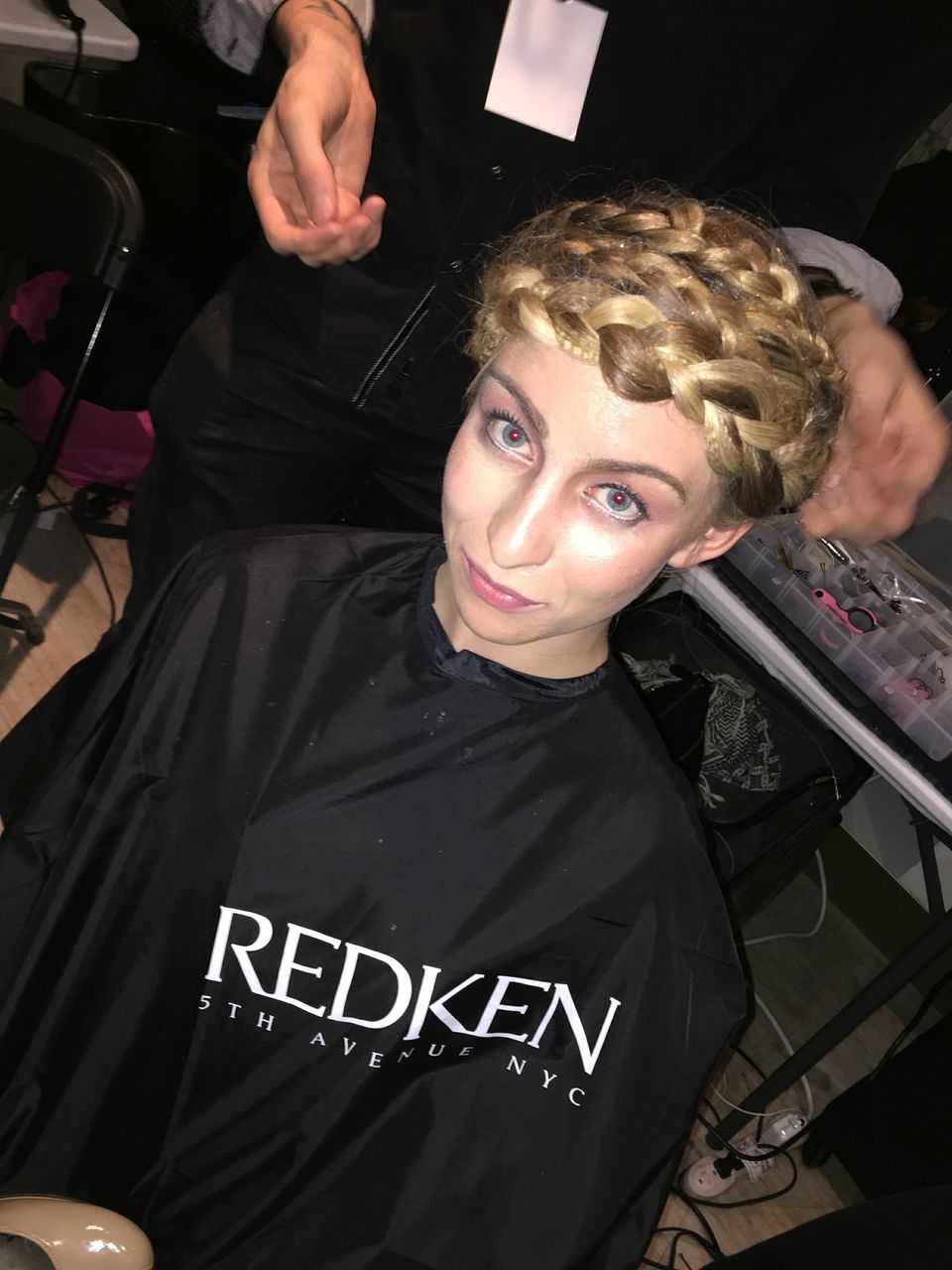 Day 3
Featured designers: Stevie Boi, Tsvety, Brendan Combs, Pixton Design Group & Waleria
For Stevie Boi, models had sleek high ponytails created with elastic cord for a "Butcher's Knot" with a lot of shine. Tsvety requested models have loose, irregular, uneven braided ponytails that laid center back. For Brendan Combs, models had sleek straight pulled back with the surface appearing wet. Pixton's spanish inspired upstyle required models to have their hair center parted and loosely pulled back into a low bun and covered with roses. Waleria wanted messy, flat, textured braided updos.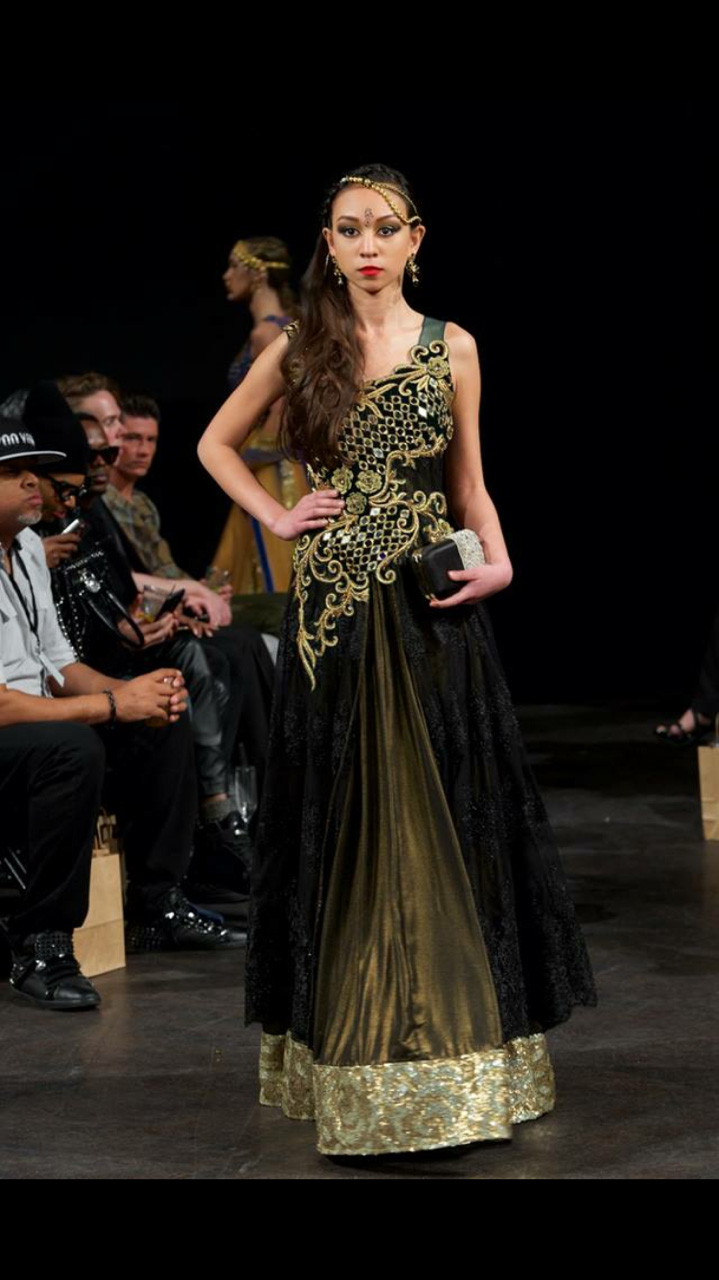 Image by PhotoLegends Photography
Day 4
Featured designers: Enemy 2 Fashion, Ritu Selects, Zachary Howell & Irina Shabayeva
Enemy 2 Fashion had models rocking messy ponytails adorned with colored rope. Ritu Select had models sporting cornrows and side ponytails, while Zachary Howell requested models have textured Updos with lots of volume. Irina Shabeyeva had models wearing smooth, sleek straight hair pulled to one side.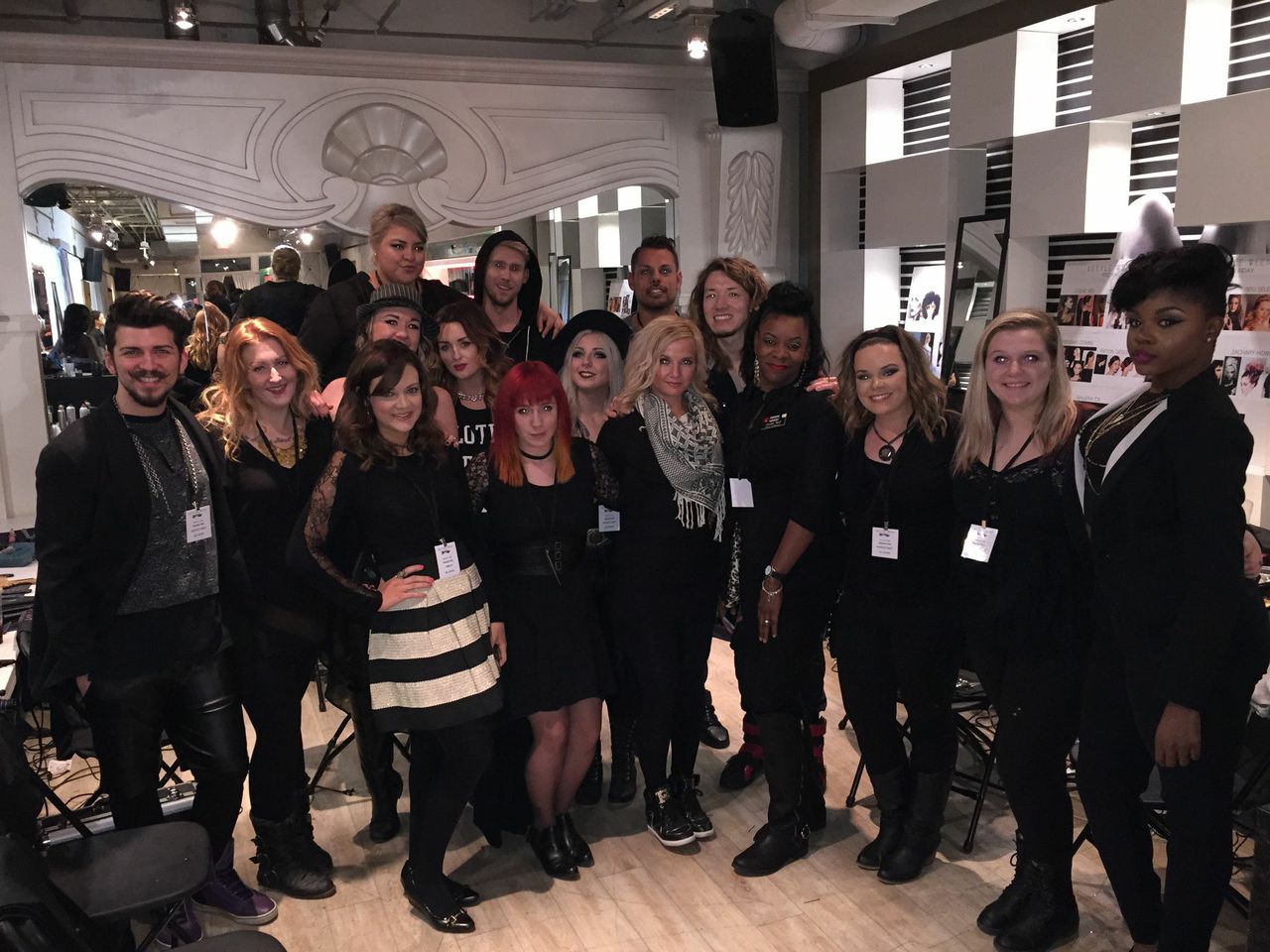 Everyone worked tirelessly 12 hours days. The energy was contagious and so alive... it was busy, hectic, exciting. I love the camaraderie from all parties involved, collaborating their talents, passion and artistry.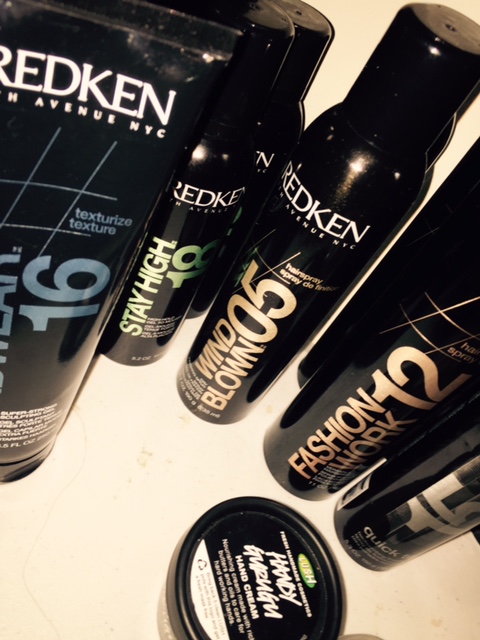 My must have Redken Products backstage:
Braid aid 03
Short Sculpt 19
Metal Fix 08
Guts 10
Fashion Works 12
Quick Dry 18
Control Addict 28
Shine Flash 02
Iron shape 11
Hot sets 22
Powder Grip 03
Wind Blown 05
Diamond Oil High Shine Airy Mist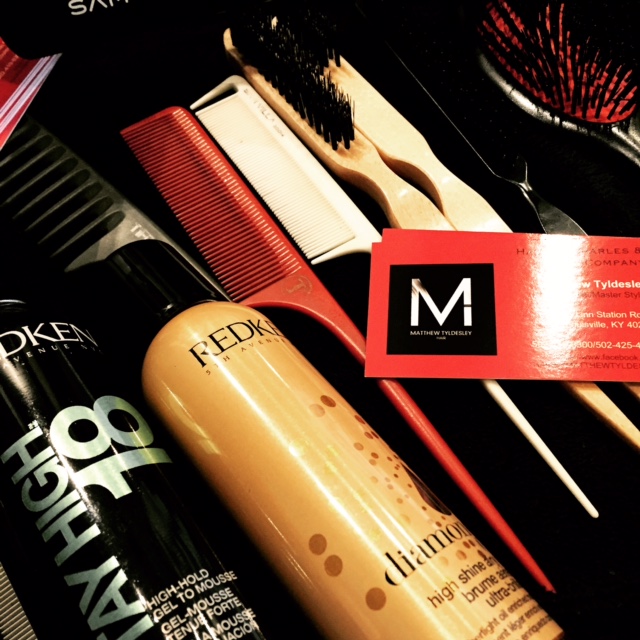 Must have tools:
Sam Villa Sleekr
Sam Villa texture iron
Hot Tools Marcel Irons
Elastic Cord
Mason Pearson Brush