We are thrilled to partner once again with the Professional Beauty Association (PBA) to promote all of the talented artists who are finalists for the 2017 NAHAs (North American Hairstyling Awards), the most prestigious hair and beauty award in the country. In this feature get to know more about this year's Men's Hairstylist of the Year Finalist, Ian Daburn.
As a third generation barber with a background in photography, Ian Daburn shows off his many talents in his latest collection with his ability to barber and style. Inspired by a young men looking for a second chance, he combined techniques to emphasize his shapes and his theme. Read on to learn more about this amazing artist and see his beautiful collection.
---
What was the inspiration behind this collection?
As a barber, I was looking to find a way to showcase a set of images that capture the skill of a barbers work but with the softness of hairstyling.
For my collection, I wanted the images to portray young handsome men that were troubled in life and spent years in youth detention programs and that were all given a chance to reestablish themselves back into society. Having them shot in all white gives them softness I was looking for while their past is still seen in their eyes & tattoos.
What was your favorite technique to use?
My favourite technique was a combination of techniques to create the heavy fringe. Mapping out the fringe can be quite challenging so I used a channeling technique to bevel the edges of the fringe while adding a straight razor to line up to emphasis the shape.
How has the popularity of men's styling influenced your choices for this collection?
With the resurgence of barbering and men's hair, there is a trend to master almost forgotten classic techniques both by barber apprentices and hairstylists. So I wanted to use and showcase these skills in the collection but show how they can be interpreted more commercially.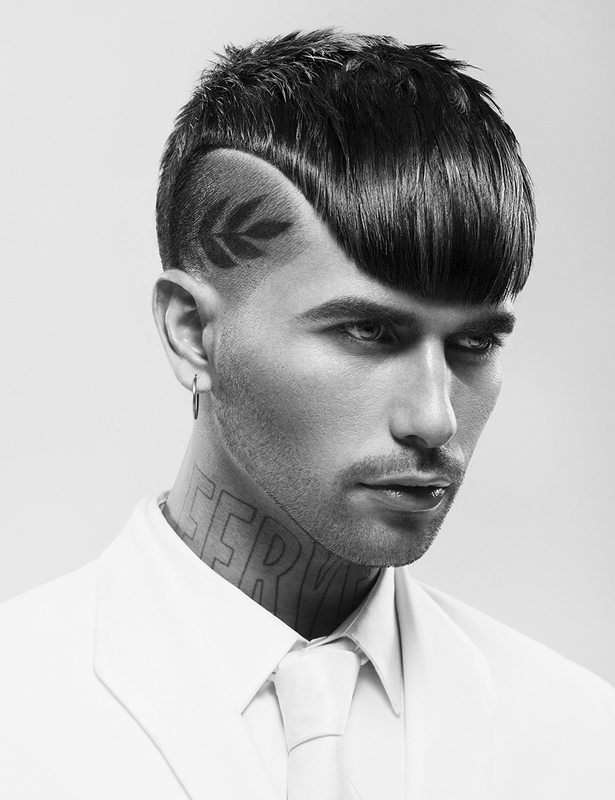 What was your biggest challenge in creating this collection?
Finding the right looking models that were prepared to trust me in my vision.
What does your collection say about men's trends?
The haircuts themselves were inspired from the strong looks coming out of London right now, in particular the reinvention of the 1990's crop. I wanted to showcase a strong look for image 1 (heavy fringe), a commercial for image 2 (textured crop) and a current look for image 3 (disconnection).
How did you select/work with your team to hone your vision?
Once I knew what I wanted to do my selection of photographers came down to one person that I've worked with before, Liz Rosa. Also with my collection being so simplistic and clean I was able to handle the wardrobe myself and bring my apprentice to assist me with the day.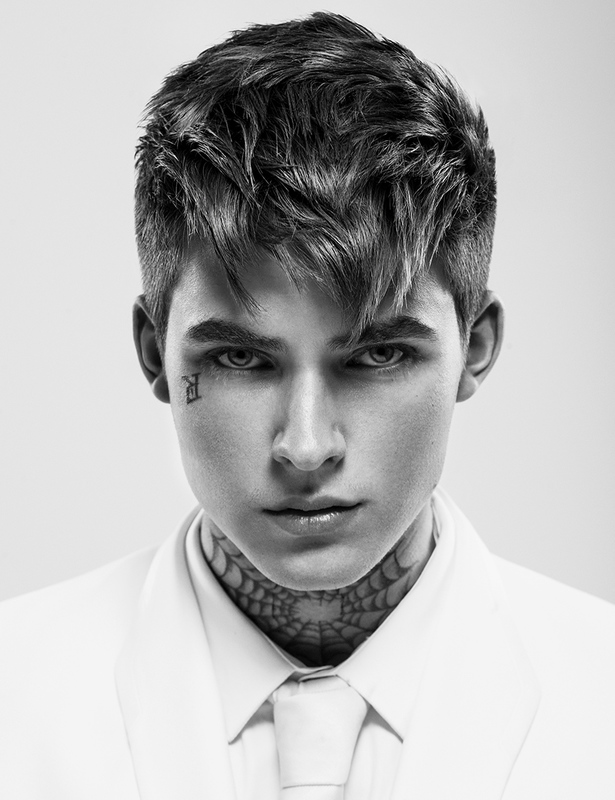 Were the tattoo's real?
No, most of them were transfers, which I purchased from someone who works in the movie industry. The model with the heavy fringe already had the neck tattoo.
How did social media influence your work?
Instagram really helped because it helps me keep a close eye on what's happening in the UK by following a handful of influential barbers/stylists.
If you were to describe this collection in one word, what would it be?
Assimilate.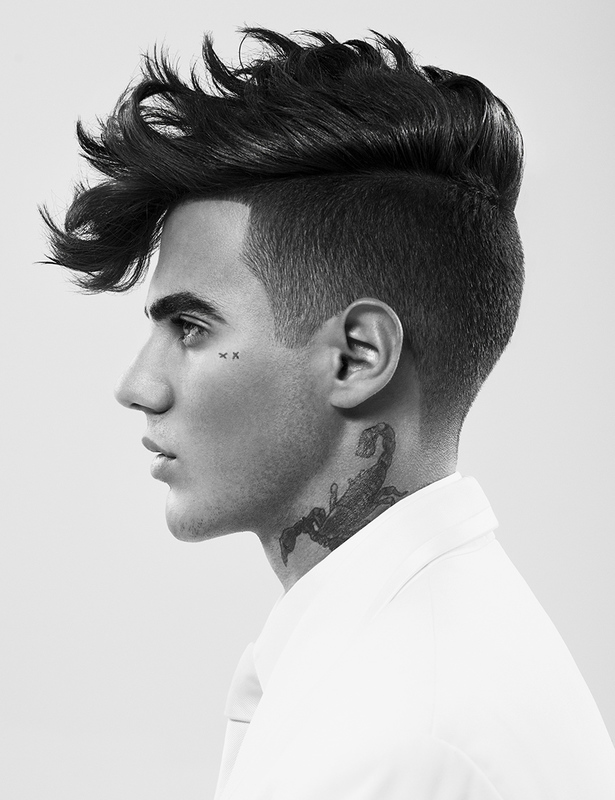 Tell us a little more about you, as an artist.
I began my career in the late 1980's as hairstylist in London, England. I have now been in the hair industry for twenty-eight years, but my career flourished with the award winning salon Toni & Guy, where I was part of the creative and educational team. I worked on various projects including celebrity styling, editorials and fashion shows including London fashion week. I still constantly look to London for inspiration, keeping me fresh and focused helping me stay on top as an industry leader.
In 1998 I moved to Vancouver and began a partnership with Toni & Guy and opened the first shop in Vancouver, Canada which allowed me to travel USA teaching Toni & Guy's education. This helped me begin a relationship with L'Oreal Professional and became a portfolio artist.
Later, I decided to branch out on my own and open iDaburn salon in Yaletown.
As a small child, my uncle taught me how to develop film in a makeshift darkroom under the staircase in his house. From there I was hooked on photography and took many courses helping me to understand the art. My passion for photography blossomed during this time while doing hair and later on I often turned the salon into a photographic studio shooting creative work with my staff.
After seeing a strong trend in Men's fashion, I felt a need to go back to my family roots as a third generation barber and opened my first barbershop, Barber & Co in 2013 right in the heart of the financial district in Vancouver. I have since been an integral part of the expansion of the company. I was becoming interested in the manufacturing of barbershop products and began experimenting a product line in my garage which eventually grew into the Barber & Co product line which we later moved into our own company laboratory in Yaletown where the products are still hand made and sold throughout North America. The education for the company was also developed by myself and then opened the Barber & Co academy in 2016.
How do you Vegas?
Like The Hangover.
Salty or sweet?
Sweet
What did you learn about yourself through creating this collection?
It's never too late in my career to push myself to my limits. I reminded myself that photographic work is no.1 in my list of creating hairstyles.
If you won the lotto (or slot machine) tomorrow, what would you do?
Take a luxurious vacation with friends and family, buy 3 cars, a big house and then get bored so I'll build a photo studio to keep me busy.
---
Be sure to stalk Ian Daburn on Bangstyle and stay tuned for even more #hairinspo!