The North American Hairstyling Awards, NAHA, is produced by the Professional Beauty Association (PBA) will celebrate 25 years in 2014 as the beauty industry's leading honor. Bangstyle had the pleasure of getting to know the amazingly talented Chad Taylor of Moods Hair Salon, one of this year's nominees in the "Salon Team" category. Check out our exclusive interview with Chad to learn a bit more about Moods' collection and what fuels their passion for hair.

Tell us a bit about your nominated collection. What was the creative process like? Inspiration?
Every year, we do a creative shoot weekend where each of our stylists put together their own collections. This year's NAHA entry is a combination of 3 of our stylists on the Moods team: Jordon Turner, Jacob Rozenberg and Chad Taylor. Although we did separate collections, there are common threads though the color palette, shape or textures. The months before our shoot, we have creative nights to just play with hair and experiment with different shapes and textures. We spend many hours online researching and getting ideas from many different sources.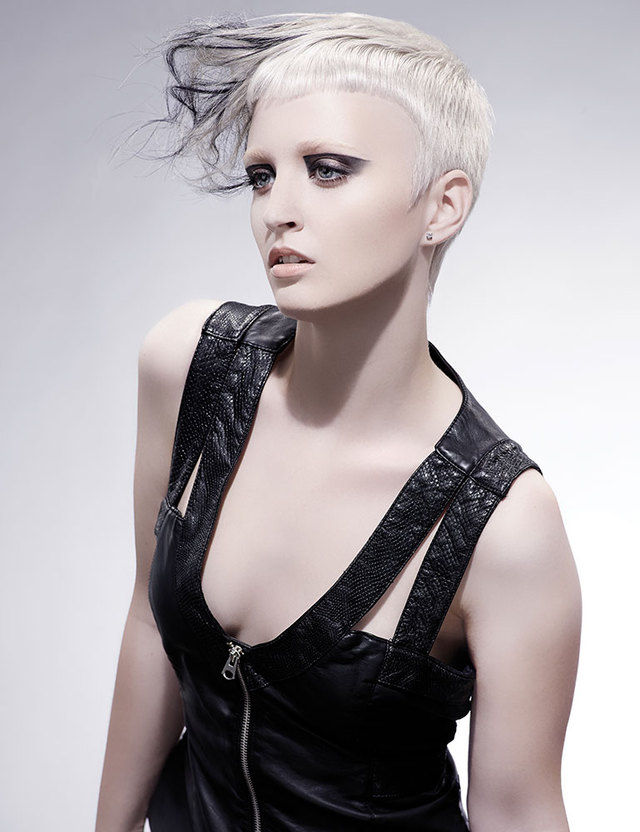 Were there collections in other categories that you found inspiring?
We are always excited to see the incredible work that other stylists are creating for NAHA. These shoots act a trend forecasting tool that shapes industry and gives us incite into what we will be seeing for the next few seasons.
What does Moods look for in its stylists?
All of the stylists at Moods are very education driven and inspired to get our hands into all aspects of the creative sides of our industry from platform work, runway, and editorial. We have an amazing team of self-proclaimed "hair geeks" and love all the back room chats that happen about how to create different tones or create different shapes and textures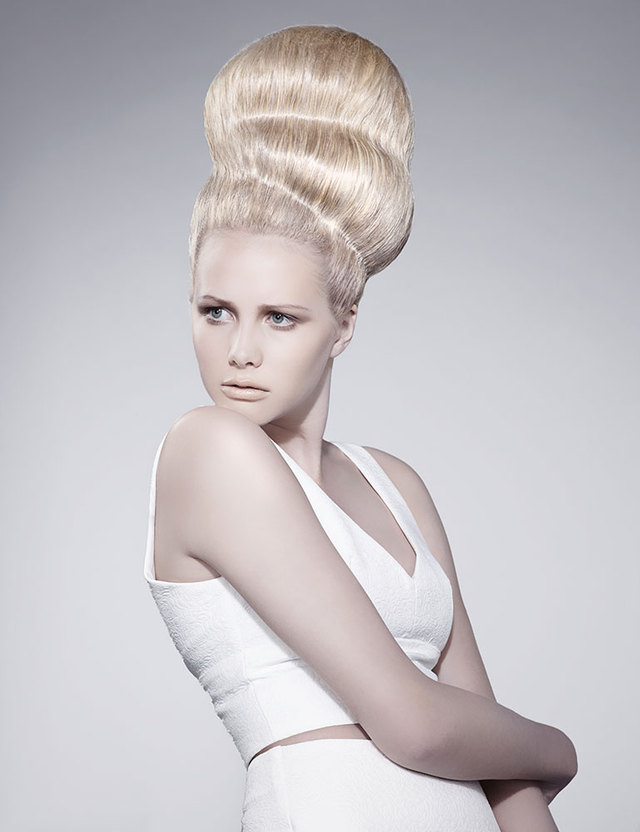 What is your recipe for a successful shoot?
My business partner, Tania, organizes our shoot weekend every year and finds the most talented team of photographers, makeup artists and stylists. We try to work with the same team every year which makes for a very smooth day of shooting. It is important to have a clear vision of what you plan to do on the shoot day. Winging it never goes well!
What area of hair would you like to explore more?
I love the photoshoot process. It is such a great way to document the different stages in your career and learn about how to look at shape through the lens. No matter how many times I work on a shoot, I always want to find different ways to approach the process.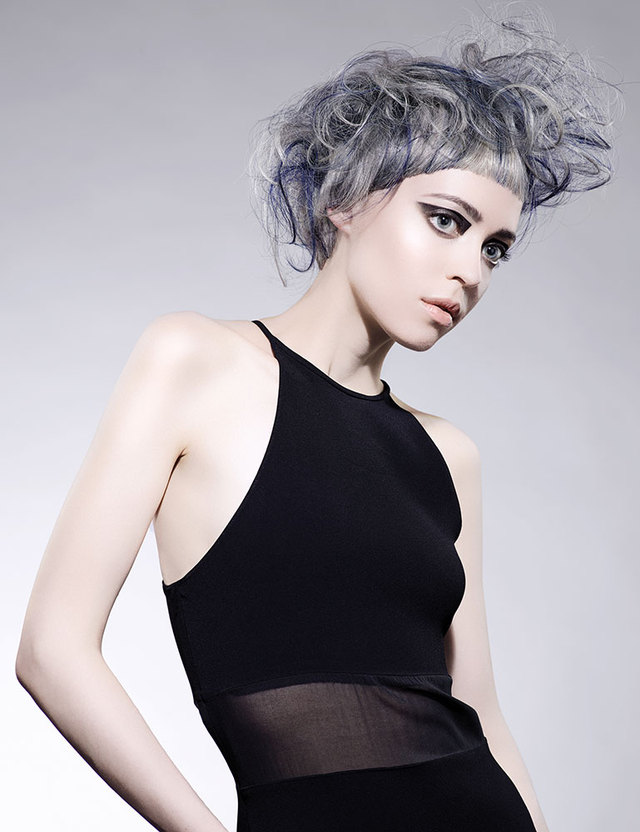 What's the décor and vibe like in Moods?
Moods has been in our current location for 18 years and has a long history in Vancouver that spans over 40 years. It is a boutique sized salon in a busy retail area of Vancouver. We have a lot of natural light from our floor to ceiling windows and a color bar in our mezzanine area that looks out onto the streets of Yaletown. We play a list of hand picked music that keeps the salon both upbeat and relaxing. We are open 7 days a week, are "green" focused, and have gender-equal pricing.
If you could have anyone in your chair with no restrictions, who it would be and what would what you do?
We are very fortunate to have a very eclectic mix of clientele that visits our salon from a wide range of ages and industries. As much as I love to have free range to fully change someone's hair, I love the collaboration process that happens to really find something that not only suits them but they will love. I have a lot of opportunities to fully change someone's look on shoots and doing platform work.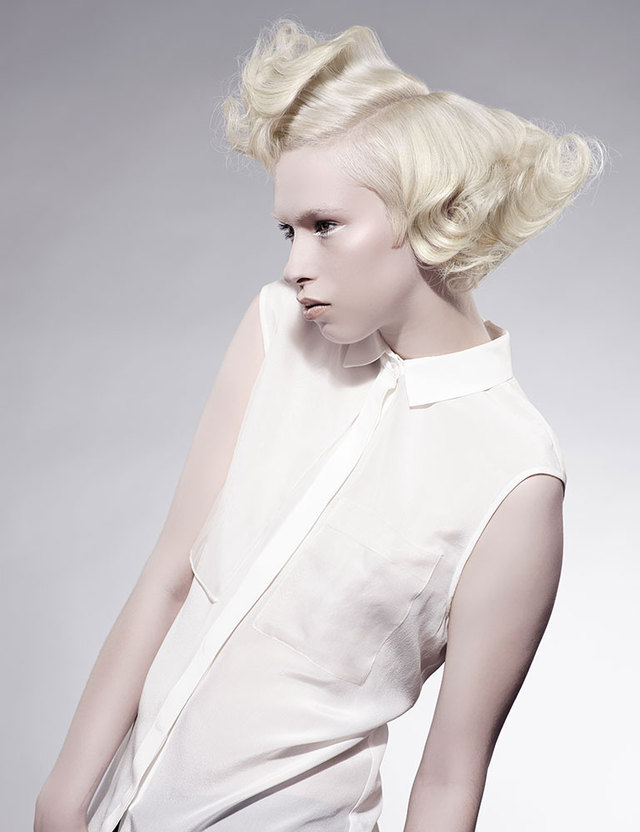 What was one defining moment in your career?
I remember doing an interview with MTV Canada fairly early in my career and was asked what my dream project would be with hair. I answered working on an Alexander McQueen runway show which at the time seemed very far fetched. Five years later, after doing many shows in New York and Paris, my business partner and I ended up backstage working on one of his shows.
What fuels your passion? In other words, what gets you out of bed in the morning?
I love the variety that our industry gives us. Every day in the salon is unique. I have been fortunate to have been mentored by some of our industries icons and am always humbled by the number of skills that are out there that you can develop for your salon work or editorial and runway looks. It's endless!!!
Be sure to "Stalk" Moods Hair Salon on Bangstyle to see their latest stunning uploads as well as wish them luck in the upcoming NAHAs.