Stunning color and styling that seems to defy gravity, as the winner of the Styling & Finishing category at the 2022 NAHA Awards, Robin LaChance showcases some of her most iconic skills. Below we learn more about how Robin has learned to harness her vision into creative design – where to push and when to let go. No stranger to competition work, one of her biggest challenges on this shoot was finding the right angle. Learn more about Robin below and how she allowed just the right elements of her collection to pop!
Tell us more about you as an artist. How did you get into hairdressing and competition work?
I first got into doing live local cutting and colouring competitions called Hairapalooza at the Toronto ABA show to express the creative side of our industry. I took a class on doing photoshoots. I went on to do a photoshoot to enter the Contessas (Canadian Hairstyling Awards) and I've been hooked on creating since.
Can you give any insight into how your collection was created?
I love interesting silhouettes. In the past I have tended to have a loud vibe with an almost theatrical aesthetic. I wanted to refine my work and let my style mature on this collection. I wanted to maintain the interesting shapes I like but in a more polished way. I purposefully placed weight lines in the cuts and pushed in colour where I wanted motion to pop.
How has your style changed over the years?
I think the biggest way my style has changed over the years has been learning when to stop. It's still something I am learning as an artist. I feel like I used to want everything loud!! As I keep creating, I am focused on certain elements taking a quieter stance while allowing other elements to pop more.
What was the inspiration behind this collection?
For this collection I really wanted to just allow myself how to create shapes I like to see and try and make it elegant at the same time. I was also inspired by the fashion and styling at the Japan Hairdressing Awards. I loved how fabric folded on top of itself and wanted to mimic that in some of my haircuts.
What was your biggest challenge in creating this collection?
The biggest challenge was capturing the right angle. I put so many different kicks, quirks and weight lines into the shape. In 3D the hair looks completely different than the one dimension that a camera captures. Thankfully I have an amazing photographer Paula Tizzard that always lights and shadows the hair beautifully and captures the silhouette at various angles.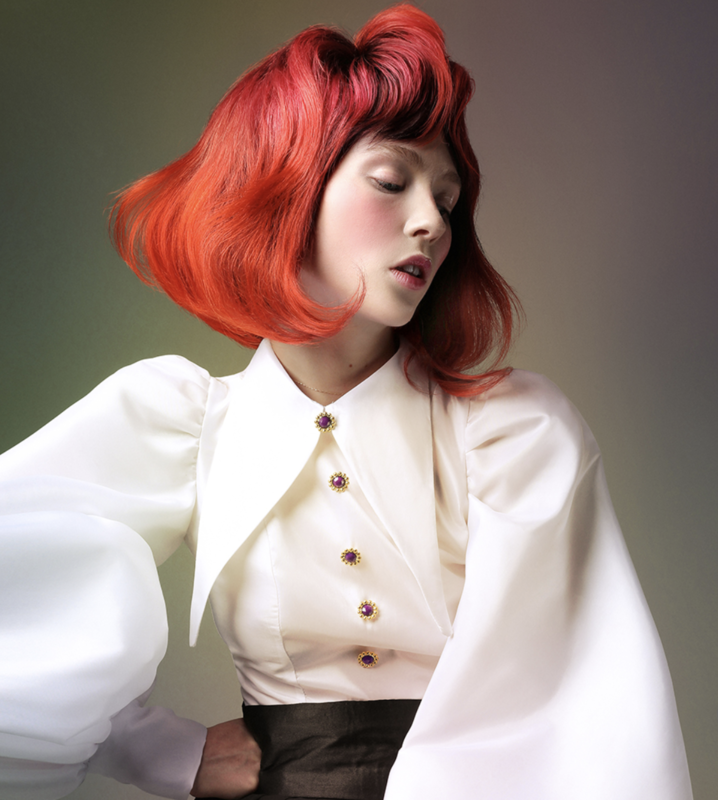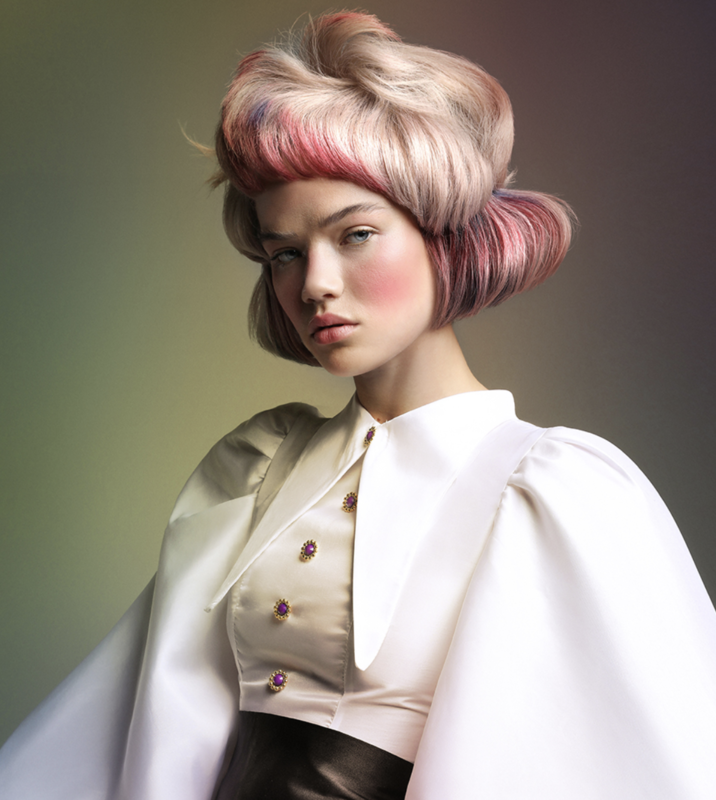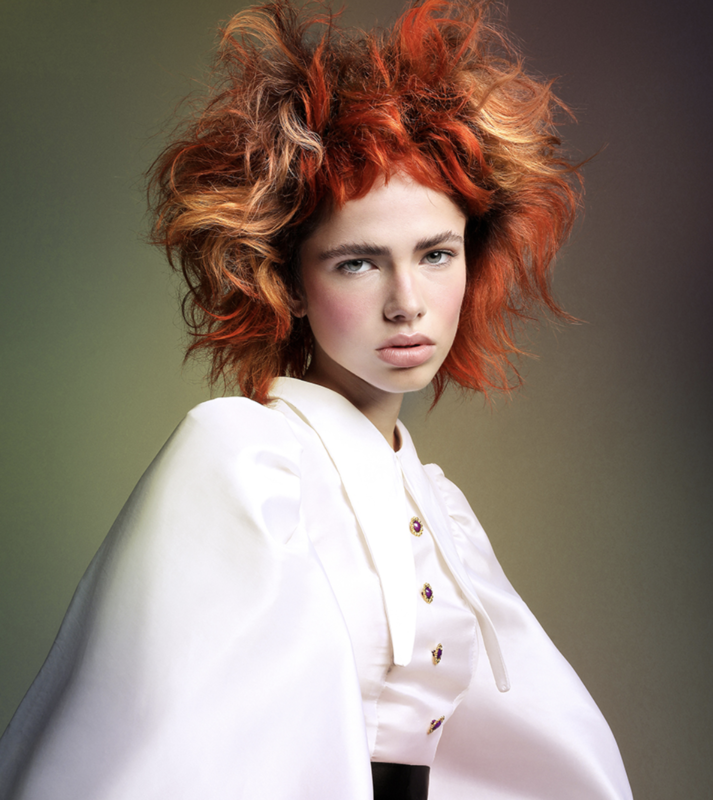 What does your collection say about trends or movements within the industry?
I think my collection celebrates movement in the hair. I noticed a lot of finalist work from various competitions have movement and flow. I think the exaggerated collar on my blouse (created by Toronto based Canadian fashion designer Adrian Arnieri) is very on trend right now too. Florencia Taylor my makeup artist gave the models a gentle rosy glow and clean skin keeping the makeup fresh.
Did you have any hero products? (Or any product faves!?)
Schwarzkopf Professional OSIS Grip mousse, Schwarzkopf OSIS Session Label Powder Cloud and Super Dry Fix Hairspray are my top 3 session styling products. None of these products are heavy, oily or flake when brushed out for session styling. OSIS Grip is a fantastic foundation product. Session Label Powder Cloud allows me to create suspended moment and build internal shape. Session Label Super Dry Fix hairspray has a great style memory and is dry touch not leaving wet marks in the hair on camera.
Based on your experience what styling & finishing trends can we expect to see more of this season?
I think we are going to continue to see voluminous blowdries and lived in textures. I think there is a big nod to the early aughts right now. Fashion is cyclical but it comes back a bit different each time; the line changes but the vibe stays the same. Heat tools have come along way and with blowdry brushes and the Dyson air wrap, bouncy hair is back in full force and achievable for at home styling between salon visits. I think vivid colour blocking as well as monochromatic tone melting blondes and ginger reds will be the colour trends for S/S 2022.
Credits:
Hair: Robin LaChance
Photography: Paula Tizzard
Makeup: Florencia Taylor
Wardrobe: Adrian Arnieri