Let's face it: We're not doing much of anything these days, and, for some of us, a majority of our time is spent binge-watching Netflix. Luckily, there hasn't been a shortage of new shows to stream, not only keeping us entertained while we stay inside, but also supplying us with plenty of hair inspiration. Check out our fave Netflix-inspired styles that we predict will be major trends in the months ahead.
The Trend: Copper Tones
Inspired by: Selling Sunset
Aside from supplying us with plenty of #girlboss inspiration, the sophomore season of the Netflix series is also giving us major hair goals. One of our most coveted looks? Chrishell Stause's gorgeous warm-toned mane. Boasting of mega volume and stunning brown and blonde shades, Stause's signature locks are making all of us desperate to pay a visit to our colorist.
The Trend: Pencil Bun
Inspired By: Money Heist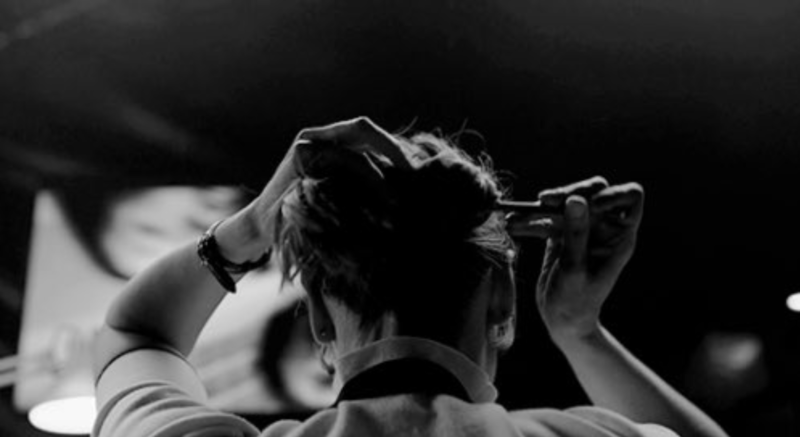 Twitter/@wildfirequeen
Social media challenges have quickly become a quintessential component to the quarantine life, and they have now officially entered the beauty realm. Inspired by the Spanish Netflix series of the same name, the "Money Heist" Challenge has gained momentum all over Tik Tok, influencing girls to pull their hair into a pencil bun to pay homage to character Raquel Murillo's (played by actress Itziar Ituño) iconic style. Though the challenge is more on the playful side, we predict women everywhere will embrace the look whenever they need to get some serious work done.
The Trend: Bang Envy
Inspired By: Dead to Me
Though the second season of the hit series is full of unforeseen twists and turns, we're still smitten with Judy's (played by actress Linda Cardellini) effortless fringe. Whether they're loosely tousled with effortless texture or blown out straight, Judy's bangs offer a sweet yet chic femininity that's hard not to love. However, we absolutely do not endorse cutting your own bangs—wait until the salon reopens, trust us!
The Trend: Mile-Long Mane
Inspired By: Selling Sunset
Another reason to fall in love with the "Million Dollar Listing" meets "The Hills" hybrid series? Christine Quinn's lengthy icy blonde locks. Her waist-grazing style looks equal parts feminine, edgy and sexy. Want even more proof that length is in for summer? Another reality TV star (cough Mrs. Kardashian West cough) has been rocking a very similar style the past couple of weeks.
The Trend: Shades of Red
Inspired By: Steel Magnolias
If you haven't binged-watched the iconic remake, we suggest you do so now, not only for the feel-good vibes we could all use right now, but also to check out the gorgeous styles. Our fave? Maddie Townsend's (played by actress JoAnna Garcia Swisher) stunning strawberry-toned strands. The gorgeous shade, impeccable shine and effortless volume has southern charm written all over it—and we are obsessed!