When it comes to NYFW, no one knows the shows, the fashion, and the styling better than Redken and Tearsheets Artists. Privy to all the best shows and most coveted events this season, Alissa Cimmino, Ken Kozuki,  Evie Peterson, Terry Boyd, and Sabrena Handley take us behind the scenes of the NYFW events! Starting with The American Heart Association's® Go Red For Women® Red Dress Collection®, this is a night of fashion and philanthropy. The event is a night that helps shine a light on heart disease in women while giving well-known personalities the chance to make their way down the runway for a good cause. Not only in New York, Keep reading to hear all about their experience, what it's like to work during NYFW and why it means so much to them!
Redken & Tearsheet Artist // @Sabrena_HairArtist
Fashion week has always been a dream of mine since I was just barely in beauty school. I always dreamt of what it would be like to do a celebrity's hair or do hair for a runway show. And through Tearsheets (Giovanni Guintoli) and the American Heart Association's Go Red For Women that dream came true, all the while supporting a great cause for the American Heart Association. I had the pleasure of doing hair for Laurie Hernandez, Olympic Gold and Silver Gymnast. I was fortunate to meet several celebrities, like Bo Derek, Susan Lucci, Chloe Lukasiak, Amy Robach, among several other outstanding women that were walking together for one common goal, Women's Heart Health. It was great to see so many giving back their time to such a worthy cause. Not only the celebrities, but all the volunteers that took the time to give back.
Also, while in New York for the Go Red For Women event, I had the privilege of working with two other shows L'AGENCE and Global Fashion Collective, and we had the honor to attend Art Hearts Fashion Show as a VIP guest thanks to photographer Jonathan Sutton. It truly was a surreal week. I was blessed to share this opportunity with some amazing friends, which I consider family. Terry Boyd, Alissa Cimmino, and Evie Peterson were my roommates and we had a blast running from one show to the next then catching up with our Tearsheets family.
As the week went forward, I was blessed to get to know Ken Kozuki and Josh Kozuki from Canada and not only did I get to work under their mentorship at the Global Fashion Collective of Vancouver, but I got to know them better as friends.  It was so much fun, it didn't even feel like work. I hope I get the honor to work again with the Go Red For Women event and other Fashion Shows.
Dreams do come true if you plan your dreams out and then work your plan hard to achieve them. Never settle!!! You only get one chance at life; why not take chances and just go for it!!!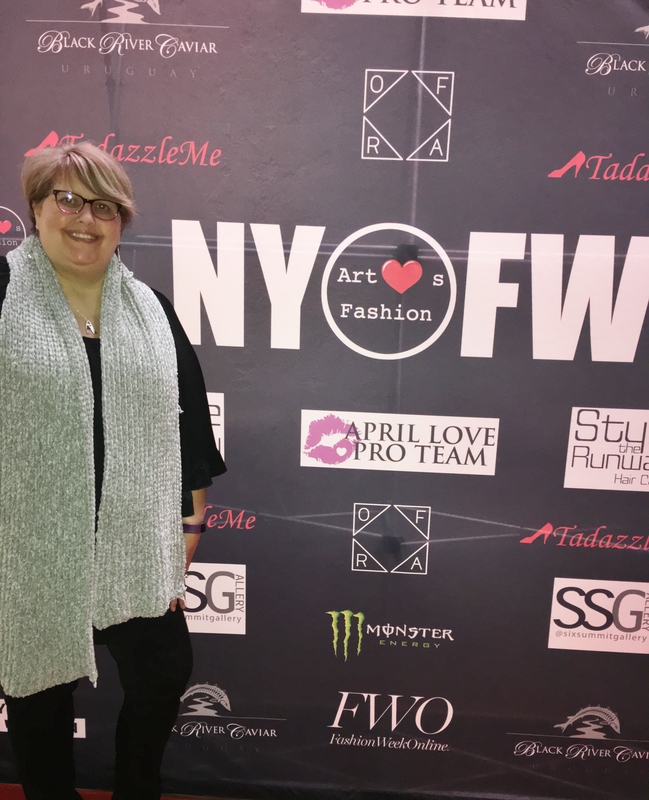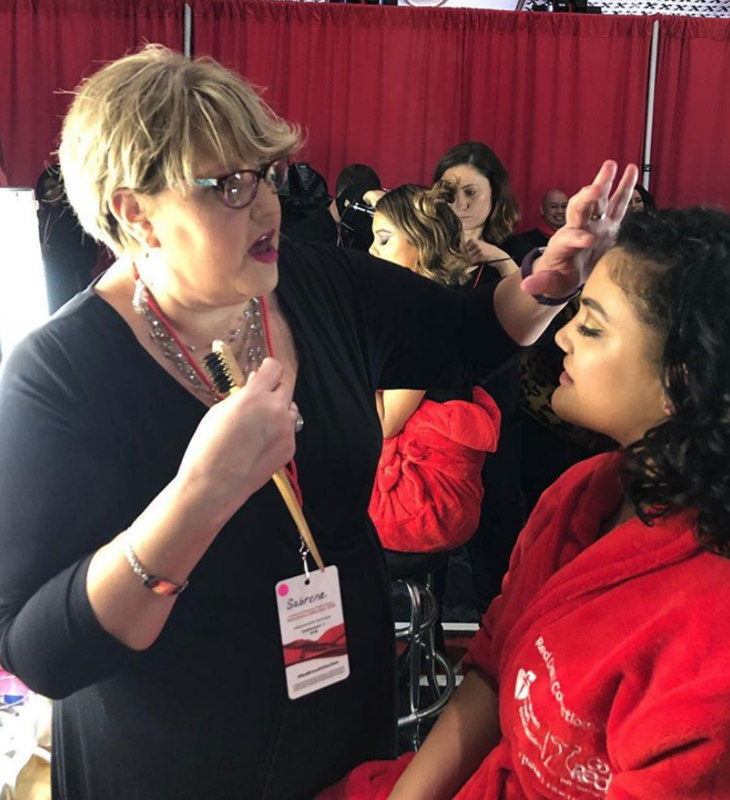 Redken Artist // Tearsheet Artist //@nysouldiva
For me, it was an honor to work the Celebrity Red Dress event to help raise awareness for heart disease with the American Heart Association. This is a silent disease that kills so many women and it can be totally prevented. So I'm so glad that I got to help make some of these women feel beautiful as they walked the runway.

I have the pleasure of styling Ashleigh Murray's hair for the event! She is just as beautiful on the inside as the outside. To style her hair, I used my Sam Villa Continuous Mist Water Bottle to dampen her hair in small sections, then I applied Redken Outshine 01 to add shine, softness, and moisture. Are used my Tearsheet Finishing Comb to put her hair up into bun  at the crown of her head, and left out a triangle section on top so some of her hair would fall towards her face. I think she looked gorgeous! 

My role as an artist is to make sure I use my skill level to help with my guest feel as is beautiful and confident as possible. Just being open to whatever comes my way and putting my heart and soul into my work.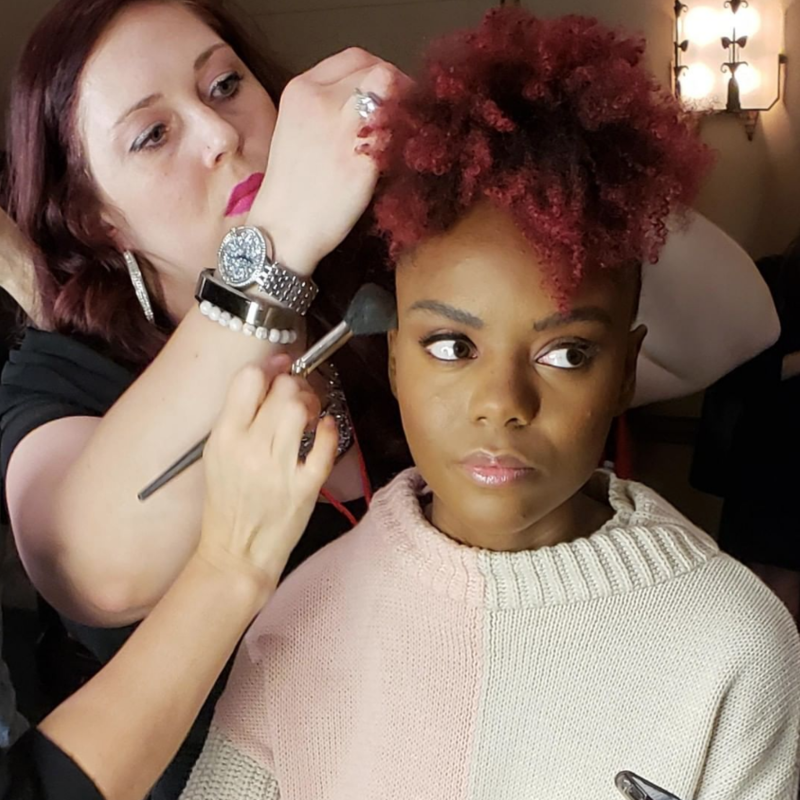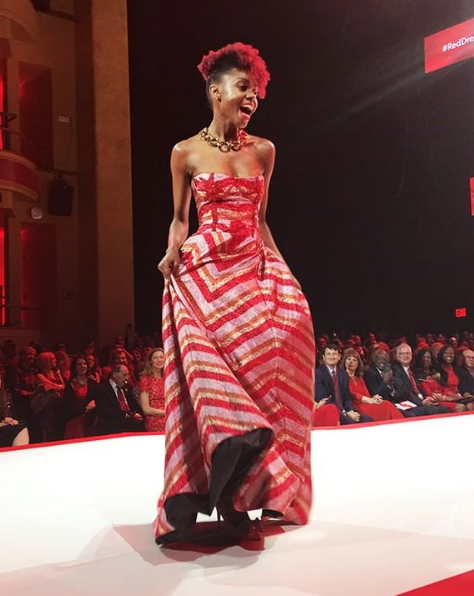 Instagram//@goredforwomen
 
Ken Kozuki
Owner/Artistic Director at Ra Hair Studio & Spa // Lead Artist at Vancouver Fashion Week // Tearsheet Artistic Team Member // @kenkozhair
Lead artist for Global Fashion Collective // Key stylist for influencer/model Jordyn Woods at the Red Dress Event // Artist on the line for PH5, led by Rodney Culter // Artist on the line for the Eckhaus Latta show led by Holli Smith
NYFW is soul food.  It re-ignites my passion for hair – there's this group of highly skilled professionals, who dedicate their lives to the beauty and fashion industry, we all come together – and we're all in it for the same reason – to elevate the brand, the designer or the model walking, and to raise them to a higher standard.  We're only as good as our last gig, so we're always trying to push ourselves to the next level.
This was my third season working the Red Dress event and it was such an honor to be a part of making the event a success.  It's a chance to promote women's health, but also to reunite with teammates from all over the US, as well as making new friends and connections. 
It was a great experience working at all the events this year. Being a Tearsheet Artistic Team member has given me the confidence and skill level to work with celeb clientele and highly paid models, even elevate my craft behind the chair.
Description Photo 1: Red Dress Event.  Our feel for Jordyn was nouveau Hollywood glam, a little bit of bounce, and cascading waves, not taking away from her beautiful designer gown.  I call them 'smash waves'.  I used Redken Iron Shape 11 to set the curls, breaking up the waves with a wide-toothed carbon comb, finishing with Redken Fashion Work 12.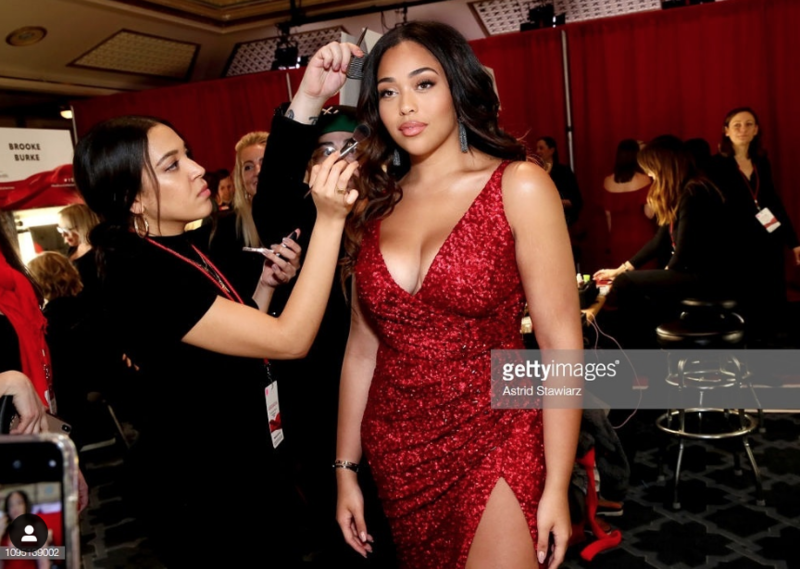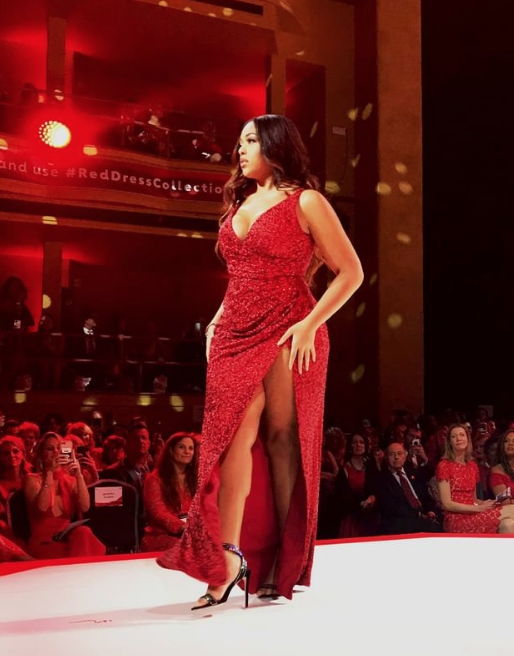 Instagram//@goredforwomen
Working with fellow Canadian Paul Miller.  We were working as a team to create 'street inspired' looks.  This look flows from girls' night out to waking up the next morning ready for brunch. All the product we used was light – Redken Fashion Waves 07 and Fashion Work 12 to finish.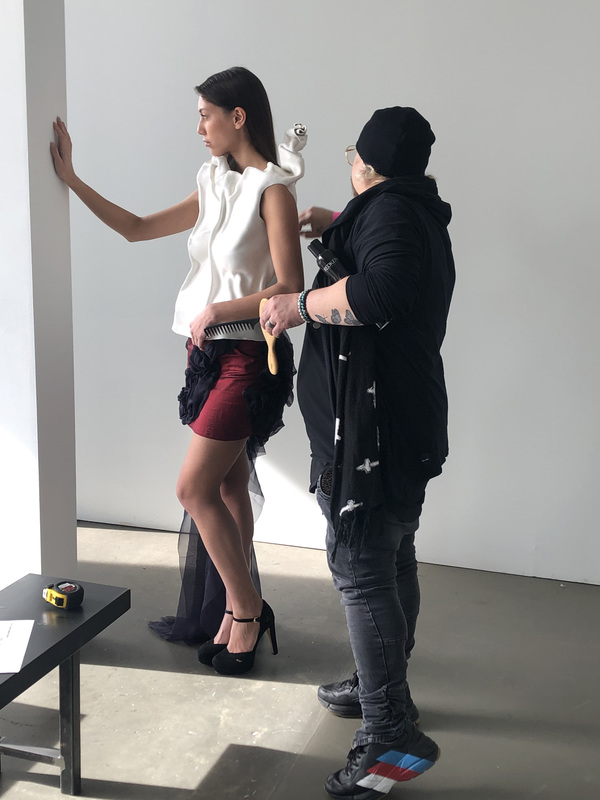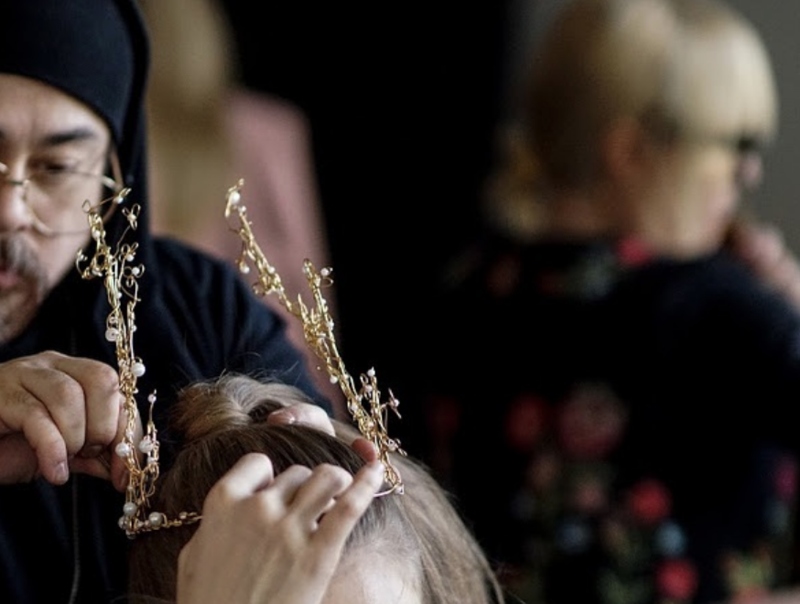 Redken Artist // Tearsheets Artist // @eviedzine
Fashion week to me is one of my dreams come true. I had the chance to travel to New York, LA and Vancouver. My goal now is to travel to Milan, Paris, and Tokyo with these great Tearsheet and Redken artist friends of mine who we hung out all weekend and had such a blast. The Red Dress Event was amazing! Giving all the thanks to Giovanni Guintoli from Tearsheets for giving us the opportunity to give back to the American Heart Association. Seeing all the celebrities and all the artists working together for the same cause was overwhelming, the love and care that was poured into doing this event was heartfelt.
The celebrities I had the chance to work with this year were Skai Jackson, Sherri Shepherd and last year Tatyana Ali. This was so exciting and I am so grateful for our strong team and new friends that we continue to make along the way.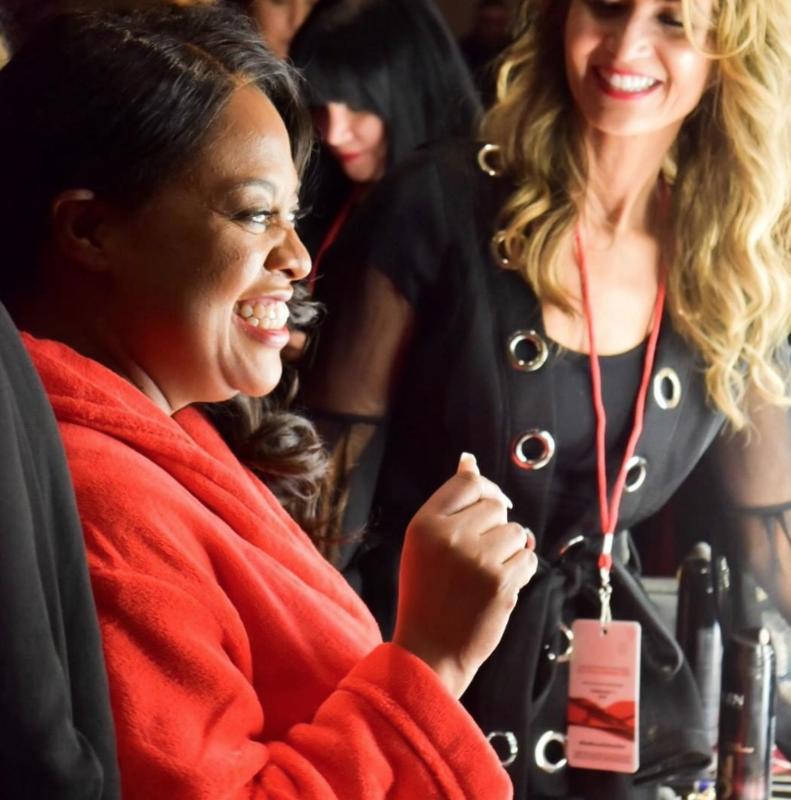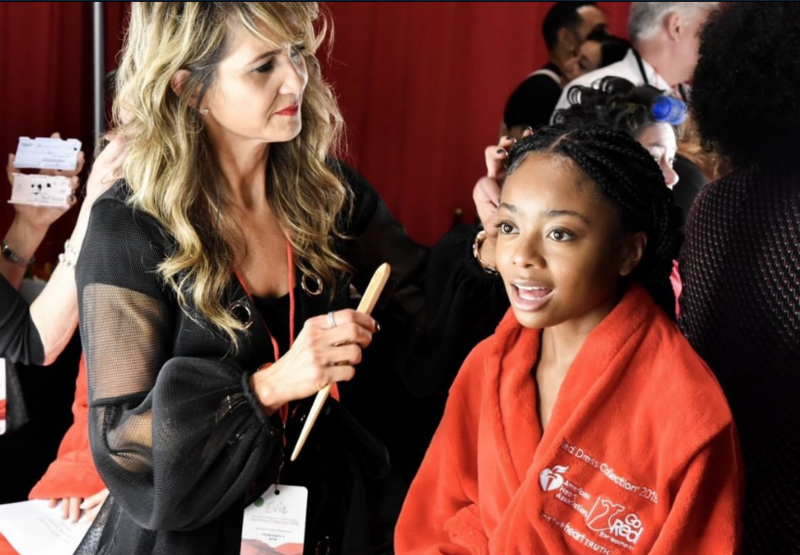 Instagram//@goredforwomen
Tearsheet Artist // Redken Artist // @TerryBoyd.Hair
New York Fashion Week started off with the #goredforwomen Macy's American Heart Association Red Dress Collection. It was amazing to see so many celebrities not "in" their celebrity status, and what I mean by that is just warm, wonderful, giving, loving every day Women with a common goal. That common goal was women's heart health awareness. 
The lovely model that I took care of was Beau Garrett. I used Redken Iron Shape 11, my Sam Villa 2-in-1 Marcel Curling Iron & Wand, Tearsheet wide-tooth carbon and teasing combs, Redken Quick Tease 15 for volume and Redken Triple Take 32 to get her flowing carefree look. Then, off to Pier 59 later in the week for Vancouver Fashion Collection in which Mrhua Mrshua was one of the designers I helped work with. One of the many models I had the honor of working on was Hunter William-Burrows. I used Redken Outshine 01 cocktailed with All Soft Argan-6 Multi-Care Oil to give lots of moisture and allow his natural texture to come alive! It's too hard to describe the entire week in New York other than to say yes I'm still geeking out! Working with Tearsheets and Redken has totally changed my life, and I wouldn't have it any other way! I am living my best life.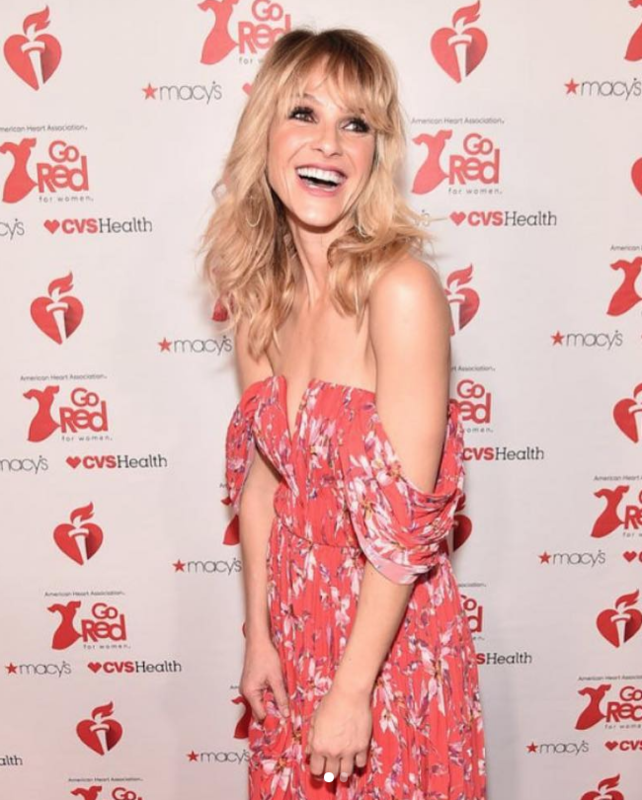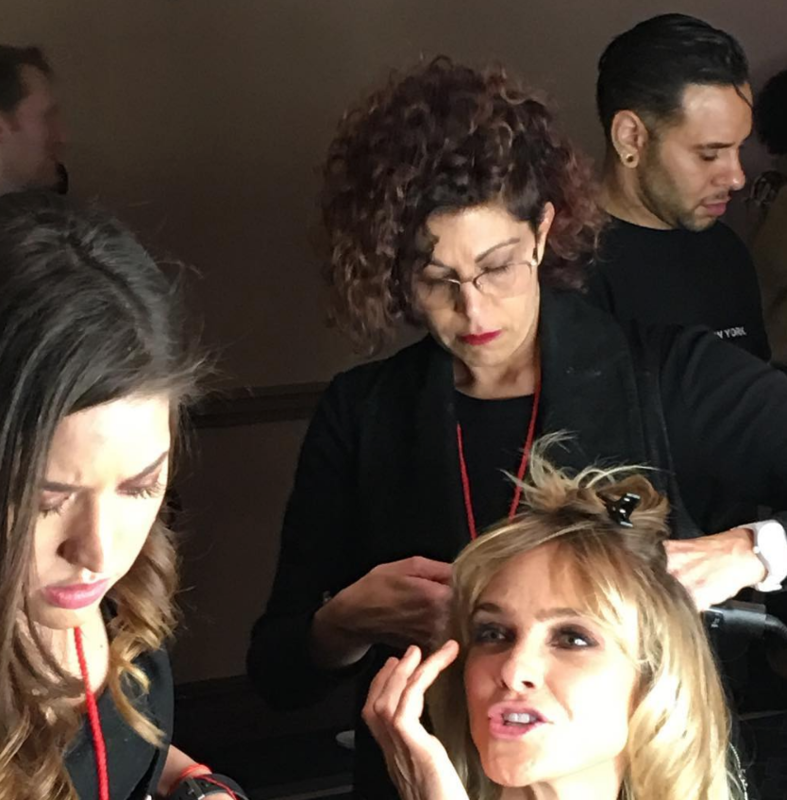 ---
For more fashion-forward styles and product picks and be sure to stock up on all goodies the Bangstyle store has to offer!