A study in the modern silhouette, Michael Costello explored shape by way of lush fabrics, hints of sheer layers and beautiful blush tones. It was the ultimate showing of romance meets fashion in dresses any bride would want to wear. Accompanied with natural-looking makeup, blush ombre and floral painted nails, the look – presented in front of a rose-filled wall – was everything we hoped a Michael Costello show would be.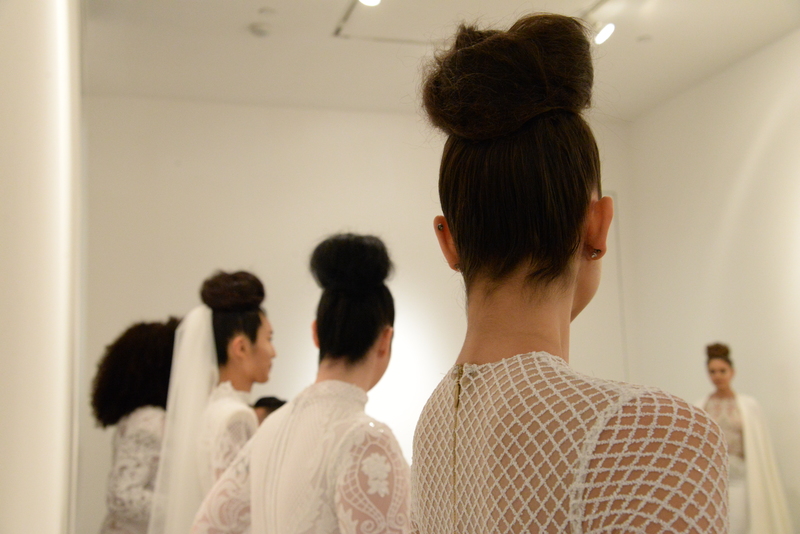 When it came to the hair, Mizani Global Artistic Director César Déleön Ramirêz worked closely with Michael to ensure looks that both complimented and accentuated his styles. "The inspiration for the looks very much came from a collaborative effort between Michael and me. Generally, we had a designated look for the bridal collection (the textured bun) and a designated look for couture (the braided crown with soft waves). Both looks were very much influenced by the whimsical, ethereal and feminine aesthetic of the new collection," said Ramirêz. Read on to learn the steps to each of these ethereal looks.
CROWN BRAID WITH SOFT WAVES (Couture Collection)
Prep hair with MIZANI's Lived-In Texture Creation Cream. Apply a nickel to quarter-sized amount of the product (depending on the amount of hair the model had), drying specifically into the roots to create some volume, and add grit to the hair for braiding.
Create a clean center part using a tail comb.
Off of the center part, create a triangle section of hair on both sides – the front of the part is the first point, the second point being behind the ear, and the third point being at the highest point of the head. Section away using a clip.
On each side/each triangle, begin braiding (inverted braid) taking each section diagonal forward. Secure each strand with an elastic.
Use hands to slightly loosen braids before joining the braids in the back to create a crown braid (making sure to conceal the elastics). Use U-pins to secure.
On the rest of the hair that is left out, take a flat iron in an S-wave pattern to create loose waves.
Once the whole head is ironed, apply Lived-In Finishing Spray for texture and dimension.
Take a bit of Lived-In Texture Creation Cream through the ends to tame any flyaways and add soft hold.
Key MIZANI Products Used: Lived-In Texture Creation Cream, Lived-In Finishing Spray
---
TEXTURED BUN (Bridal)
The bun was created via two high ponytails: section hair from ear to ear horizontally (split from front to back) to divide head into two sections, top and bottom.
Take the top, front section and smooth into a high pony. Spray HRM into a mason brush to help smooth back. Secure with an elastic cord.
Take the back section and also smooth into a high pony, positioned just below the first ponytail from the top section. Secure with an elastic cord.
Spray Lived-In Finishing Spray into the ponytails to build texture.
Subsection the ponytails and softly tease each section from roots to end. Go over each section very lightly with a flat iron to flatten it out a bit, creating "panels" or "sheets" of sorts.
Spritz HRM to create a workable hold.
Wrap each panel around clockwise, creating a soft twisted bun. Continue to layer the panels in this fashion and use U-pins to secure [those panels] in place.
Spray HRM on a small makeup brush to help tame flyaways.
Key MIZANI Products Used: Lived-In Finishing Spray, HRM Humidity Resistant Mist
---
Want to see the nail art that went with this look? Click here!
For even more Fashion Week inspiration, be sure to tune into the Bangstyle Instagram on the daily and check out our newest articles here!