We've seen a few nontraditional debuts in fashion this year and while Baja East introduced their styles on the runway, it was their after-party that garnered the most attention! Part of their release was a bash at Kola House. In a paparazzi style presentation, it-girls and models alike unveiled new looks as they arrived with Scott Studenburg and John Taragon; becoming an interactive exhibit all throughout dinner. Their collection is made for just this type of event, which is why the concept paired so beautifully.  Down-to-earth plaids mixed with luxe velvets were the staples behind their glamorous grunge aesthetic. These looks were combined with understated eyes, a bright bold pout and individualized hairstyles for each girl, which allowed them to accentuate their own personal style.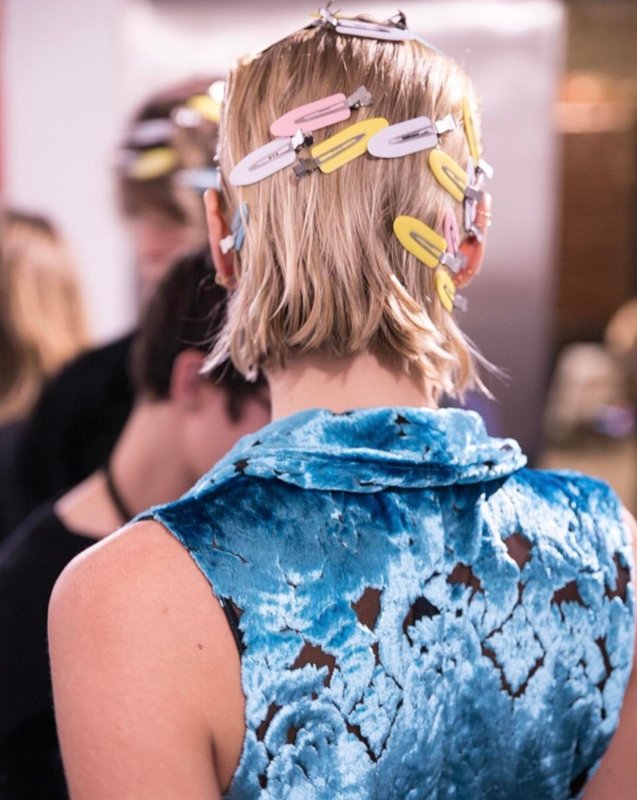 "We're doing very different hairstyles here at the Baja East show. The hair looks are completely dependent on the girl and her individual style. For some, that means a gelled look, and for others, that means a more romantic, low chignon. There's an individual nature to this show, which makes it fun. Since all these girls are going to the Baja East Party, I wanted them to look glamorous yet cool in their own way." – Guido
Follow along below to see how Guido achieved the two main looks!
GET THE LOOK
LOOK 1: SLICKED BACK
Prep hair by washing with Beach Envy Shampoo and Conditioner to bring out its natural texture. Allow to air dry.

Section the top into four sections. Clip each section out of the way.

Starting at the ears, apply Hardwear 16 Gel section by section at the root, ending just past the ears, with a fine- toothed comb.

Use fingers to flatten down the hair close to the head.

At the front of the head, use fingers to slightly pull hair backwards and off-center. Finish with a dime-size amount of

Hardwear 16 Gel for extra hold.

Clip the gelled hair down close to the scalp to hold.

Apply Forceful 23 Hairspray to help seal the shape and give added hold.

Blow dry the gelled section on low for 30 seconds to seal in the look. Leave clips in until hair is fully dry.

If needed, use a curling iron on random mid-length sections for added texture. Remove clips.

GET THE LOOK LOOK 2: LOW CHIGNON
Start with clean, dry hair.

Apply Guts 10 all around the hairline and at the roots for added volume.

Roughly blow dry hair at the roots, using fingers for added lift.

Apply a dime-size small amount of Move Ability 05 towards the front of the face for flexible hold.

Pull hair back and secure on either side with a clip.

Tie hair into a low ponytail at the nape of the neck.

Spray the length of the hair with Fashion Work 12 for added grip.

Using hands, twist hair up into a knot and secure on each side with hair pins.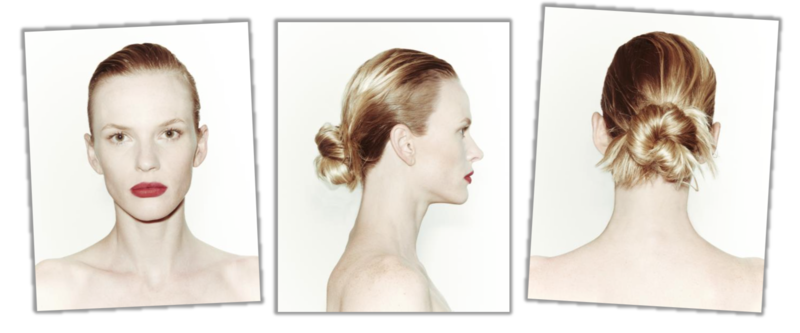 Love these looks? For even more Fashion Week hair inspiration and tips to get the look, be sure to stalk Redken on Bangstyle and check out the product picks below!