A hairstylist for 13 years, with 12 of those years at Giovanni and Perri in Barri Ontario, Robin Bacon has been the awardee of multiple awards from the 2 Contessa Awards she received in 2017 and 2018, the Stylist of the Year Award from Salon Magazine, a Mirror Awards finalist in 2017 – she also won the Search for the Next Essential Looks Artist with Schwarzkopf Professional, which landed her a position on their team for the past 3 years. While professional accolades have surmounted for her beautiful work, it is not hard to see why. Robin's hair art evokes a vibe present in every individual. There is an ethereal natural to her work combined with an extreme skill and an eye for composition. In this feature, we learn all about Robin and her latest collection, CELESTIAL.
What drew you to hair styling?
I have always been drawn to hairstyling, since I was a child. I am one of those super fortunate people that always had a love for their craft. No matter what phase of life, I always knew I wanted to be a hairstylist and would go back to it.
What is your favorite technique to use?
That's a tough one! My favourite cutting technique is slide cutting (for personalization to the shape and weight of your haircut) but my favourite styling technique is using my fingers to manipulate the texture of the hair in a soft way when I am creating super textured styles. Whether it be on a short pixie, loose waves or on an elaborate style such as my latest collection CELESTIAL. Our hands are the best tools we have.
What has been your biggest defining moment in your career?
Winning The Search for the Next Essential Looks Artist with Schwarzkopf Professional in 2014 was the moment in my career and was definitely the defining moment for me. I have always been keen on education and thirsty for more in the hairstyling community; but it was the team at Schwarzkopf that elevated me to the Stylist I am today. They are a team passionate for their craft and for their team. We all support each other and encourage each other to grow and hit those next levels of creativity. I've learned so much from working with Schwarzkopf I could write a book.
Is there a specific area you often find yourself looking to for inspiration?
I find inspiration in the strangest places sometimes. Honestly, it sounds cliche but inspiration really is everywhere. Once the idea strikes I will then troll Pinterest, Instagram, high fashion magazines, and hair industry magazines to gather images for an inspiration board. I love inspiration boards!! I send them to all my team.
What is the one product/tool that you can't live without?
Hairspray!!!! My favourite is Schwarzkopf OSIS Session Label Super Dry Fix. It isn't sticky and it can be brushed away. I use it both for setting to give style memory and for finishing.
How did you dream up your latest collection?
I was inspired by NASA's Instagram (if you haven't checked out the NASA Instagram, you should!) It's beautiful and super interesting. I was admiring photos of them and thought how it looked like an explosion of colour suspended in space but also had fluidity to them. I began thinking about how I could do that with hair and the rest is history.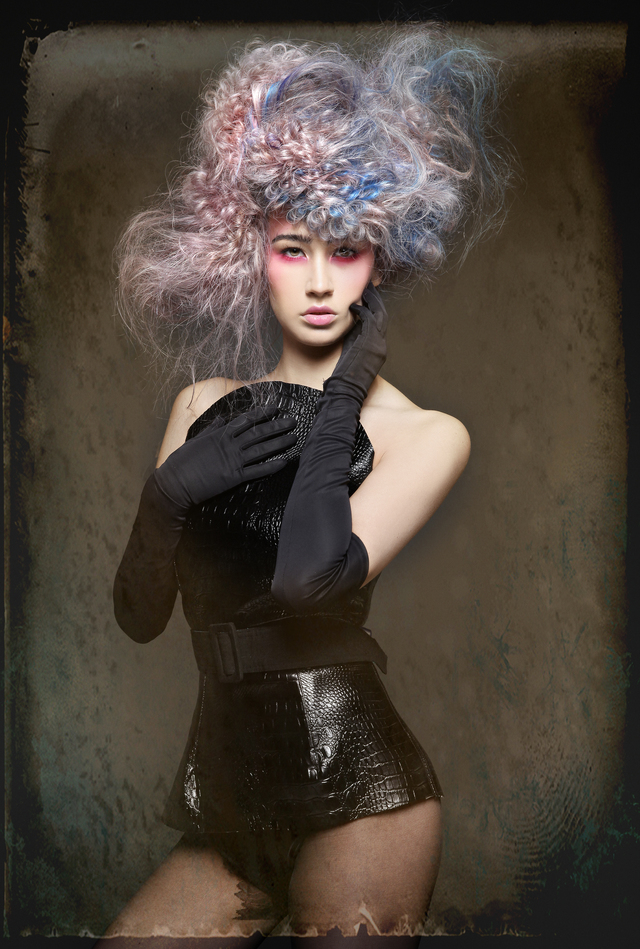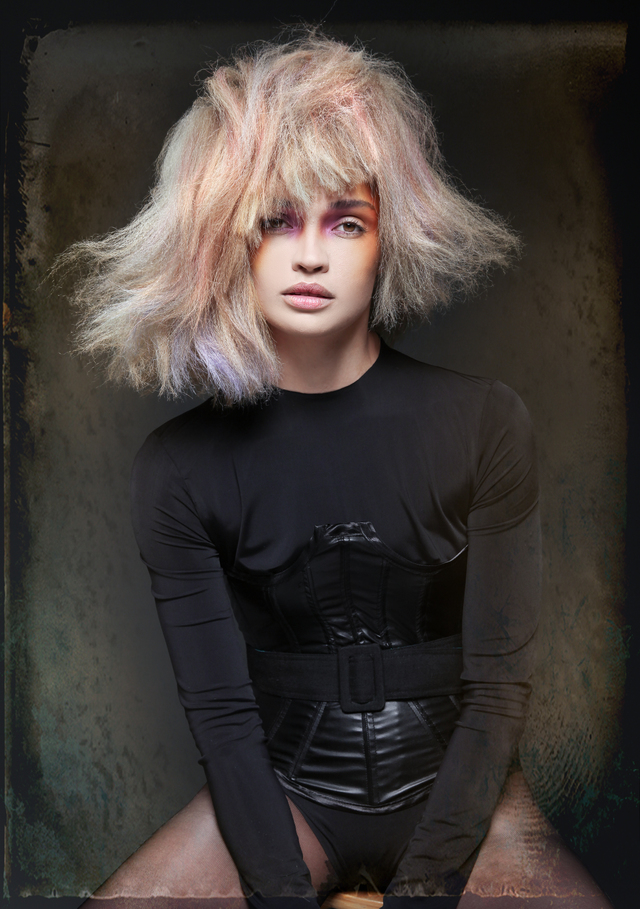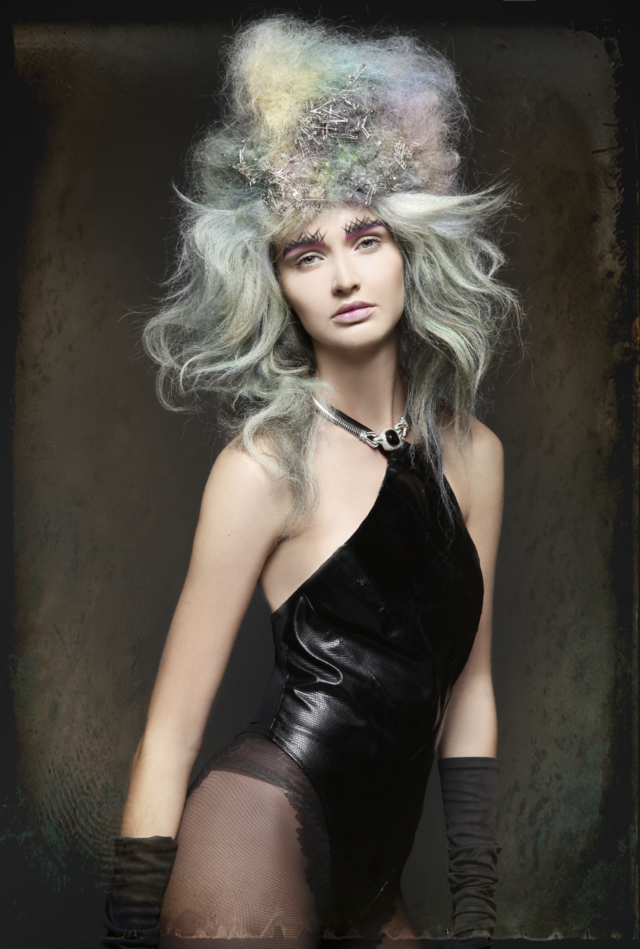 How do you use styling to enhance your images?
I believe the styling really sets the mood for the image. It can really help create a voice of who/what the subject is. I am fortunate that I have been working with a fabulous designer and stylist Adrian Arnieri the past three years. I send him an inspiration board and we have a chat about what I am inspired by and why and he makes it come to life.
How did you work with your makeup/styling team to craft the final image?
I am a huge believer in teamwork. I have chosen my team because of their talents and I send out my mood board and really value what they say. I believe that you bring people on to a team, so be a team! Let each other's voices be heard and work together and the real artwork comes together when all of our talents come together in the final frames.
What is this collection saying about Women's Trends?
I think that the consumer can relate to the colour palette of my collection. Pastels and cool muted tones are very trendy still. Lived-in texture is also really hot right now. Maybe not as lived in looking as my collection...but loose disheveled waves and upstyling is great for daytime or a night out.
If you had a superpower, what would it be?
If I had a superpower it would be to fly, simply because to being able to fly would be pretty cool.
Who were your mentors along the way and how have they shaped your career?
I have been to a lot of classes and seminars over the years, but two individuals, in particular, have shaped my skill and creativity.
Rossa Jurenas has been a mentor for longer than I can remember. From years of watching her on stage to then asking her advice when getting into the competition world, she has helped me grow. She has taught me so much and has always pushed me to reach the next level. The night I won the EL competition she said: "now let's show people who you are". Not only is she a mentor but also a teammate.
Kathy Simon is the hairdressing skill Guru. She has 100% improved and shaped me into the hairstylist I am today. She taught me how to look at hair differently and gave the tools to understand hair and manipulate patterns. She not only refines your skills but also has high standards that pushed me to achieve the best of myself that I can produce. She also made me fall in love with a Denman brush.
What hair/color trends can we look forward to this season?
I think we are still going to see a lot of androgynous styles, fashion mullets and looser styling for hairstyle finishes. But, also a throwback to retro styling for the hair, a nod to the 70's with shags and curtain fringe. I think mauves and denim, blues and greys for colour will continue to rise, as well as rich luscious golds and chocolate tones.
---
Be sure to stalk Robin Bacon on Bangstyle to see more of her hair art and to take a peek at even more trends, check these out!