The inspiration behind this piece was powerful women. Women in pink are the ultimate female power statement. Whether it's an understated soft delicate pastel pink or a bold and energized fuchsia, a woman who wears pink is the ultimate representation of females power and iconic in their own right. Let's face it, women also like men who wear pink! If that doesn't make a statement, what does!
Currently, in hair color, there are such different shades of pink and I wanted to highlight a few of these. On my blonde model, the veil of strips was created only on the outside of the hair. I used painter's tape to keep my lines extremely clean and I used a brand new strain brush to apply the color. To keep the hair from bending while applying it I secured the top veil to a lightweight cardboard so it lays flat against the board and didn't' shift while I was painting. The colors I used to help me achieve these shades were: Matrix Colorgraphics Lacquers Magenta and Matrix Colorgraphics Lacquers Pastel Pink.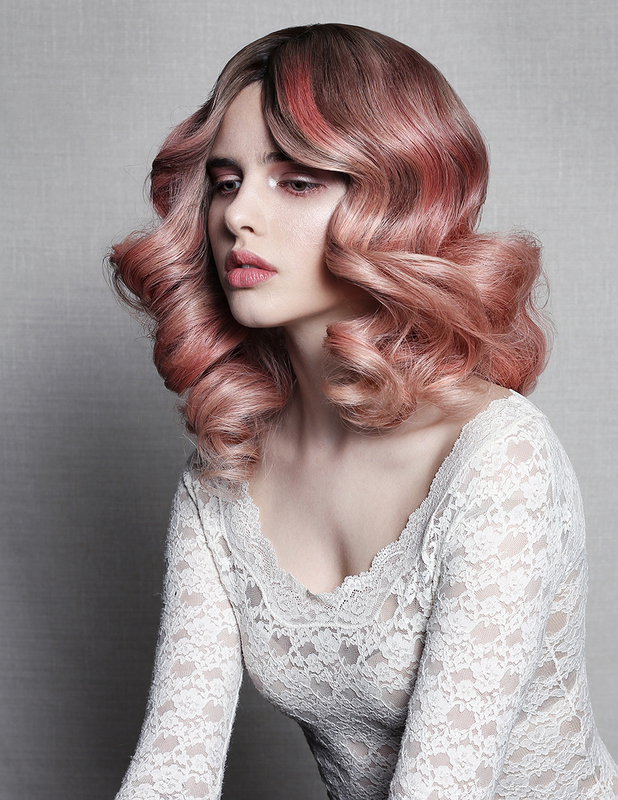 On my curly model I created a monochromatic color application on previously lightened hair using the following formulas:
1. Pre-tone with Matrix Colorsync 2 oz. 10P and a dot of 1A + 2 oz. 10 vol Matrix Universal Developer to get a smoky platinum on the previously lightened hair.
2. Overlay with Matrix Colorsync Watercolors 2 oz. Quartz Pink + 1/2 oz. Berry Violet + 1/2 oz. Clear + 10 vol Matrix Universal
On the silver and pink model:
Multidimensional silver and pink panels were placed diagonally to create a seamless blend of smoke and rose.
1. Matrix Colorsync 1 oz. 10P + 1oz. 8A and a dot of 1A + 2 oz. 10 vol Matrix Universal
2. Matrix Colorsync 1 oz. 8P and a dot of 1A + 1 oz. 10 vol Matrix Universal
3. Matrix Colorsync Watercolors 1 oz. Quartz Pink and a dot of 1A + 1 oz. 10 vol Matrix Universal
4. Matrix Colorsync 1 oz. 10P + 1oz Quartz Pink + 2 oz. 10 vol Matrix Universal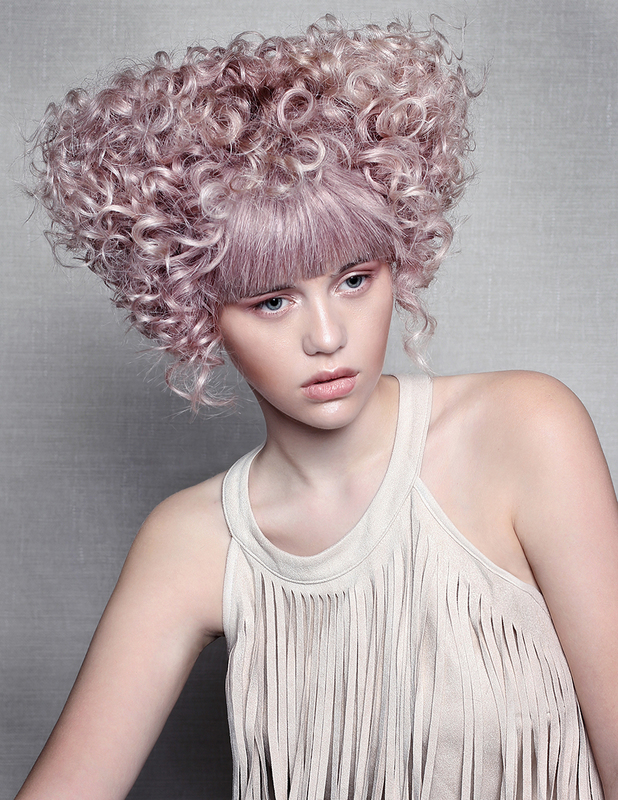 October is breast cancer awareness month and the ribbon that represents the cause is pink! Why? Because that is the woman's power color. Representing strength, independence, and compassion all while maintaining beauty. We as women have to balance our lives in both directions and there is no better color to represent the calm in us when we are nurturing individuals or the power in us when we need to get a job done. Being a woman on stage in our industry is a powerful and inspirational job. A Strong woman brings other women up and does not cut them down. I want women to feel empowered and confident. Nothing seemed more feminine to me than a pink collection. The styles are a representation of the Marilyn Monroe days with sexy waves and coiled curls. She was such an icon for women; I wanted to represent the ultimate in feminine inspiration.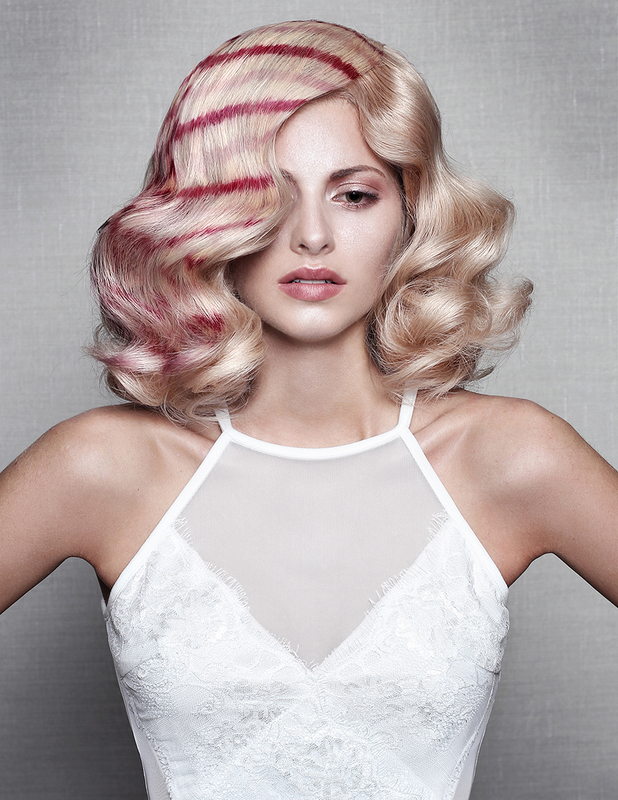 In completing the collection my biggest challenge was creating the stripes. I had to figure out how to keep the hair from shifting and collapsing. Even using a balayage board wasn't working because the minute I removed it while processing the color, it would bleed. I practiced everything from foil, to paper to the board on a mannequin and that's when I finally figured out that I needed the structure of an inflexible surface but the lightweight factor of paper. I secured the board in with bobby pins and then taped the hair. Processed and rinsed with the board quickly. Then took it out quickly and shampooed, I really loved how each of the colors came out. In particular, my favorite image from this collection is the blonde with the pink lines. It's bold, dramatic and powerful. I love a good challenge as well. Once I finally figure out something it's always a great sense of accomplishment.
I have several shoot teams that I work with but this was particularly a fun shoot because I worked hand in hand with a makeup artist (who is also a hairstylist) and my very good friend is the photographer. We always challenge each other to create the next best thing. When you surround yourself with creative people, it pushes you to become more creative.
---
To see more of Danielle Keasling's gorgeous work, be sure to stalk her on Bangstyle and check out even more hair color inspiration, here!
Credits:

Hair: Danielle Keasling

Photography: Zoe Christou Welsh

Wardrobe: Zoe Christou Welsh

Makeup: Timothy Cabell
All styling products used were Matrix StyleLink.